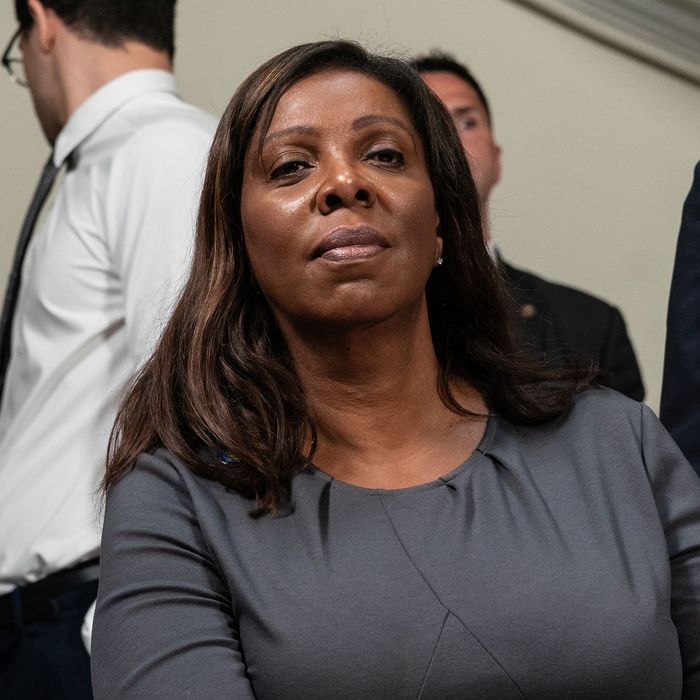 Photo: Lev Radin/Pacific Press/LightRocket via Getty Images
State attorney general Letitia James has alleged in a new court filing that Donald Trump lied about the value of his assets for financial gain, inflating his net worth by as much as $2.2 billion in one year.
The New York Times reports that court papers filed Wednesday accuse Trump of misrepresenting the value of his assets in order to obtain more favorable financial loans. His supposed net worth ballooned as a result, at a rate of $812 million to $2.2 billion every year over a ten-year period ending in 2021, per CNN.
James's office is also seeking a summary judgment in the ongoing financial-fraud case against the former president, his eldest sons, and his company, the Trump Organization, arguing that a trial is not necessary to determine that fraud had been perpetrated.
"Based on the undisputed evidence, no trial is required for the Court to determine that Defendants presented grossly and materially inflated asset values in the SFCs [financial statements] and then used those SFCs repeatedly in business transactions to defraud banks and insurers," the filing reads, per CNBC.
In past filings, James has alleged that Trump overstated the value of his various properties, including Mar-a-Lago, 40 Wall Street, and his penthouse apartment in Trump Tower. The attorney general's office initially sought to charge Ivanka Trump alongside her brothers Donald Jr. and Eric for signing off on some of the financial statements, but the court dismissed the case against Trump's eldest daughter, ruling that the statute of limitations had run out on the specific allegations against her.
Trump's legal team is looking to have the entire case dismissed, citing the narrowed time frame established by the ruling on Ivanka's charges, Reuters reports. A hearing in the case is expected for September, prior to the planned trial start date of October 2. James is seeking to bar Trump and his sons permanently from operating a business in the state as well as $250 million in fines.