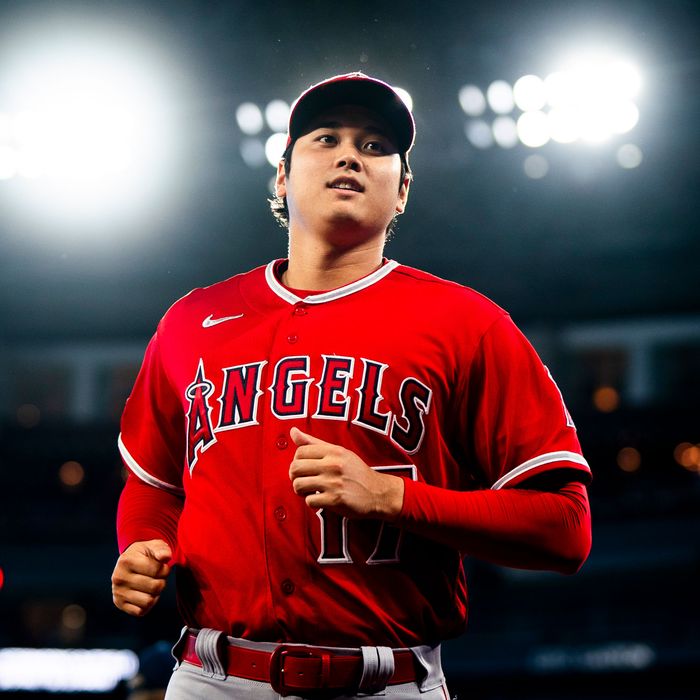 Photo: Mark Blinch/Getty Images
Late last month, Major League Baseball touted its average attendance on a random Tuesday. It was, at first blush, a curious announcement but notable enough: Eight of the 15 games that day had drawn more than 36,000 fans. That was, according to MLB, the best non-holiday Tuesday since 2015 and the second best since 2008.
In an era of diminishing attention spans, myriad online distractions, and an enormous array of entertainment to choose from, stodgy baseball might just be having a renaissance. Attendance has surged 9 percent from last year, the largest single-year increase since 1998, when Mark McGwire and Sammy Sosa, the steroid-addled sluggers, were shattering home-run records. Declinist narratives have to be shelved, for the moment at least.
Before nostalgists start popping the Champagne, though, a couple of caveats are in order. Baseball is not as popular as it was in the mid-2000s, when the sport routinely broke its own attendance records, which ultimately peaked in 2007. Since then, attendance has steadily slid, and COVID drove down the numbers further. Meanwhile, the NBA and NFL have occupied much of the pop-culture imagination over the last decade. Any discussion of today's "national pastime" starts with football: Eighty-two of the 100 most-watched programs in 2022 were NFL games, and the Super Bowl was the last mass-televised event. Come fall, America will be the NFL's country again, as it will probably always be until the sun swallows the earth.
And Rob Manfred, the MLB commissioner, is dismal in many aspects. He is a sadist when it comes to the treatment of baseball fans in Oakland. He failed to hold the cheating Houston Astros accountable and once called the World Series trophy a "piece of metal." He almost completely derailed the sport a year ago, locking out players for months and threatening to erase whole chunks of the season. He has viciously contracted Minor League Baseball teams, depriving fans in far-flung towns the cherished experience of live professional baseball.
But Manfred must also get his due. Like his deeply flawed predecessor, Bud Selig, he was able to comprehend the ways in which his sport was ailing and what it needed to do to enter the modern era. Selig turned a blind eye to steroids, but he had the foresight to introduce the wild card and expand baseball's postseason, making teams richer and enrapturing a new generation of fans, including my own. Manfred's leap forward was bigger: He came to embrace a number of new rules that count as radical for a sport perpetually resistant to change. The first was the institution of a 15-second pitch clock, which immediately put an end to endless dawdling on the mound and in the batter's box. The second was the banning of infield defensive shifts. The third was a limit on pickoff throws, which gave base runners an enormous and unprecedented advantage. The bases themselves, to encourage steals, were slightly enlarged.
A combination of factors, including the analytic revolution and the stunning dominance of pitchers, gave Manfred little choice but to act. The game's problems had become obvious, from beleaguered hitters trying desperately to hit home runs to the yawning length of the games themselves. By the late 2010s and early 2020s, the average game was stretching beyond three hours, much of it a function of dead time: pitchers jogging in from the bullpen, batters stepping out of the box, players loping between pitches.
Despite some initial fan consternation, all the recent rule changes have been wildly successful. The genius of the pitch clock is that it has transformed the game into what it once was. Watch any old film of a baseball game from the 1960s, '70s, or '80s and you'll see rapid-fire sequences. A pitcher gets the ball and immediately decides to pitch. A batter doesn't stray from the box. Balls bounce around the infield dirt and outfield grass because strikeouts are less frequent. Baseball has still not solved its strikeout problem, but it is a far tidier product today, with an average game time down to around two hours and 40 minutes, about what was last seen in the early 1980s.
Stolen bases, thanks to the limit on pickoff throws, have surged. The Braves' Ronald Acuña Jr., the front-runner for National League MVP, became the first player in history to have 20-plus home runs and more than 50 stolen bases before August. It's plausible a player in the coming years could break the 100 stolen-base threshold again, joining the likes of Rickey Henderson, Vince Coleman, and Lou Brock.
Baseball's attendance spike can be partly credited to another Manfred innovation: the six new wild cards. In addition to three division winners in each league, three teams with the next best record can reach the postseason. This rule change was potentially dangerous because baseball's marathon regular season has already been cheapened over the last 20 years. Fans don't want to see their sport transformed into the NBA, where many teams treat the regular season as a formality before a lengthy, multi-month playoff gauntlet. So far, MLB has struck the right mix, allowing many more teams to play meaningful games in August and September. Fans in cities like Cincinnati, Seattle, Miami, and Arizona have reasons to show up at the ballpark each night. Though I miss the days when interleague play was a novelty, Manfred's new balanced schedule — teams now play out-of-league games all year and face their division foes less frequently — has meant many more marquee franchises, like the Yankees and Red Sox and Dodgers, traveling to cities they wouldn't normally visit, boosting attendance further. And though the traditionalist in me shudders, Manfred was clearly right to bring the designated hitter to the National League and end the spectacle of .120 pitchers straining to lay down bunts.
Baseball has been lucky too. Perhaps no American sport possesses such a wondrous well of homegrown and global talent. The two-way Japanese marvel, Shohei Ohtani, is an international superstar reimagining the sport itself. The six-foot-seven Aaron Judge smashed 62 homers last year and is finally back from injury. The aforementioned Acuña is a threat to steal 80 bases while hitting 40 home runs. Down in Miami, little Luis Arraez has flirted with .400, living off slash-and-bloop singles like a reincarnated Tony Gwynn. Baseball, in turn, could start to matter more in the culture again, particularly if the World Series produces a compelling showdown of the game's biggest stars. The most resonant talents in baseball today have yet to reach their mid-30s, which is no longer true of the NBA. As great as Nikola Jokić has become, he has yet to rival the fame and popularity of LeBron James, Kevin Durant, or Stephen Curry.
Whether MLB can keep this momentum going once the novelty of shorter games wears off remains to be seen. And for all non-NFL sports, there are still storm clouds on the horizon, most seriously the collapse of cable viewers and the lucrative local contracts that came with them. One day, MLB will have to navigate a world without cash-cow regional sports networks, which will be a sobering moment. But at least it looks like baseball might be in a position of actual strength when that happens.