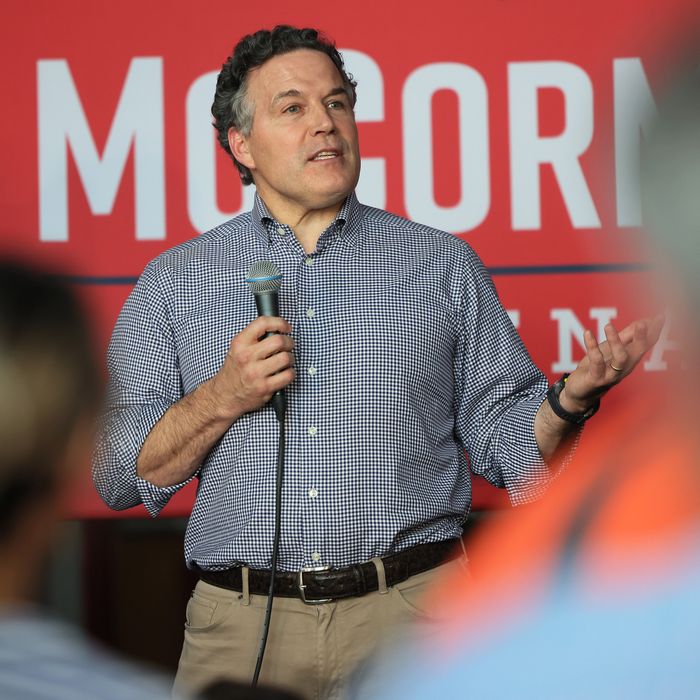 Photo: Michael M. Santiago/Getty Images
Pennsylvania might soon be dealing with another election season dominated by questions about where a leading candidate calls home.
David McCormick, the former hedge-fund CEO who lost the Republican Senate nomination to Mehmet Oz in 2022, looks likely to test his luck again by challenging Senator Bob Casey, who will be up for reelection in 2024. But as McCormick preps for a potential bid, it appears one thing hasn't changed from his last campaign: his home state.
The Associated Press reports that McCormick still mainly resides in Connecticut's Gold Coast, a region known for its wealthy residents. He is reportedly renting a Westport mansion worth $16 million that features a 1,500-bottle wine cellar and views of the Long Island Sound. The AP notes that McCormick appeared to be in the Connecticut home while conducting several video interviews earlier this year and that at least one of his children still attends a private school in the state.
McCormick's ties to Connecticut were known during his 2022 bid but were largely overshadowed by front-runner Oz's own residency issues. Oz, the celebrity doctor, went to medical school in Philadelphia and tried to highlight his connection to the state, but his decades-long residency in nearby New Jersey became a focal point of the race and was weaponized to great effect by the race's ultimate winner, John Fetterman.
Prior to the 2022 race, McCormick sold his family home in Connecticut and purchased one in Pittsburgh, per ABC. During the primary, McCormick tried to draw a contrast between himself and Oz, running ads that called him a son of Pennsylvania and talking about growing up in Bloomsburg, where he played high-school football and learned to hunt.
If McCormick gets in the race, he'll be facing an incumbent with deep roots in the state. Casey was born in Scranton; he is the son of a former Pennsylvania governor (whose name he shares); and he served in the state government as auditor general and treasurer prior to running for the U.S. Senate. He's held his Senate seat for three terms after first defeating Rick Santorum in 2006.