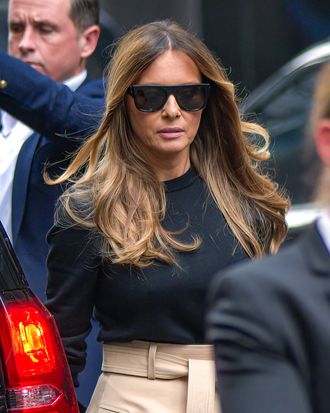 Photo: James Devaney/GC Images
Ultrafamous people often don't like to rewear the same outfit twice, which is really a shame. In general, it's a wasteful practice. And in the case of Melania Trump, it has forced her to find alternate ways of letting us know that she truly does not care about anything politics-related — from White House Christmas decorations to her own husband — rather than just throwing on her "I Really Don't Care, Do U?" jacket.
Melania signaled that she was totally unbothered by Donald Trump's first two criminal indictments by declining to join him for his arraignments and post-arrest events. Nor did she show up to any Trump campaign rallies or post encouraging messages on social media (she did confirm in a brief Fox News Digital interview that "he has my support" in the 2024 presidential race). While Melania's team will occasionally deny tabloid reports, they did not challenge several recent stories in which anonymous sources insisted she was standing by her husband in spirit, though not physically.
Okay, but seriously, "What is she thinking?" Donald Trump has now been indicted two more times, and you can't just have no opinion on your husband being charged with leading a criminal conspiracy to steal an election. Thankfully, People magazine offered some new insights this week:
Melania Trump is continuing to keep a distance from the legal troubles of her husband, former President Donald Trump, according to a social source. 




"Melania publicly supports her husband but privately prefers a life with 100 percent privacy and no press scrutiny," the source tells PEOPLE.




"She knows how her husband is but still believes there has been too much dumping on him and wants nothing to do with any of it," says the source. "She hates all of the legal problems and says very little about them anytime anywhere. She leads her own life."
To paraphrase Cousin Greg, Truth Social tirades? Stacks of classified documents in the bathroom? Racketeering, political humiliations, Nazi stuff? She just doesn't love it.
People's source went on to report that the former First Couple has been spending a lot of time apart this summer. They also threw some shade at the members of Trump's clubs and emphasized that the Georgia indictment is a Donald problem, not a Melania problem:
"Melania has a small circle of family and very few trusted friends," the social source says. "Unlike others who belong to her husband's clubs, she doesn't rely on outside stimulants to guide her daily life. She has her son, other family members, and select friends."




"So this fourth indictment is another problem for her husband. Not for her," the source adds.
Reelect Trump, throw him in the slammer, do both or neither; Melania does not care as long as Barron's okay and she can keep hawking weird NFTs.