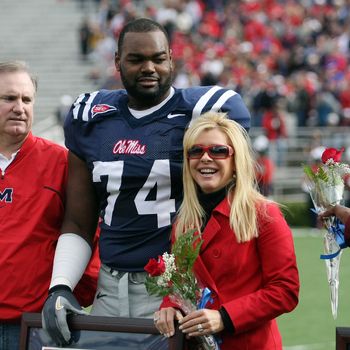 Photo: Matthew Sharpe/Getty Images
A new court filing from former NFL player Michael Oher claims that an important detail about his life story — made famous in the Oscar-winning movie The Blind Side — was made up in order to benefit the wealthy family that claims to have adopted him. In response, the Tuohy family is now fighting back in the press.
As the story goes onscreen, Oher was a poor teenager living in foster care in Memphis, Tennessee, when he was adopted by Sean and Leigh Anne Tuohy in 2004 so that he could play football at a private Christian high school, where he excelled and eventually made it to the NFL, winning a Super Bowl in 2012. But Oher claims that the Tuohys did not adopt him but convinced him to sign a conservatorship three months after his 18th birthday. "They explained to me that it means pretty much the exact same thing as 'adoptive parents,' but that the laws were just written in a way that took my age into account," Oher wrote in his 2011 memoir. Adoption would have allowed him to hold on to his right to make business deals on his own behalf. But the conservatorship gave that power to the Tuohys — who then allegedly cut him out of the lucrative movie deal.
The 2009 movie, based on a book by Michael Lewis, won Sandra Bullock the Academy Award for Best Actress. According to the filing, The Blind Side netted the Tuohys and their two children $225,000 each plus 2.5 percent of the "defined net proceeds" — a substantial sum for a movie that made $309 million at the box office. But Oher claims that a contract signed in 2007 waived his rights to any proceeds "without any payment whatsoever." He says he has no memory of signing such a contract; even if he did, he says he was not informed of its ramifications. With the film debuting the same year as his NFL career, Oher says he did not begin investigating the matter until he retired in 2016 and only found out the full nature of the financial deal in February.
Members of the Tuohy family are pushing back against the allegations that they benefitted off Oher's life story. In an interview with Barstool Sports, Sean Tuohy Jr. doubted the timeline of Oher's realization. "If he says he learned that in February, I find that hard to believe," he said. "There were things back in 2020, 2021 that were like, 'If you guys give me this much, then I won't go public with things.' So I don't know if that's true." Tuohy Jr. said he made "like $60, $70 grand over the course of the last four or five years" off the movie that came out in 2009, but that he was not a millionaire today. "Man, if I had $2 million in my bank account, it would be in my email signature and say, 'Signed, SJ Tuohy, multi-millionaire,'" said Tuohy Jr. Despite the severity of the allegation, Tuohy Jr. was light-hearted in his conversation with Barstool owner Dave Portnoy. "If I could have found ways to scheme that deal up, I absolutely would have done that," Tuohy Jr. said.
Tuohy's father Sean Sr.— who reportedly sold over 100 fast food franchises and other properties for over $200 million in his career — also refuted Oher's story. "We're devastated," Tuohy told the Daily Memphian. "It's upsetting to think we would make money off any of our children. But we're going to love Michael at 37 just like we loved him at 16." Tuohy contradicted his son's claim on benefitting financially from the film: He said that "we didn't make any money off the movie" except from the $14,000 that Michael Lewis gave to each family member from his share of the deal. As for the decision to pursue a conservatorship, Tuohy claimed that his lawyers told him and his wife that they could not adopt an 18-year-old. "The only thing we could do was to have a conservatorship," he said. Tennessee law, however, allows for adoption for 18-year-olds.
An attorney for the Tuohy family said on August 16 that they now intend to dissolve the conservatorship. Another attorney representing the family — the high-profile Hollywood attorney Marty Singer — claimed the day earlier that Oher threatened to "plant a negative story about them in the press unless they paid him $15 million." Singer described the filing in court in Tennessee as a "shakedown effort" and that the "notion that a couple worth hundreds of millions of dollars would connive to withhold a few thousand dollars in profit participation payments from anyone – let alone from someone they loved as a son – defies belief," Singer said in his statement.
Oher's attorney J. Gerard Stranch IV told ESPN that his relationship with the Tuohy family was stressed after he saw the movie, which he thought portrayed him as "unintelligent." Stranch added that their relationship "continued to deteriorate as he learned that he was the only member of the family not receiving royalty checks from the movie, and it was permanently fractured when he realized he wasn't adopted and a part of the family."
Oher is now asking the court to end the conservatorship, bar the Tuohys from using his name and likeness in the future, and make sure he is paid a full share of profits in addition to damages.