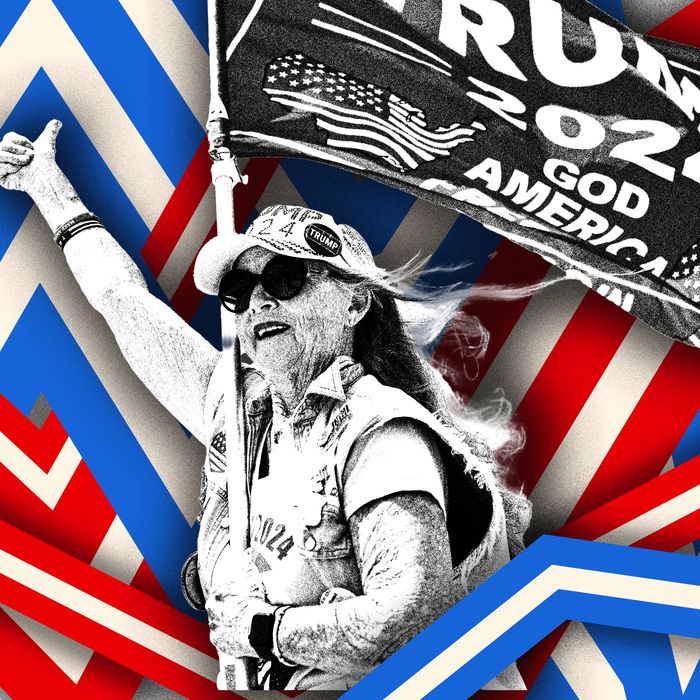 In Trump his supporters trust.
Photo-Illustration: Intelligencer; Photo: Getty
The federal indictment of Donald Trump over his effort to overturn the results of the 2020 election is by far the most consequential and conventional criminal indictment of the three made against him so far this year. It involves months of alleged misconduct you don't have to be a lawyer to understand, and big national events the whole world watched on television and/or followed in print and social media. The indictment also significantly complicated the ongoing presidential bid of its chief target, who must now devote even more financial and personal resources to the threshold challenge of keeping himself out of prison while enduring the brutal demands of a national campaign.
There is now just enough post-indictment polling data to see if a federal indictment accusing Trump of some of the most nefarious behavior in American history affected his front-running standing for a third consecutive GOP presidential nomination. So far, the answer is an unambiguous "no."
In the RealClearPolitics national polling averages, Trump's support level was at 53.9 percent on August 1, the day the indictment was announced; it's at 54.2 percent on August 11. The regular-as-rain Morning Consult tracking poll gave Trump 58 percent of the national vote just before the indictment dropped, and then 59 percent a week later. Reuters/Ipsos showed Trump at 47 percent in a national poll with data from August 1–3; its mid-July survey gave Trump 47 percent.
One outlet, Fairleigh Dickinson University (the poll is its first public one of the 2023 race, so no trend lines are available), worked hard to suss out a potential cumulative impact of all the indictments on Trump's standing, but it's pretty shaky:
48 percent of Trump supporters say that they would consider supporting someone else for the nomination. But when Trump supporters are reminded about the indictments, they become 11 points more likely to say that they're open to supporting someone else (an increase from 43 percent to 54 percent). In effect, reminding voters about the indictments reduces the size of the "only Trump" wing of the party from 32 percent to 25 percent.
But the pollster concedes that "even if Trump lost all of his supporters who say they're open to someone else, he'd still be in the lead."
So far, the minimal impact of the third indictment is much like that of the second that dropped on June 8 (the federal classified documents case being tried in Florida), and unlike the sizable gains he posted after the first indictment involving hush-money payments was released in Manhattan on March 30. Arguably, Trump has reached the ceiling of his support in a contested presidential-nominating contest. But even in the two cases where an indictment has not boosted his level of support, it has unquestionably made life more difficult for his Republican rivals by denying them attention as they pursue the front-runner. And there are signs the contest is beginning to evolve if you look beyond Trump's numbers to those of his intraparty opponents.
Ron DeSantis's level of support among Republicans nationally has almost exactly been cut in half since Trump's first indictment (per the RealClearPolitics averages, it was at 30.1 percent on March 30 and is at 15.1 percent now). No other candidate is threatening DeSantis's second-place standing nationally at this point, but limited polling in Iowa, where the Florida governor is increasingly pinning his hopes, shows Tim Scott enjoying a boom. He's now at 9.7 percent in RCP's Iowa polling averages, just seven points behind DeSantis.
Ultimately, of course, the "court of public opinion" on Trump's alleged crimes will be the 2024 general electorate, assuming the former president makes it that far without losing his party or his liberty. It is much too early for general election trial heats to mean a great deal, but such polls continue to be very close and very stable (Biden leads Trump 44.8 percent to 44.1 percent in the RCP averages). To the extent general election swing voters are clearly more open to the evidence against Trump than are his MAGA base supporters, their reaction to the mounting legal problems of the 45th president bears close watching. But any signs of general-election vulnerability for Trump may appear too late to save his Republican opponents.