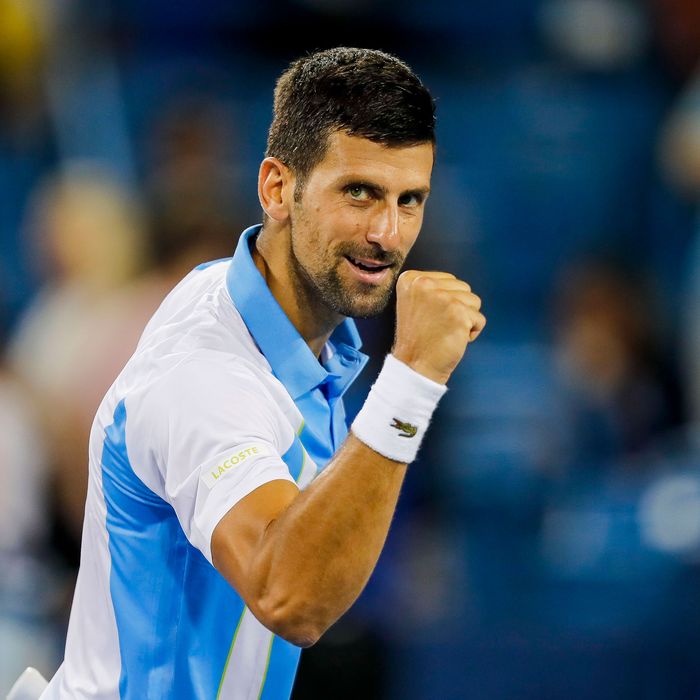 Photo: Katie Stratman/USA TODAY Sports via Reuter
Last Sunday, at Cincinnati's Western and Southern Open, Novak Djokovic and Carlos Alcaraz faced each other for the first time since their epochal Wimbledon matchup in July. At the end of a twisty three-hour-and-49-minute classic final, played in 90-degree heat and humidity, Djokovic emerged ragged but victorious. One can only hope that these two will square off again at the U.S. Open, which begins on Monday.
Djokovic's performance in Ohio was, by his current standards, unusually human— he was visibly fatigued by the heat, requiring a medical timeout and pulse check at one point. But in the end, the win still exemplified the qualities that make him (almost) unbeatable at the relatively advanced age of 36. By now, 23 Grand Slam victories in, Djokovic has become a kind of freakish human algorithm, a self-learning model trained on 30 years' worth of performance data, one whose outputs have only become more responsive — and iterative — over time.
As his peers move past reasonable thresholds of injury and burnout and succumb to the allure of work-life balance off the court, Djokovic is instead newly entangled in a May-December rivalry with the ATP's most dazzling young player, who is 16 years his junior. Djokovic's recent achievements — winning his 39th ATP Masters title, becoming the only man in the Open era to win every Grand Slam at least three times, among others — exist now on their own plane, well out of reach of his contemporaries. Roger Federer, who retired last year at 41, was still winning majors at 36, but his 30s were largely marked by disappointment compared to his high-flying younger years, before a late-career resurgence that only came after significant injuries. Rafael Nadal, 37, withdrew for the year in May to tend to his hip, acknowledging that 2024 will likely be his last on tour. Djokovic is neither chronically injured nor noticeably declining. Long gone is the jester persona, the goofy younger brother perennially in the shadow of the other Bigger Two. Djokovic won.
How did he do it? In part by absorbing information from his opponents in real time, like tennis's version of a large language model. It's not news that Djokovic has the best return of serve in tennis history; he's always been able to neutralize the power coming from across the net. But it's more than that. He soaks up the other player's movements, timing, flaws just enough in the first stages of a match — even if that means stumbling early on — to finish the rest as a trained dissection. Losing the first set is usually prelude to domination. A case in point was the 2022 Wimbledon final, when Djokovic dropped the opening set to his once-foe, now friend Nick Kyrgios and then dismantled him, vulturelike, over the course of the next three. Kyrgios's confidence broke down mid-match, followed by his temper. Djokovic never misplaced his focus. Kyrgios, who'd been enjoying a career-best season, said he probably would have won the championship if he'd been playing anyone else. In 2021, the Italian Matteo Berretini's dreams of a Wimbledon victory survived the first set before Djokovic turned on the jets. Weeks earlier, Djokovic had been down two sets in the French Open final before mounting an astounding comeback against Stefanos Tsitsipas. Both of these opponents were in their mid-20s. What should be harder, physically, for Djokovic at this stage, more effortful, simply isn't.
And while his corporeal feats deserve their flowers, it's his mental game that remains unsurpassed. Djokovic lost the first set to Alcaraz in Sunday's match. There were points in the sets that followed where the end appeared in flashes across his face. But they didn't stick. When Alcaraz's service game began to suffer, you could see Djokovic sucking in all the energy on the court. During changeovers, he sat still with his eyes closed. To watch it live was to see a kind of reprogramming taking place before the next game. Somehow, he's only grown more mellow with strife, more pliable with time. In the process, he's outlasted the biggest threats to his legacy.
Djokovic's wins are not always electric or explosive, but his patience is unparalleled. His ability to wait, to self-discipline and withhold the urge to strike until sensing human weakness, is its own kind of generative art. And he excels most at moments that require a machinelike sangfroid. He has the highest tie-break win rate in the ATP, and winning a pivotal point off him in that setting is a treacherously difficult task.
He's found ways to master other pesky aspects of human existence too. He is famously gluten-free. He doesn't appear to know how to waste a minute: When there's a break between matches, he meditates. When the grass is slippery, he has a towel. There is no practical use of his time that isn't put toward being the most complete version of a professional tennis player.
He's also taken superfluous negative emotions mostly out of the frame. Djokovic appears, at least publicly, as blithely unaffected by a defeat in a Grand Slam final — one that for any other player his age could risk being the last one they ever played — as he does about the wild saga (a canceled visa, protests in Belgrade, immigration detention, a lost appeal, deportation) that was his circuitous attempt to compete unvaccinated in the 2022 Australian Open. When asked about his July Wimbledon loss to Alcaraz, Djokovic said that he was over it in a day. Last August, with no change to his vaccination status, he was prohibited from playing the U.S. Open. The prolonged absence could have been a death knell in the twilight of a seasoned pro's career. But when Djokovic was allowed to return to the Australian Open in 2023, rested, recovered, full of plants, jacked from pushing cars down the street, he won the title to glowing reception.
There's an old passage from his 2013 book, Serve to Win: The 14-Day Gluten-Free Plan for Physical and Mental Excellence, that occasionally recirculates on Twitter. It describes how Djokovic abstained from chocolate for two years, despite craving it desperately, and how after his six-hour victory over Nadal at the 2012 Australian Open, he popped off one single square from a bar to indulge in and left the rest. His fanatical dedication to improvement is the same now as it was then, one that has helped blunt the effects of time that fell mere mortals.
Next week, U.S. Open attendees will be in the presence of a rare kind of being — one with seemingly all of the wisdom and experience that comes with age and none of the liabilities.