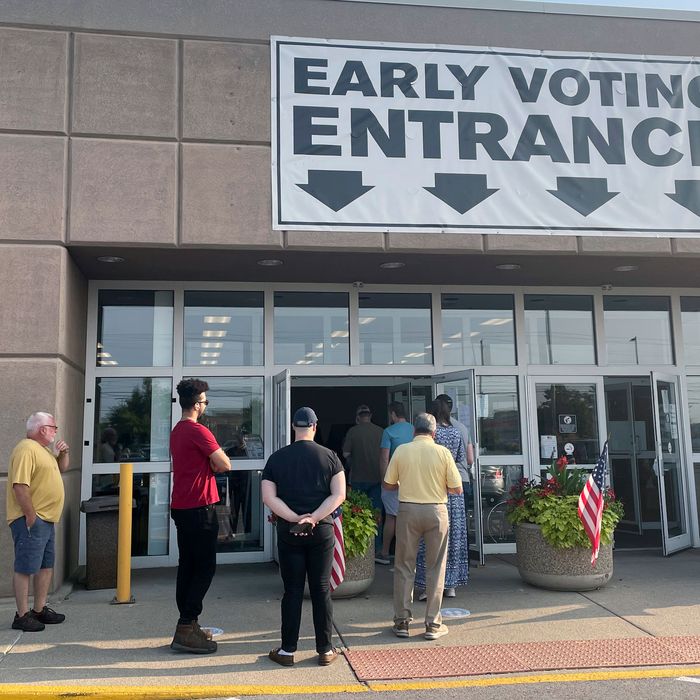 Long lines for early voting in Ohio's special election.
Photo: Samantha Hendrickson/AP
After the Supreme Court struck down Roe v. Wade last summer, Ohio voters put an initiative on the ballot to amend the state's constitution to protect a right to an abortion. They were following in the footsteps of voters in several other states who have done the same in the face of Republican-led efforts to ban abortion outright. But then Ohio's Republican-controlled legislature (whose own near-total ban on abortion is snagged in the courts) tried to pull a fast one.
Republican lawmakers created a single-issue August special election in which voters would confront a constitutional amendment called Issue 1 that would raise the threshold for voter approval of future amendments (beginning immediately) from a simple majority to 60 percent. The idea, of course, was to make passage of the abortion-rights amendment in November significantly more difficult. On Tuesday night, though, their sneak attack failed, and Issue 1 was defeated. The Associated Press called the race for "No on Issue 1," with the initiative being rejected by a 3-2 margin with a bit less than half the expected vote counted. Eventually the "no" vote wound up winning by a 57 percent to 43 percent margin. Turnout was over a third of the voting-eligible populations, about double the turnout in the last Ohio statewide single-issue special election in 2018.
Extremely heavy early in-person voting in Ohio's left-leaning urban areas, especially over the last weekend, made it clear what was likely to happen, and showed how the GOP's stealth strategy failed.
The idea was to sneak Issue 1 past pro-choice voters who might not turn out for a single-issue election in a blazing-hot August, or who might not realize the vote was really aimed at denying abortion rights. As the Associated Press observed in July, Republican backers of Issue 1 were blatantly duplicitous about what they were up to:
Republican Secretary of State Frank LaRose, who supports the measure, has previously called Issue 1 a "win for good government" that protects Ohioans from out-of-state special interests.




But he had a different tone at a Seneca County dinner for Lincoln Day in May, when he said that the August measure "is 100 percent about keeping a radical, pro-abortion amendment out of our constitution …"




[E]arly summer messaging on social media and in churches has consistently urged a yes vote on the August amendment "to protect life" — and that's just one example of the loaded messages confronting voters during the campaign.
Abortion-rights advocates sounded the alarm, and an aroused and even angered pro-choice majority mobilized, as has happened across the country since the fall of Roe. From August through November of 2022, there were ballot initiatives either confirming or denying state constitutional rights to an abortion in six states (California, Kansas, Kentucky, Michigan, Montana, and Vermont), which were all won by pro-choice voters. We're going to see additional ballot tests during the 2024 presidential election cycle, most likely in Arizona, Iowa, Florida, Maryland, Missouri, Nebraska, New York, and South Dakota.
In Ohio, about all the forced-birth lobby achieved was to divert some of the money stashed away by reproductive-rights advocates for the November initiative. But its actual passage seems very likely now, with the average of polls showing that 57 percent of Ohio voters supporting it. (Those numbers also show that had Issue 1 passed, the November abortion rights initiative would have indeed been in trouble). Another pro-choice win in November could create new tensions between Republicans and their disappointed anti-abortion-movement allies and shine a light onto a path Democrats might follow to overperform their recent Ohio showings in the 2024 elections, when, among others, Democratic senator Sherrod Brown will be on the ballot. Beyond the partisan implications, the nationwide pro-choice winning streak among voters continues, and women in one more red state can feel relatively safe against the malice of their legislators.