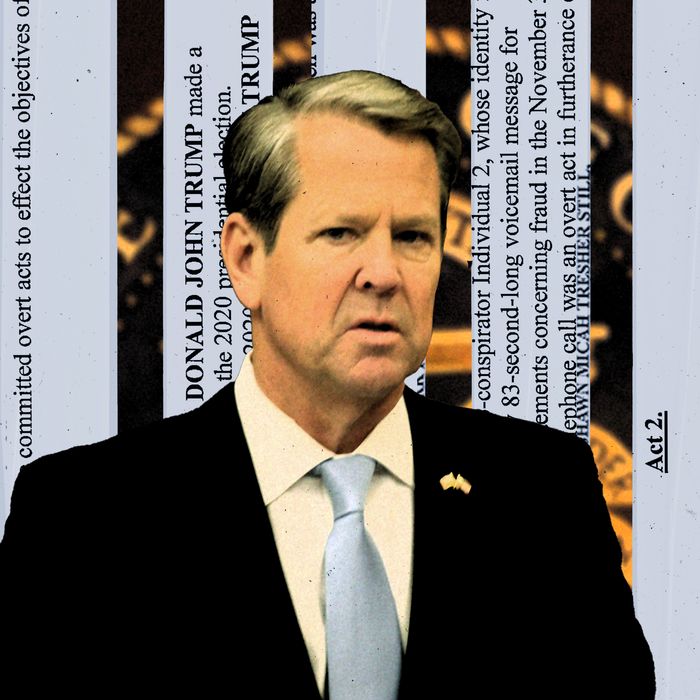 Under Georgia's Constitution, Governor Brian Kemp couldn't pardon Trump even in the unlikely event he wanted to.
Photo-Illustration: Intelligencer; Photo: Justin Kase Photography/Shutterstock
In the MAGA fantasy for how Donald Trump will outfox his persecutors, there's a simple Plan B that will come into play if he wins the 2024 presidential election while still facing federal criminal charges. The 46th president will either pardon himself (a controversial proposition) or he'll order the Department of Justice to suspend any further proceedings against him and his cronies.
These remedies will not, however, be available to short-circuit state criminal proceedings like those he is facing in Fulton County, Georgia. And worse yet, if he is convicted in Georgia, a pardon is more or less out of the question. Yes, Georgia Governor Brian Kemp is a Republican, albeit a Republican who is a bitter enemy of Trump and a likely witness against him in the Fulton County proceedings. But Georgia's constitution gives the exclusive power of pardoning not to the governor (as is the case in most states) but to an appointed five-member Board of Pardons and Paroles serving seven-year terms. (This change was made in the 1940s after a governor was credibly accused of selling pardons). Georgia's system, moreover, limits applications for a pardon to those who have already served at least five years of their sentences. There is a separate provision for commuting sentences, but it involves a very high burden of persuasion that the trial producing the sentence involved a miscarriage of justice.
When these realities of Georgia's pardoning system began to sink in, Trump flacks immediately called on Georgia's Republican legislature to "fix" the problem by giving the governor the pardoning power most of his peers enjoy. But that would require a constitutional amendment initiated by a two-thirds vote in both chambers of the legislature, and Republicans simply do not have the votes. As the Atlanta Journal-Constitution reported, Kemp's spokesperson added insult to injury by comparing this plea to the demands Trump made in late 2020 for a legislative special session in Georgia to take away Biden's certified electors, which distracted Republicans from the runoff elections and cost them control of the U.S. Senate:
Gov. Brian Kemp adviser Cody Hall compared the conspiracy theories that dominated pro-Trump circles in the last presidential election to the pressure campaign by his supporters now to overhaul the pardons process.




"Where have I heard special session, changing decades-old law, and overturning constitutional precedent before?" Hall asked. "Oh right, prior to Republicans losing two Senate runoffs in January of 2021."




He added: "What are people hoping to learn in the second kick of the election-losing mule?"
It's worth noting that Team Trump's likely gambit of seeking removal of the Georgia case to federal court under an obscure statute meant to protect federal office holders from improper state proceedings won't affect his inability to secure post-conviction relief. If a federal jury convicts Trump of violating state laws, he'd be sentenced by a federal judge to penalties provided for in state law and served in state facilities. So he'd be right back in the same post-sentencing system he'd face if tried in state court.
More than likely, if Trump wins back the White House after (or soon before) being convicted of violating Georgia's criminal laws, his best option will be to appeal to federal courts to suspend enforcement of the sentence so that he can discharge his constitutional duties as president. Sooner or later, though, he would have to face the music in Georgia. And if he fails to win in 2024, the consequences could be immediate and very hard to avoid.