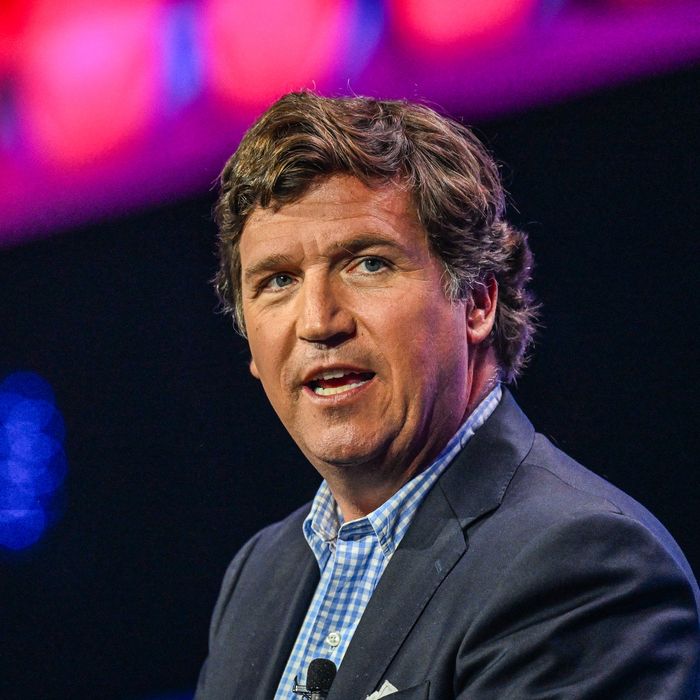 Photo: GIORGIO VIERA/AFP via Getty Images
In the months since his surprise departure from Fox News, Tucker Carlson has been running a fairly quiet operation, recording most of his shows from his home in Maine and posting them on Twitter. But as he approaches the end of his contractual obligations to the network that fired him, he's reportedly eyeing some big backers for his next business venture.
CNBC reports that Carlson has been in talks with conservative megadonor Rebekah Mercer about funding his next move. The donor, whose billionaire family gave millions to the Trump campaign in 2016, has already invested indirectly in Carlson's new media company via her investment firm 1789 Capital, which she has poured $150 million into with the aim of backing "non-woke" companies. Any additional cash routed Carlson's way would be on top of that.
The billionaire Peter Thiel is also considering throwing some money Carlson's way, per CNBC. The PayPal founder, who helped get Senator J.D. Vance elected in Ohio, reportedly told allies that he might invest in the company after he heard a pitch from Carlson's people.
The recruitment of Thiel and Mercer would be a major break for Carlson as he seeks funding for his next big thing. The former Fox News host has had some success attracting advertisers, but his viewership has declined since his first shows on Twitter in June, and pulling in two huge Republican donors could help him regain momentum. He's going to need the money, too. Carlson, who wants to run a subscription-based network potentially hosted on Twitter, remains under contract with Fox News until January 2025 —meaning that he's theoretically subject to a noncompete clause through the entirety of the next election. In June, the network sent him a cease-and-desist letter for breaching that contract with his show on Twitter.