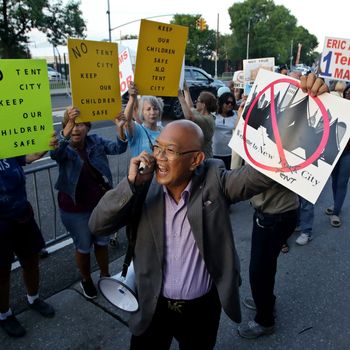 Photo: Leonardo Munoz/VIEW press via Getty Images
A new Siena College poll suggests that New York voters disapprove of a little bit of everything in politics today on both the state and national levels.
The survey focused in part on New York's migrant crisis, an issue that is taking up more and more political oxygen for Mayor Eric Adams and Governor Kathy Hochul. When asked if migrants resettling in New York over the past 20 years was more of a benefit or a burden, 46 percent of all respondents said it was a burden, while only 32 percent called it a benefit, 19 percent said it was mixed, and 4 percent didn't answer or said they didn't know. Sixty-seven percent of Republicans and 33 percent of Democrats thought it was a burden.
Additionally, 82 percent said the recent influx of asylum seekers was a serious problem, with 54 percent calling it a "very serious" problem. Only six percent called the situation "not at all serious."
Respondents were also asked to assess the job local leaders were making to handle the influx of asylum seekers. Forty-seven percent of voters said they disapproved of the job that Mayor Eric Adams was doing to tackle the issue, with 30 percent of voters specifically saying they "strongly" disapproved and only 31 percent saying they approved. On Governor Kathy Hochul, 51 percent disapproved of her handling overall with 35 percent saying they "strongly" disapproved. The Biden administration didn't escape the voters' ire on the topic. Fifty-nine percent of all voters surveyed said that they disapproved of the White House's job in easing the crisis in New York.
Only 39 percent of respondents said that New York was on the right track, in comparison to 48 percent of those who said the state was heading in the wrong direction. On the United States, 30 percent said the country was on the right track while 62 percent of respondents said the opposite.
Regarding the 2024 election, 47 percent of total voters said they'd support President Joe Biden for reelection while 34 percent would back Donald Trump. Thirty-five percent said they'd prefer a different candidate on both sides rather than a Biden and Trump rematch. When asked if the Democratic Party should renominate Biden or select another candidate, 47 percent of Democrats surveyed backed keeping the president while 46 percent were in favor of a new nominee.
The same leaders also had some less than ideal favorability ratings. Hochul received a 40-46 percent rating, a decrease from 42-43 percent in a previous June poll. Adams was given a 29-37 percent favorability rating with 34 percent of voters saying they either "don't know" or had no opinion. Biden received a 46-50 percent rating, the first time he's been underwater in this poll.
The poll surveyed 803 New York State voters from August 13 to 16.