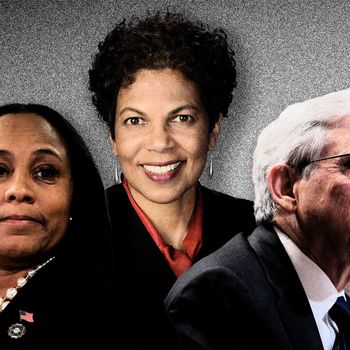 Photo-Illustration: Intelligencer; Photos: Getty, United States federal court
After Donald Trump was indicted for racketeering in Georgia following a yearslong investigation into his efforts to overturn the 2020 election there, the former president's supporters began doing their own research. Over the past week, the names and supposed addresses of the grand jurors involved in the probe have been posted on far-right conspiracist forums, with some users vowing revenge. By Thursday, the Fulton County sheriff's office opened investigations into the threats, with the FBI's cooperation.
Trump has long had a habit of making threats against his political adversaries and prosecutors looking to hold him accountable — resulting in death threats or worse from some of his most dangerous supporters. But the unprecedented indictment season this year has intensified the cycle of Trump supporters menacing public officials and those who stand in his path to regain power. As he put it recently, "If you go after me, I'm coming after you!"
Days before his supporters began doxing grand jurors in Georgia, Abigail Jo Shry of Texas threatened the federal judge overseeing Trump's election-interference case in Washington, D.C. According to prosecutors who charged her, Shry called Judge Tanya Chutkan, telling her that "if Trump doesn't get elected in 2024, we are coming to kill you. So tread lightly, bitch." She added that "we want to kill you" and that Chutkan's family will be targeted "personally, publicly." Shry, who is white, began the call to Chutkan, who is Black, by saying, "Hey, you stupid slave n- - - - -."
Fani Willis, the district attorney prosecuting the Trump case in Georgia, has also been subject to racist threats. In late July, Willis said that she had been receiving "ignorant voice-mails" as the grand jury inquiry wrapped up, as well as a message that called her the N-word and a "Jim Crow Democrat whore." Willis said that Fulton County commissioners were also targeted in emails.
The most dangerous of the recent spate of threats came from 75-year-old Trump supporter Craig Robertson. Federal prosecutors gathered dozens of Robertson's Facebook posts, in which he threatened to assassinate public officials, including Manhattan district attorney Alvin Bragg, who charged Trump in the spring, and Attorney General Merrick Garland, whose Justice Department is prosecuting Trump over his coup attempt and the classified-documents case. "I dreamed I was in a dark corner of a Washington DC parking garage," one post read. "I was standing over the body of the US Attorney General Merrick Garland with a bullet hole dead center in his forehead." When FBI agents appeared at Robertson's house in Utah to take him into custody on August 9, he pointed a .357 revolver at them, and the agents shot him dead.