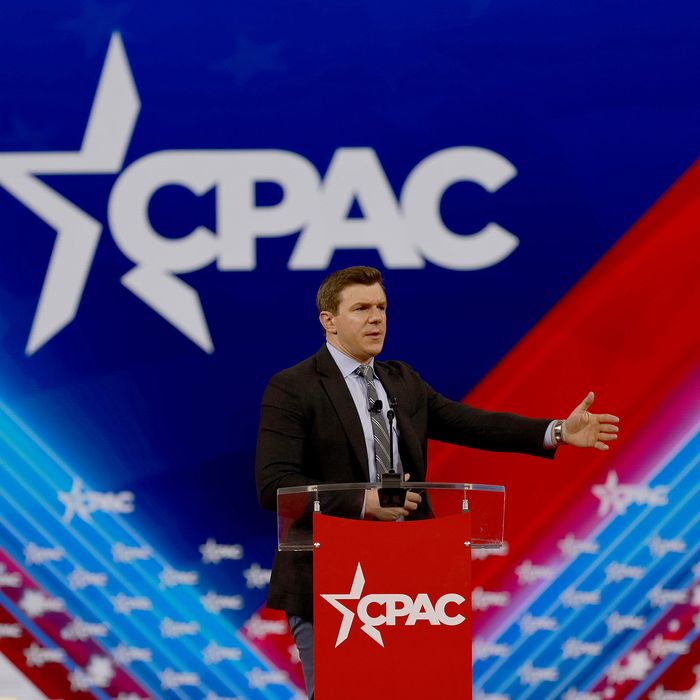 Photo: Joe Raedle/Getty Images
It's been a tough year for conservative provocateur James O'Keefe. In February, he was ousted from his role as CEO at Project Veritas for allegedly bilking the nonprofit conservative-media company he founded and for cruel behavior toward employees. Now, he is being investigated by the Westchester County District Attorney's Office.
A spokesperson for the D.A.'s office told The Nation that O'Keefe is facing a probe, though they did not confirm what they are investigating or when they began. But The Nation said the timing of the inquiry suggests that they are looking into O'Keefe's profligate spending of donor money on what the Project Veritas board called his "personal luxury." After his departure, the media outlet known for liberal sting operations published the results of a third-party audit claiming that O'Keefe was spending recklessly. He dropped $14,000 on a charter flight to get his boat fixed — a trip he covered up by allegedly claiming he was meeting a donor. He spent thousands on personal DJ equipment and some $60,000 for "dance events." In the 18 months leading up to his removal, he also spent $150,000 on limo rides.
As The Nation notes, these "self-indulgent expenditures would be what's known within the Internal Revenue Code for tax-exempt 501(c)3s as inurement." Tax code explicitly prohibits nonprofits from using income or assets to "excessively benefit an individual" working at that nonprofit.
While O'Keefe's home was raided by the FBI after Project Veritas acquired Ashley Biden's stolen diary, this is the first time O'Keefe has been the target of a criminal investigation.
Project Veritas told The Nation that it did not tip off the Westchester DA by filing a criminal referral regarding O'Keefe. However, the nonprofit did sue him in civil court in May over his alleged spending habits.
Correction: A previous version of this article misstated who spoke to The Nation.