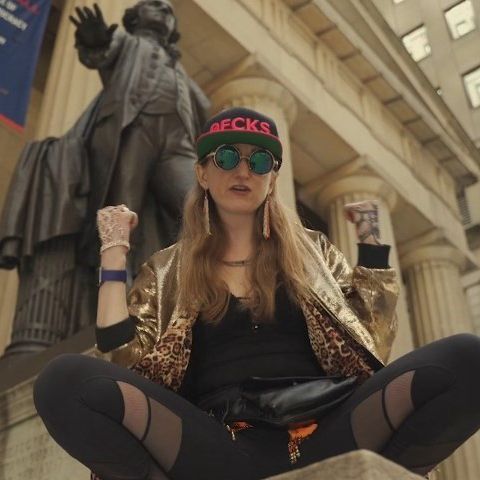 When Heather Morgan and Ilya Lichtenstein were arrested in February 2022 for allegedly trying to launder billions of dollars of bitcoin stolen in the mysterious Bitfinex hack of 2016, most of the attention in the case gravitated toward Morgan's subpar rapping alter ego, Razzlekhan, and the massive internet footprint that came with it. But the arrests also gave some clues as to who pulled off the Bitfinex hack, the largest heist in crypto history.
According to the Feds, Morgan and Lichtenstein had access to the funds from the heist roughly six months after they were stolen from the Hong Kong–based exchange. But many observers weren't sure if Lichtenstein and Morgan could have pulled off the heist itself. After all, they were able to launder only a tiny fraction of the 119,000 bitcoin stolen in the phishing attack. And they were never the savviest of alleged criminals: When the Feds raided their Wall Street apartment, they found a burner phone in a bag labeled burner phone.
But on Thursday, when Lichtenstein entered his guilty plea for the conspiracy-to-commit-laundering charge, he delivered a bold revelation: He had, in fact, pulled off the biggest crypto heist in history, even if he and his wife weren't that good at washing the money.
Before entering his guilty plea, Lichtenstein reportedly smiled and blew a kiss to his wife, whom he hadn't seen in person for over a year. Lichtenstein has been in jail in Alexandria, Virginia, during preliminary hearings, while Morgan has been at their New York apartment under house arrest. Lichtenstein also admitted that he had converted some of the stolen crypto to gold coins and that Morgan had buried the gold somewhere in California. They have now informed law enforcement of where that loot was stashed. Previously, prosecutors had only provided evidence of how Lichtenstein and Morgan used crypto wallets and Walmart gift cards to launder the stolen Bitfinex cash.
In the hearing, Lichtenstein also explained many of the suspect trips he took to eastern Europe and central Asia shortly prior to his arrest. According to CNBC, Lichtenstein, who was born in Soviet Russia, traveled to Ukraine and Kazakhstan to convert crypto to cash via Russian and Ukrainian proxies. The money was then shipped to Russia and Ukraine, where Lichtenstein picked it up and deposited it into his American bank account. It was in Kazakhstan that Morgan says she became suspicious of her husband's finances. While they were purportedly on a working vacation, she saw him burning documents in a trash can. "When I asked him about it, he was evasive," Morgan said.
In a separate hearing later in the afternoon, Morgan pleaded guilty to one count of money laundering and one count of conspiracy to defraud the United States. She claimed that, over the years, she had a "growing awareness" of her husband's ill-gotten wealth, but only in 2020 did she fully understand that his bitcoin came from the Bitfinex hack. She admitted that she then helped launder the funds. Lichtenstein stood up for his wife in his hearing, testifying that the laundering "was at my direction."
This is a developing story.