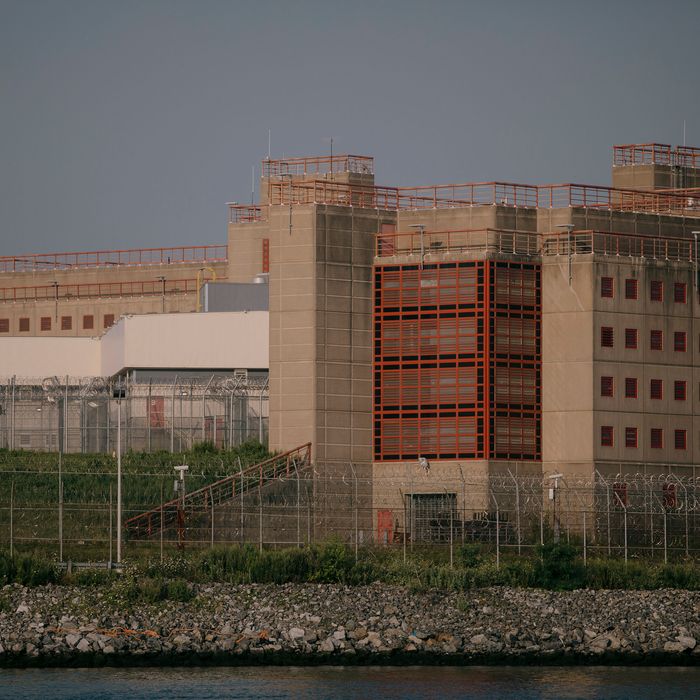 Photo: Jose A. Alvarado Jr./The New York Times/REDUX
A man paralyzed from the neck down after striking his head on the concrete floor following a takedown by guards. An officer standing by while an inmate was beaten in his cell. Others in custody pepper sprayed during an unsanctioned hostage drill.
These are just a few examples of how people held at Rikers Island have been treated over the past several years, according to a court-appointed federal monitor who has issued multiple reports in recent months about the inhumane conditions at the city's most notorious jail. On Thursday, the court will begin hearings about the city's management of Rikers and a judge will decide in the coming weeks whether the jail should be placed under federal control. Essentially, Rikers Island will be put on trial.
The legal battle goes back more than a decade. In 2011, inmates filed a class-action lawsuit with the Legal Aid Society against the Department of Correction alleging excessive force by corrections officers, Nunez v. City of New York. Four years later, after federal prosecutors in Manhattan joined the plaintiffs, the city settled and agreed to a monitor. The agreement also established a new use of force policy, called for additional conflict resolution and crisis intervention training, and ordered the installation of thousands of new security cameras throughout Rikers. During a June conference in the case though, Judge Laura Taylor Swain said that her confidence in the Department of Correction's ability to implement reform was "shaken" by reports of violence and neglect from Steve J. Martin, the monitor charged with observing Rikers.
In a May 26 report, Martin relayed disturbing details about the deaths of two inmates. One was a 31-year-old man named Joshua Valles who was initially believed to have suffered cardiac arrest, only for an autopsy to reveal that he had a fractured skull. Martin wrote in an additional letter that his team only learned of Valles's death from an outside source — not from the department itself. Another inmate, 52-year-old Rubu Zhao jumped from an upper level of the jail's psychiatric unit and later died from his injuries, an incident that Martin said he only found out through news reports. In late May, the Department of Correction announced that it would no longer publicly announce deaths that occur behind bars.
Martin wrote in May that there was "significant cause for concern about the imminent risk of harm to people in custody," and suggested that the Department of Correction's lack of transparency with the monitoring team and approach to addressing problems on Rikers was "antithetical to advancing reform." In July, he called for the city to be held in contempt for not abiding by the Nunez settlement in order to force action on urgent security and safety concerns, adding that his team "does not make such a recommendation to the Court lightly."
Mary Lynne Werlwas, the director of the Legal Aid Society's Prisoners' Rights Project, said conditions on Rikers are worse today than when Nunez was settled. "We've seen enormous harm to people who are incarcerated, both in injury, self harm in housing areas that are left abandoned by staff, and of course deaths that are, in far too many cases, attributable to the very problems Nunez is meant to solve," she said.
Though Rikers has long had a reputation for violence and abuse at the hands of officers, conditions deteriorated during the pandemic, especially as corrections officers went out on sick leave en masse. In 2021 alone, at least 15 inmates died while in custody and 19 died in 2022. So far this year, seven have perished in Rikers, which has spurred renewed calls for a federal takeover among elected officials including City Comptroller Brad Lander and Public Advocate Jumaane Williams.
Bill de Blasio's administration issued a plan to close Rikers in 2027 and replace the facility with smaller borough-based jails. Mayor Eric Adams, who first took office in 2021, inherited the plan but has often cast doubt on its feasibility, especially given that the proposed sites for the new jails have received pushback by neighboring residents.
Meanwhile, Adams has vowed to reform Rikers. The city filed an action plan last year intended to address the staffing crisis as well as decrease the violence and number of deaths at Rikers. The plan called for increased searches, additional recruitment for correction staff as well as requiring routine tours of all of the jail's housing units. This week, Martin called Department of Correction's latest efforts at reform "haphazard, tepid and insubstantial."
Adams has rejected the calls for federal control and has continued to commend the work being done by Louis Molina, the Department of Correction commissioner who has been in the role since the beginning of last year. During an unrelated event last month, the mayor said Molina was "doing a goddamn good job."
However, that same day, Damian Williams, the U.S. attorney in Manhattan said in a statement that he intended to pursue contempt proceedings and called for a federal takeover, saying that Rikers has "been in crisis for years."
"This is a collective failure with deep roots, spanning multiple mayoral administrations and DOC commissioners. But after eight years of trying every tool in the toolkit, we cannot wait any longer for substantial progress to materialize," he said.
Molina and Adams have attempted to push back against the monitor's findings, sharing footage of some of the incidents to selected news outlets. The commissioner told WCBS that the administration took this action to show that they "have nothing to hide" and that the incidents actually portray "the level of restraint and empathy that we have moved this department to under this administration."
A spokesperson for City Hall said in a statement that the administration's efforts have "led to significant improvements on Rikers."
"While much more remains to be done, the numbers speak loudly — double digit reductions in slashing and stabbings, assaults on staff, injuries to people in custody, serious use-of-force incidents, drug recoveries, and absenteeism. We take our obligation to keep people placed in our charge safe very seriously, and our administration remains committed to continued reform and working with the monitor," the statement read.
If appointed, a receiver would assume full control over the jail and answer solely to the court. "A receiver could make many of the day-to-day operational decisions that go into complying with court orders and have the authority to make the changes that the city's either unwilling or unable to make to get compliance with the court's orders," Werlwas of Legal Aid said.
On Wednesday, the Board of Correction, the oversight board that acts as a watchdog of the city's jails, filed a lawsuit against the Department of Correction over access to security footage in Rikers and throughout the entire system.
In an op-ed in the New York Daily News, a majority of the board members said the Department of Correction revoked their ability to monitor body camera footage and security video, writing the DOC has "consistently made attempts to block transparency and undermine our work."
The members also announced their support for placing Rikers in federal hands, adding that they have "lost faith in this administration to do what is right."
"The department is attempting to shroud the jails in impenetrable darkness. Their preference for looking good over doing good is patently dangerous to all who are held or work in the jails," they wrote.