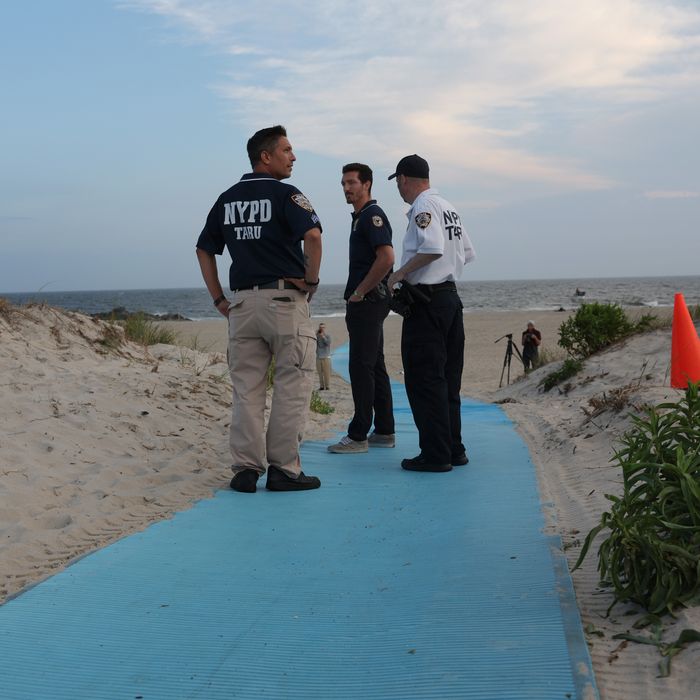 Photo: Spencer Platt/Getty Images
A woman was taken to the hospital Monday evening after being bitten by a shark while swimming at Rockaway Beach in Queens, the first such recorded attack there since 1953, per the New York Post.
Tatyana Koltunyuk, 65, was bitten on her left leg while swimming by what has been confirmed as a shark, per the New York Times. ABC 7 reports that police responded to a call at Beach 59th Street around 6 p.m. of a woman suffering from a shark bite. She was bitten above the knee, according to the New York Daily News, forcing emergency responders to use a tourniquet to stem the bleeding. Koltunyuk was taken to Jamaica Hospital in serious condition.
The city's Parks Department announced that the beach will be closed on Tuesday as a "safety precaution."
"Parks Enforcement & NYPD will be on patrol to keep swimmers out of the water. FDNY & NYPD will be doing aerial surveillance to monitor for sharks," the agency said on social media. On Wednesday, FDNY and NYPD officials confirmed that drone surveillance of the city's beaches will continue throughout the summer.
New York swimmers have already been on heightened alert following a series of suspected shark bites that were reported on Long Island in July within the span of several days. In June, the beach was briefly cleared following a shark sighting in the Hammels section, per CBS 2. Rockaway Beach also temporarily closed following sightings last summer.
If sharks weren't enough, beachgoers have another thing to be wary about as they venture into the water. The National Weather Service issued an advisory warning about a high chance of strong rip currents at city beaches on Tuesday, advising the public to only swim when a lifeguard is present. If a swimmer is caught in a rip current, the agency recommends swimming parallel to the shoreline and warns against attempting to go against the current.