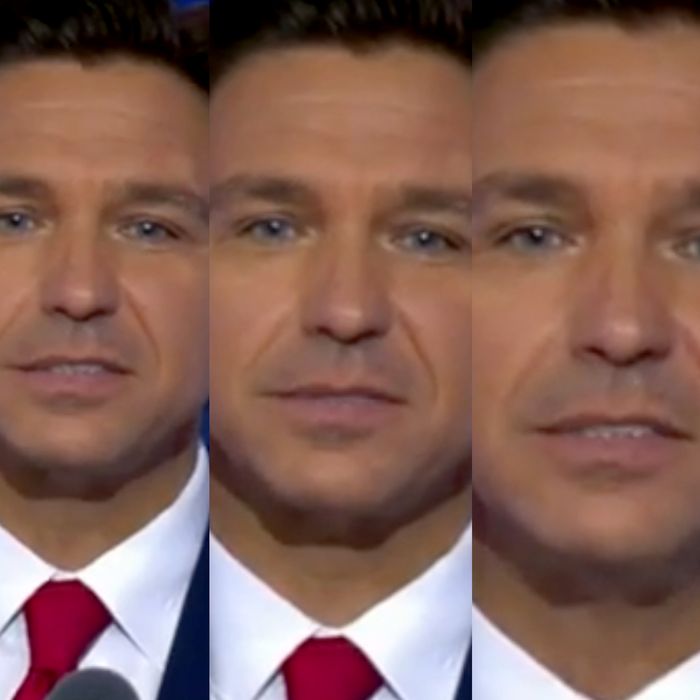 Photo-Illustration: Intelligencer; Photo: Fox News
Whether it's failing to look like an everyman while drinking a beer or saying weird stuff to kids in Iowa about their sugar intake, Florida governor Ron DeSantis has had a hard time relating to people on the campaign trail. But his forced smile at the first debate for the 2024 Republican primary has taken the focus on his awkward social interactions to a new level.
"We will get the job done and I will not let you down," DeSantis said toward the beginning of the proceedings. It was a totally forgettable line, but his delayed, robotic smile has etched its aftermath into the memory of debate-watchers everywhere.
The uncanny smile of the man who allegedly eats pudding with his fingers has held on as a moment for a couple days now:
Is the smile of a man who looks like he is dying inside going to help with DeSantis's growing reputation as a subpar retail politician with barely passable social skills? Absolutely not. But at this point, Republican voters who prefer him to Donald Trump have already accepted that he is simply not a normal person. In terms of exposure, the DeSantis campaign can at least be thankful that it had a lasting image produced the day before one of the most widely anticipated pictures in U.S. history was taken.