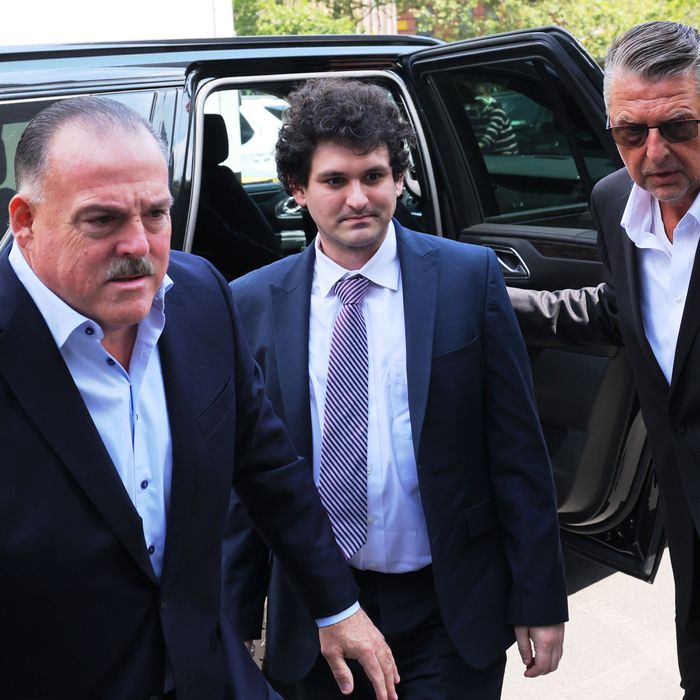 Photo: Michael M. Santiago/Getty Images
Sam Bankman-Fried was sent to jail on Friday following a hearing in which a federal judge determined there was probable cause that he had tampered with witnesses while on house arrest at his parents' multimillion-dollar home in Palo Alto.
Judge Lewis Kaplan ordered the FTX founder's bail revoked after prosecutors argued that he had harassed Caroline Ellison, his ex-girlfriend who served as his lieutenant in his allegedly fraudulent crypto empire. In July, Bankman-Fried shared her diary with a New York Times reporter, revealing that she had doubts about the "leadership" of the FTX-affiliated hedge fund Alameda, where she worked. Prosecutors claimed Bankman-Fried was trying to damage her reputation ahead of his October trial, in which she is expected to be a star witness. (Ellison has pleaded guilty to two counts of wire fraud and several conspiracy charges.)
Prosecutors on Friday also cited encrypted messages Bankman-Fried sent to FTX general counsel Ryne Miller in January on the Telegram app, in which he told Miller they should "vet things with each other." Prosecutors claimed it was an attempt to "influence" Miller if he were to serve as a witness in the trial.
While Bankman-Fried's lawyers tried to defend his actions on First Amendment grounds, prosecutors were frustrated with his frequent violations of his conditions of release. In March, he was restricted to using a flip phone after sending the Telegram messages to Miller. He also hid his IP address to watch the Super Bowl. "He has gone up to the line over and over again, and I'm going to revoke bail," Kaplan said on Friday.
After his bail was revoked, Bankman-Fried removed his suit jacket before being handcuffed by U.S. marshals. Reporters in the room said he looked pale and upset as the marshals took his tie and asked him to remove his shoelaces. He was ordered to be taken to the Metropolitan Detention Center in Brooklyn, where he will prepare for his trial from behind bars. Bankman-Fried's attorneys said they intend to appeal the ruling.