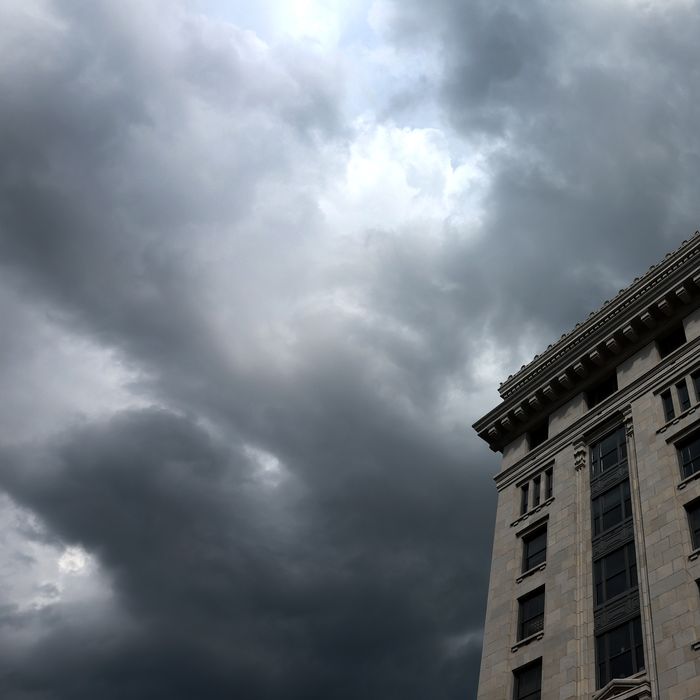 Storm clouds over Atlanta on Monday.
Photo: Joe Raedle/Getty Images
Severe thunderstorms are threatening tens of millions of people on the East Coast on Monday, triggering severe thunderstorm warnings, along with tornado watches and warnings, from Georgia to New York State. In addition to tornados, the storms could produce 60 to 80 m.p.h. wind gusts, hail, extreme rainfall, and flash flooding. The National Weather Service initially issued a rare Level 4 risk advisory for the Mid-Atlantic region, thousands of flights were delayed or cancelled, and nearly a million electric customers were without power as of Monday night. Below are updates on this developing weather event.
Looks like most of the East Coast got lucky
Thus far, the storms have not produced the extremes that many meteorologists had feared — this time at least:
Footage of some of the tornados
Tornado watches remain in effect in several states until late Monday night. Earlier in the day, multiple tornados were detected or seen across the East Coast. It's not yet clear how much damage they did or if anyone was hurt.
In New York:
In Tennessee:
That's big hail (in Virginia)
Severe thunderstorm watch for NYC tonight
Some striking views of the front lines of the storms
Welcome news regarding the wind reports thus far
Another round of storms headed for Georgia
D.C. took the brunt of the storms in the early evening
Federal offices closed early on Monday because of the coming storm, but it has thankfully been less severe than forecast.
Severe thunderstorm warnings, and some tornado warnings across multiple states
The storms so far
The Washington Post's indispensable Capitol Weather Gang reports:
Five tornado watches have been issued along with two severe thunderstorm watches. Around two dozen tornado warnings have been issued by the Weather Service, along with about 200 severe thunderstorm warnings. As of late Monday afternoon, more than 150 reports of severe weather — mostly from damaging winds — have been tabulated by the National Weather Service, mainly in the Appalachians before storms move into higher population zones to the east. Reports have been most concentrated in eastern Tennessee and West Virginia so far. These wind damage swaths will progress eastward.




There have also been a handful of reports of hail that is 1 or 1.5 inches in diameter. A funnel cloud was observed in a storm south of Binghamton in northern Pennsylvania. A number of flash flood warnings have been issued in western West Virginia, where several water rescues occurred earlier in the afternoon.
This post has been updated throughout.