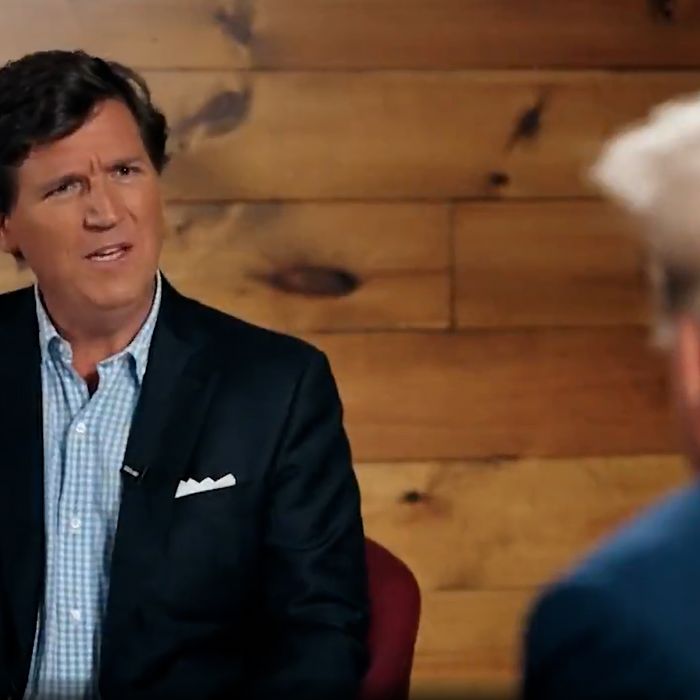 Donald Trump and Tucker Carlson have their own reasons for disliking Fox News these days. To spite the network hosting the first Republican debate, the pair sat down for a prerecorded interview at Trump's estate in Bedminster that aired just five minutes before the festivities in Milwaukee started. They discussed his four indictments, Jeffrey Epstein's death, and the "savage animals" of the Democratic Party. Below are the craziest moments from the interview.
Trump on why he's 'taking a pass' on the GOP debate in Milwaukee
When Carlson opened the interview asking Trump why he decided not to join the debate in Milwaukee, Trump cited his massive lead in the polls and his experience in the 2016 contests:
"Do I sit there for an hour or two hours, whatever it's going to be, and get harassed by people that shouldn't even be running for president? Should I be doing that? And a network that isn't particularly friendly to me, frankly. They were backing Ron DeSanctimonious like crazy, and now they've given up on him — it's a lost cause. It's reminded me very much of 2016. In 2016, I went through the same stuff. I had to fight them all the way, and they became very friendly after I won … I'm taking a pass, as you probably noticed."
Trump expects he'll get better ratings 'on this crazy forum' than the actual debate
Trump, a stickler for ratings, gave his opinion on how cable news has declined. MSNBC is not just fake news, it's "corrupt news." CNN is "absolutely doing no ratings at all." On Fox News, the "good old days are long ago." Trump said that he expected that his interview with Carlson, posted in full on the website formerly known as Twitter, would have better ratings than the debate itself despite the "crazy forum" it was hosted on. It was an interesting comment from the former president — considering that he has refused to come back to Twitter since his ban was lifted.
Trash talking 'Ada Hutchinson' and 'maniac' Christie
Though Trump wasn't on the stage in Milwaukee itself, he still took the opportunity to call everyone debating names. He calls Asa Hutchinson "Ada," but did not explain why. "I could tell you, but I don't want to get myself in a little trouble." Chris Christie is a "maniac" and a "lunatic." ("I've been friendly with him over the years," he said in the next sentence.) Trump also said Ron DeSantis was "gone-zo" and that "people have figured him out."
Trump suggests Jeffrey Epstein was murdered
Carlson asked a question that many Americans genuinely wonder to this day: Does Trump think sex trafficker Jeffrey Epstein killed himself? "I don't know," said Trump, who was friends with Epstein prior to his arrests. Carlson claimed that then–Attorney General Bill Barr engaged in a cover-up following Epstein's death, to which Trump replied, "Bill Barr didn't do an investigation on the election fraud either." After Carlson prodded, Trump said it was "possible" that Epstein was killed. "I think he probably committed suicide," he added. "Life with beautiful homes, beautiful everything, and all of a sudden he's incarcerated and not doing well … He knew a lot about a lot of people." Carlson insisted that Epstein "was killed," and Trump replied that "a case could be made either way."
Carlson asked Trump if he's worried 'they are going to try to kill you?'
Carlson suggested that the "next stage" after Trump's four indictments would be a potential assassination: "Are you worried they are going to try to kill you? Why wouldn't they try to kill you, honestly?" Trump replied by calling his opponents "savage animals" and people who are "really sick." Trump rambled about the "rigged" election and "open borders," but didn't really answer the outlandish question. He did say that he "retired" the "crooked Hillary" moniker and is now using it for President Joe Biden. "That was a good day for her," he said. "I bet she was very happy."
Trump on Biden: 'I think he looks terrible on the beach.'
Trump, 77, commented on the age and health of Biden, 80, saying that he "is worse mentally than he is physically, and physically he's not exactly a triathlete." Trump said Biden "can't lift his feet out of the grass" when he walks to the helicopter on the White House lawn. "And then you see him on the beach where he can't lift a chair. Those chairs are meant to be light, right?"
"I don't know what they're doing with the beach," Trump said. "The beach seems to be playing a big role. They love pictures of him on the beach. I think he looks terrible on the beach." He added that the beach "doesn't represent what the president is supposed to be doing."
The indictments are 'all bullshit'
The day before his mug shot in Georgia, Trump said the four indictments he is facing are "all trivia, all nonsense," noting that his poll numbers remain high.
"It's all bullshit," Trump said, referring to the classified documents case as the "boxes hoax."
Trump went off about how impressive the Panama Canal is
In a conversation about planned Chinese military installations in Cuba and Chinese infrastructure projects in South America, Trump gave a history lesson on the Panama Canal:
We built a thing called the Panama Canal. We lost 35,000 people to the mosquito. Malaria. We lost 35,000 people. We lost 35,000 people because of the mosquito. Vicious. They had to build under nets, it was one of the true great wonders of the world. As he said, one of the nine wonders of the world. No, no, it was one of the seven, it happened a little while ago. You know, nine wonders of the world. You could make nine wonders. He would have been better off if he stuck with the nine and just said, 'Yeah, I think it's nine.' But this is one of the true seven wonders of the world.
It's unclear who "he" his in this context, though Trump lamented that "China now controls the Panama Canal."
Trump is complaining about water pressure in the bathroom again


Decrying the state of American bathrooms these days, Trump said that contemporary regulations on water — which "comes out of heaven" — has resulted in poor-quality washing machines and dishwashers and "sinks where no water comes out."
"Wait, they have sinks where no water comes out?" asked Carlson.
"When I say water, very little water," Trump said. "You want to wash your hands, right? You turn on the sink, and there's very little. Or you want to wash your beautiful hair, and you're standing under the shower, then the water comes out very slowly. I'm sure you've seen this."