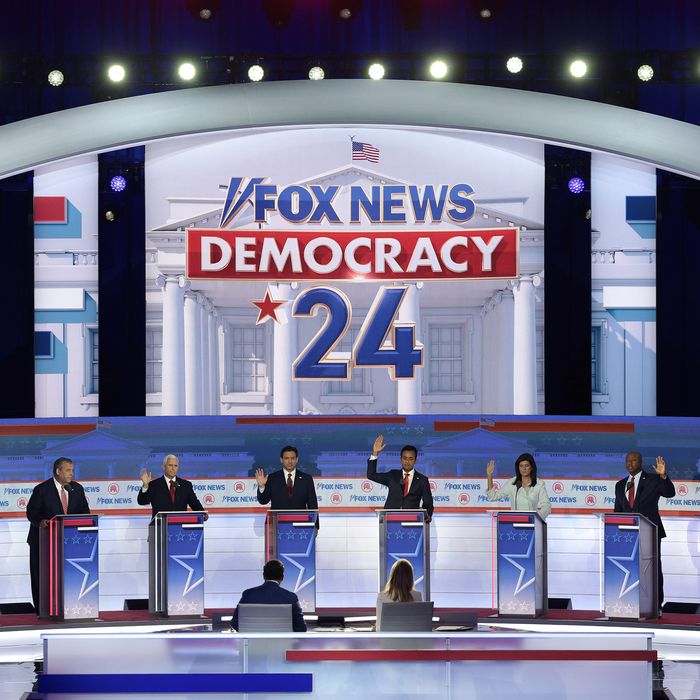 Republican debaters pledge allegiance to the absent Donald Trump even if he's a convicted criminal.
Photo: Win McNamee/Getty Images
When Donald Trump was still (in theory, at least) considering participation in the August 23 Republican presidential debate, there were three risks he was thought to be taking by staying away: (1) the eight candidates on the stage would take shots at him that he would not be present to rebut; (2) worse yet, he might seem irrelevant to the debate, calling into question his dominant position in the GOP; and (3) a star would emerge and give Trump a real challenge for the presidential nomination.
None of these three things happened in Milwaukee.
To take the least likely development first, Trump was far from irrelevant to the debate, aside from the fact that everyone knew an interview of the former president by Tucker Carlson was going up on social media even as they took the first question. The live audience cheered when he was mentioned positively and howled down any debater (notably Chris Christie) who dared suggest the 45th president was a bad man. The moderators also tried to force the candidates to address Trump's legal perils and Mike Pence's refusal to overturn Joe Biden's confirmation as the 2020 election winner on January 6, 2021. And Trump had a mini-me on the stage in Vivek Ramaswamy, who ensured the incendiary spirit of the MAGA movement was fully represented (albeit not as effectively as Trump).
At first, it seemed Trump might escape any criticism at all from his rivals, but 15 minutes in, Nikki Haley dinged him for contributing to alleged runaway spending by signing the (universally popular at the time) CARES Act, and then Ron DeSantis (without mentioning his name) said Trump should have fired Anthony Fauci. In the second half of the debate, four candidates with varying degrees of certainty agreed that Mike Pence did the right thing on January 6, which implied, of course, that Trump did the wrong thing. And at one point, Haley called him "the most unpopular politician" in the country and deemed him unelectable (an argument previously identified with DeSantis). Still, when the crucial "lightning round" question was asked as to whether the candidates would support Trump as party nominee even if he's a convicted criminal, DeSantis, Haley, Pence, Ramaswamy, Tim Scott, and Doug Burgum — in other words, everyone other than the professed anti-Trump candidates Chris Christie and Asa Hutchinson — all raised their hands. It was a clear gesture of submission.
The very best development for Trump in Milwaukee, however, was that no one left the stage poised to challenge the champ in the upcoming caucuses and primaries. Ron DeSantis, who has bled support regularly for months but remains in second place in most national and early state polls, seemed happy to keep a low debate profile, waiting his turn for infrequent questions and mostly sticking to his well-worn talking points. One candidate thought to have been making a move recently (especially in Iowa), Tim Scott, was virtually invisible during the debate. Another, Ramaswamy, was very visible, but probably placed a ceiling on his rising status by displaying a nasty, know-it-all demeanor that eventually earned him boos from what should have been a sympathetic live audience. Two candidates who got a lot of time on-camera, Pence and Christie, are profoundly unpopular among Republican voters.
Meanwhile, the consensus star of the debate, Nikki Haley, needs far more than one great evening to become a viable candidate for the nomination. She's at 3.2 percent in the RealClearPolitics national polling averages, and only a marginally better 4.6 percent in Iowa and 3.8 percent in New Hampshire. She has a long way to go before anyone bothers to measure her "electability" as a Republican nominee, which is probably her most important asset thanks to years of positive attention in the mainstream media.
In other words, the Republican opposition to Donald Trump remains weak and divided. And the more viable members of that opposition seem engaged, as the New York Times' Nate Cohn argued last week, in a "race for second place" in hopes that Trump's candidacy will implode without any of them doing anything to annoy his MAGA base. It's never a high-percentage strategy to count on that kind of luck when you are looking up at a 41-point deficit (as DeSantis currently is), much less a 52-point deficit (as Haley is), against a front-runner who has defied predictions of his imminent political demise for eight long years. The GOP is presumptively Trump's party until something really unexpected happens, like the former president going to the trouble to show up for future debates.