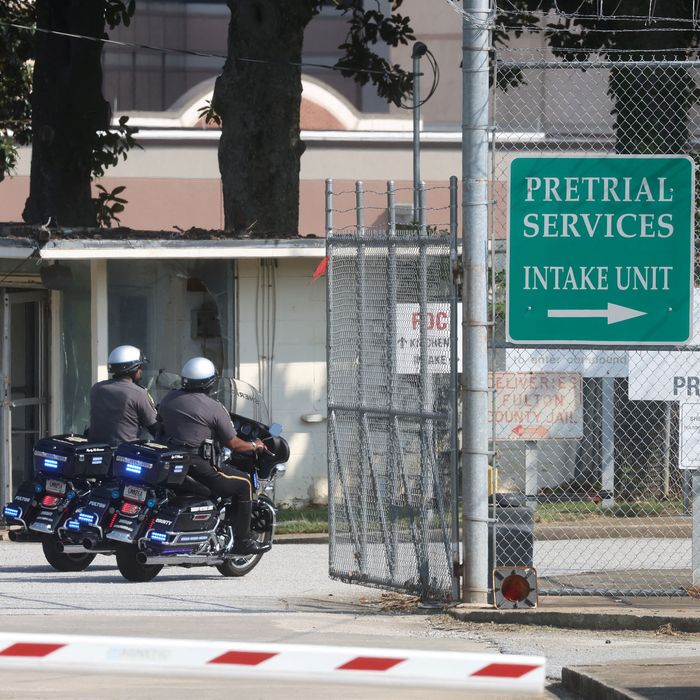 The Fulton County Jail, where Trump will have his mug shot taken on Thursday.
Photo: Dustin Chambers/REUTERS
Before Donald Trump was indicted in Georgia earlier this month, Fulton County sheriff Pat Labat promised that the former president would be treated the same as everyone else charged with a felony in Atlanta. "It doesn't matter your status," Labat told reporters. "We've got mug shots ready for you."
Trump's three prior indictments did not involve a mug shot: Both the Manhattan district attorney and the Justice Department determined that it wasn't totally necessary to photograph the most famous person in the world. But this week, he will pose in front of a gray background for the most infamous American mug shot since Frank Sinatra was charged with "seduction" in New Jersey in 1938. But because he is Donald Trump, he will not get the treatment of a usual suspect when he surrenders ahead of a routine appearance before a judge at the Fulton County Jail on Thursday, a facility under investigation by the Justice Department for its violent and unsanitary conditions. To expedite his time for security reasons, Trump's legal team has negotiated what is known as a consent bond, which establishes the terms of release and the price of his bail ahead of time.
When Trump arrives, it's still unclear if Secret Service agents will be able to hold onto their firearms inside the secure facility. "Inside the jail, there's no weapons," Mae Bullard, a retired Fulton County captain deputy-sheriff, said in an interview. "We have an area back there where an officer comes in, and if they have a firearm on, we have a locker area back there where they can lock it in a locker." The Secret Service and the Fulton County Sheriff's Department have reportedly been in talks about a security plan.
The intake room is normally a busy place, but Bullard expects that the crowd will be cleared out before Trump's arrival. "If they've got inmates in intake, they'll probably lock them all down in the holding tank or move them somewhere temporarily until they get through with the president," she said. "We've never dealt with this before, with a president, so they're going to try to process him as soon as possible and get him on out."
While at intake, jail staff will fill out a commitment form registering that Trump has been taken into custody. Bullard said that "in the same location, they will fingerprint him and take his picture." Trump will pose for two pictures: a head-on photo and one of him in profile, as has been the norm since the mug shot was standardized in France in the 1880s. Bullard said that a civilian employee or their supervisor, an officer, will take the photos with a simple digital camera. After the photos are in the system, it won't be long before they can be released to the public — Donald Trump in custody, with a watermark of the Fulton County Sheriff badge over his left shoulder. If the mug shots of his alleged co-conspirators are a template, the photo will be saturated with too much flash.
Because Trump and his co-defendants have already agreed to bond terms, the magistrate judge overseeing the arraignment may not require them to appear at the Fulton County Courthouse, leaving the pictures of Trump in court for another date.
After he is advised on his court date for his arraignment to plead guilty or not guilty, he will be released. "They're going to get him out as soon as possible," Bullard said, estimating that the process will take "anywhere from 30 minutes."