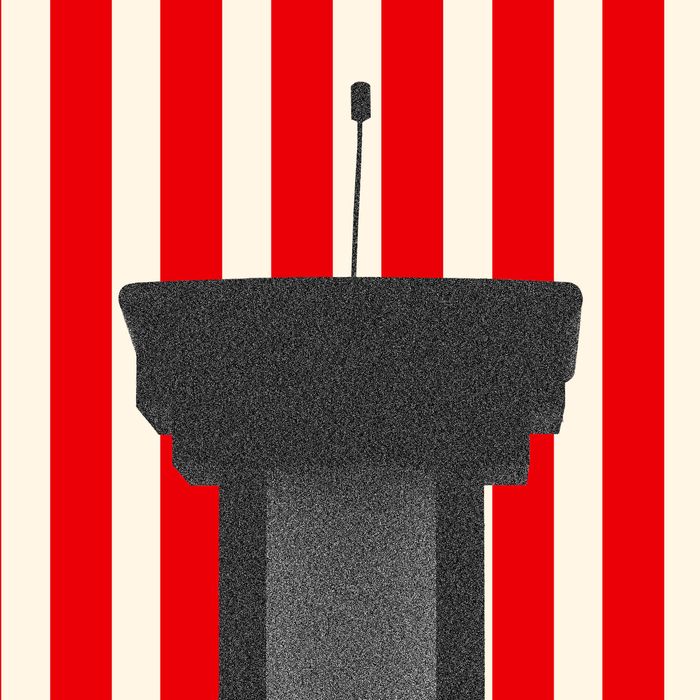 He might be standing behind this podium — or might be far, far away.
Photo-Illustration: Intelligencer; Photo: Joe Raedle/Getty Images
There's been mild interest in the political world about which extremely marginal Republican presidential candidates do or don't meet the Republican National Committee's criteria for participating in the first 2024 presidential debate in Milwaukee on August 23. At present, eight candidates have qualified, with another (Asa Hutchinson) on the bubble just 11 days before the cutoff for making the stage.
But the major drama centers on whether the first candidate to qualify in terms of donors and polling performance will actually show up. Donald Trump has kept us all guessing from the get-go. He's been engaged in one of his patented on-again, off-again feuds with the debate sponsor, Fox News, for months, mostly over the network's heavy positive coverage of Ron DeSantis, augmented by his anger at interview questions asked of him by Fox's Bret Baier, who will be one of the debate moderators. There's also precedent for him skipping a Fox-sponsored debate: He did so in early 2016 while feuding with that network's then-star-anchor, Megyn Kelly. His debate truancy had no clear effect on his march to the nomination.
Unlike his position in 2016, where he led the polls but without even coming close to a majority of voters until well into the primaries, Trump is now the overwhelming front-runner by nearly any measure. He has largely avoided joint appearances with his rivals on the apparent theory that treating them as equals unduly elevates them: He's Gulliver; they're the pesky Lilliputians trying rather hilariously to bring him down. While publicly toying with the question of whether to show up in Milwaukee, Trump has taken to asking his MAGA audiences if it makes any sense to share a stage with these losers:
But he won't definitively rule out appearing after all, and last week he agreed to dine privately with Fox News executives, who lobbied him not to skip it, as the New York Times reported:
The dinner between Mr. Trump, the Fox News president Jay Wallace and the network's chief executive, Suzanne Scott, was held in a private dining room at Mr. Trump's golf club in Bedminster, N.J. …




The Fox executives made a soft appeal for Mr. Trump to participate in the debate, two of the people familiar with the dinner said, telling the former president that he excels on the center stage and that it presents an opportunity for him to show off his debate skills. Several people who have tried pushing Mr. Trump to debate in recent weeks have argued that if he does not show up, he could be giving an opening to other candidates to perform well.




Mr. Trump told the Fox executives that he had not yet made a decision and would keep an open mind.
But even if Trump is inclined to bury the hatchet with Fox News, there's another obstacle to his participation in the August 23 event: his refusal to sign the general election "loyalty oath" the RNC is requiring of debate participants. He's showing no signs of relenting on that issue, as Bloomberg News reports:
Republican frontrunner Donald Trump said he would announce next week whether he would attend the first GOP presidential debate, but insisted he would not sign a required pledge to support the party's nominee.




"I have a problem with the debate for another reason. I wouldn't sign the pledge," Trump told Newsmax's Eric Bolling in an interview broadcast on Wednesday night.




"I can name three or four people that I wouldn't support for president," he said, but then declining to name them. "So right there that's a problem."
A similar "oath" was an issue for Trump in 2016, when he seemed far more likely to run as an independent candidate if he lost the GOP nomination. But he accepted the pledge without conveying a lot of conviction once he decided to debate.
Whether Trump has made up his mind about August 23 or not, his ambiguity has made debate prep difficult for the rest of the GOP field. Chris Christie, for example, has made the entire premise for his candidacy the proposition that he would tear Trump a new once they were on the same stage. What if they aren't? Will Christie shout at the cameras? But it's just as big a problem for DeSantis, who may well become the entire field's punching bag if Trump isn't there. He has to prepare for two very different debates, as ABC News reports, and one of them involves "'nonstop' attacks from his fellow candidates."
So in any event, for the moment Trump remains in command of the national stage whether or not he's on a literal stage in Milwaukee. He seems to be enjoying his psyops mind games with all those affected by his decision, and he can always drop back into the debates even if he skips the first one. No one knows at this point how big a role candidate debates will play in the 2024 nomination contest, but anyone dismissing debates altogether should be reminded of the 2020 Democratic contest when a billion-dollar Michael Bloomberg campaign all but imploded before it really launched after a few terrible minutes on a debate stage in Las Vegas. Trump's far more experienced at this sort of thing than Bloomberg or pretty much anyone else. But weird stuff can happen when the mics are turned on and the gloves come off.