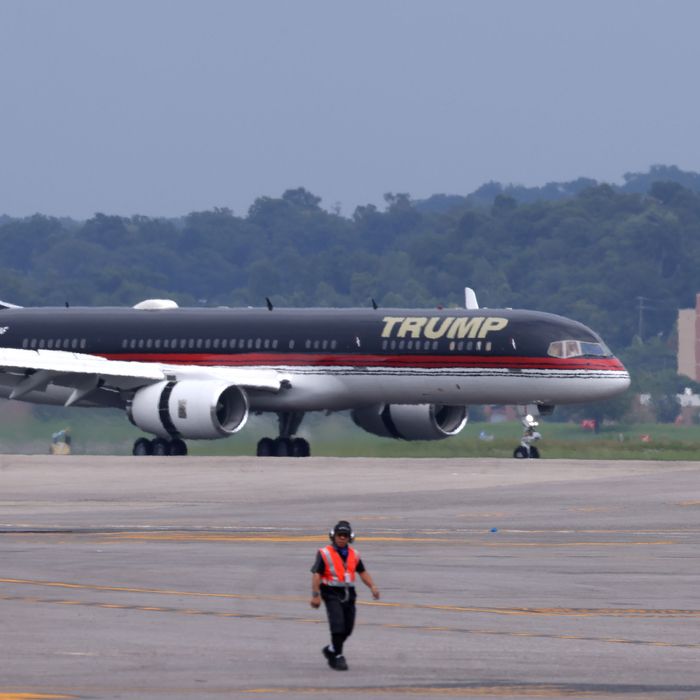 Photo: Tasos Katopodis/Getty Images
When a Fulton County judge set Donald Trump's bond at $200,000 in the Georgia election interference case on Monday afternoon, my initial thought was, Huh, seems too low. Trump's net worth has long been in dispute, but that's definitely chump change to him (especially because he and his alleged co-conspirators only have to come up with 10 percent of the bail amount). Then I remembered that Trump was released on his own recognizance in his last three arraignments, and he didn't even get a mug shot, as he's one of the most recognizable humans on the planet. Everyone knows the Trump era doesn't end with the former president hopping on his private plane and hiding out in some hostile foreign nation to avoid prosecution on 91 felony charges.
Or does it? Hours after his bond was set, Trump announced on Truth Social that he would turn himself in on Thursday and mocked Fulton County District Attorney Fani Willis for thinking he might be a flight risk — while describing exactly how he'd go about it, if he were to become a fugitive:
If Trump has never considered going on the lam, why is he drawing attention to the fact that he has both the motive and the means to become a fugitive?
There are plenty of non-suspicious explanations. The post may have been a failed attempt to inject some levity into his fourth indictment. Or Trump may be fixated on the $200,000 figure because it's insultingly low for a billionaire. Perhaps Trump just wants to distract everyone from the more unusual aspect of his Georgia bond agreement: the requirement that he refrain from intimidating or threatening any witnesses or co-defendants in the case. The New York Times explains:
Under his bond agreement in Georgia, Mr. Trump cannot communicate with any co-defendants in the case except through his lawyers. He was also directed to "make no direct or indirect threat of any nature against the community," including "posts on social media or reposts of posts made by another individual."




The terms were more extensive than those set for other defendants in the case so far, which did not specifically mention social media. In the past, Mr. Trump has made inflammatory and sometimes false personal attacks on Fani T. Willis, the district attorney of Fulton County, who is leading the case.
After all, it's not like Trump has spent the past few years dropping hints that he's thinking of going on the run. Oh, wait:
Maybe they should add a few zeros to that bond amount before it's too late.