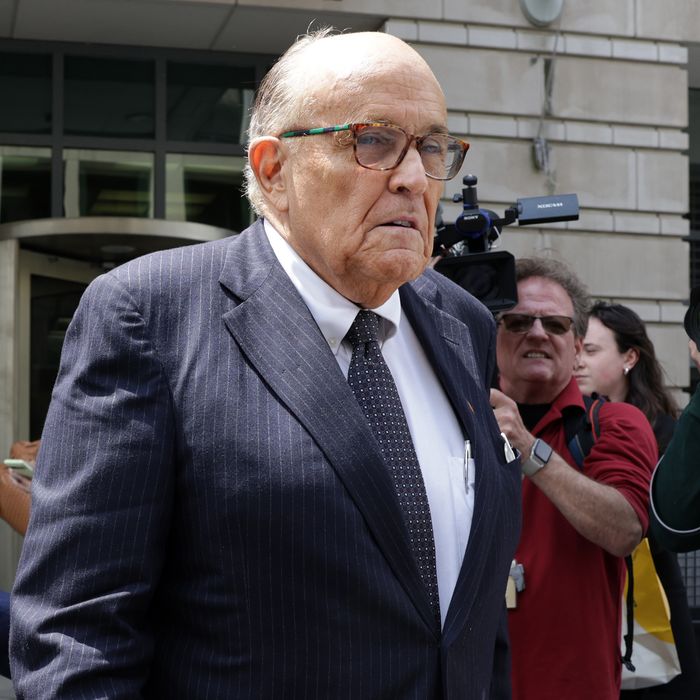 Photo: Alex Wong/Getty Images
Donald Trump claims he's passionate about loyalty. As we've seen time and again, he's also committed to stiffing people who work for him. So which of these principles is closer to the 45th president's heart? Unfortunately for Rudy Giuliani, stinginess is the clear winner.
The former New York mayor's legal troubles have been growing exponentially since he tried to steal the 2020 election for Trump while working as his personal lawyer. Those efforts have left him drowning in legal bills from multiple defamation suits and now criminal charges in Georgia. (He's also being sued for alleged sexual assault, which has nothing to do with Trump.)
This week, Giuliani's attorneys in a defamation case brought by the voting technology company Smarmatic said he's basically broke — though they have declined requests for a detailed accounting of their client's finances, arguing this would only "embarrass Mr. Giuliani and draw attention to his misfortunes." CNN provided a rough tally of Giuliani's financial troubles, totaling to hundreds of thousands of dollars:
In court on Monday, the former New York City mayor said the legal quagmires have left him effectively out of cash. He even appears to have responded to some of the money crunch by listing for sale a 3-bedroom Manhattan apartment he owns for $6.5 million.




Not including standard legal fees, Giuliani faces nearly $90,000 in sanctions from a judge in a defamation case, a $20,000 monthly fee to a company to host his electronic records, $15,000 or more for a search of his records, and even a $57,000 judgment against his company for unpaid phone bills.
"These are a lot of bills that he's not paying," attorney Adam Katz told a New York court on Wednesday. "I think this is very humbling for Mr. Giuliani."
Giuliani's law license was suspended as a consequence of his efforts to help Trump hold onto power, and he now only receives paychecks for his radio show and some podcast work, according to the New York Times:
He earns roughly $400,000 a year from his WABC radio show, according to a person familiar with the matter. He also gets some income from a podcast he hosts, and, according to another person familiar, a livestream broadcast. The three cash streams are nowhere near enough to cover his debts, people close to him say. A legal-defense fund set up by friends to raise $5 million for him in 2021 took down its website after raising less than $10,000.
Indeed, Giuliani's financial situation is so dire that in the spring he went to Mar-a-Lago with his attorney Robert Costello to personally beg Trump for help, as CNN revealed on Thursday:
Giuliani and Costello traveled to Florida in late April where they had two meetings with Trump to discuss Giuliani's seven-figure legal fees, making several pitches about how paying Giuliani's bills was ultimately in Trump's best interest. But the former president, who is notoriously strict about dipping into his own coffers, didn't seem very interested. After Costello made his pitch, Trump verbally agreed to help with some of Giuliani's legal bills without committing to any specific amount or timeline.
It's true that Trump is "notoriously strict about dipping into his own coffers," but it appears there's more to the story. Trump is covering legal fees for his co-defendants in the classified-documents case: Mar-a-Lago property manager Carlos De Oliveira and Walt Nauta, his former Diet Coke valet. Federal records filings show Save America PAC spent $21.6 million on legal costs for Trump and his associates in the first half of 2023, or about two-thirds of of PAC's total spending during that period.
It seems Trump ultimately only covered a small fraction of Giuliani's debt, and they money didn't come from him personally. Months after Giuliani's request, Trump's Save America PAC paid $340,000 to a data vendor hosting his former attorney's records, according to CNN.
More recently, Giuliani's son has also tried to sway Trump on the matter, per the Times:
Andrew, who has an independent relationship with the former president, visited Mr. Trump at his club in New Jersey this month, with what people briefed on the meeting said was the hope of getting his father's huge legal bills covered. That appeared to help. Mr. Giuliani's son asked that Mr. Trump attend two fund-raisers for the legal bills, and the former president agreed to do so, the people said.
In fact, Giuliani and his allies have been lobbying Trump to cover his legal bills for years. They argue it's the least Trump could do since all the legal work Giuliani performed for him was pro bono. But Trump has been adamant that he doesn't want Giuliani to be paid for his legal services, and apparently hasn't even told him why — though the Times reports that Trump has told aides it's because Giuliani is a loser:
Mr. Trump has never explicitly told Mr. Giuliani why he is effectively stiffing him, but the former president has pointed out that he lost the cases related to the election. That has been consistent with what Mr. Trump told aides shortly after Election Day, when an associate of Mr. Giuliani's, Maria Ryan, asked the campaign in an email for $20,000 a day to pay for the former mayor's work. People close to the former mayor argue he was not working strictly on lawsuits, but also on research and efforts to keep state legislatures from certifying results Mr. Giuliani insisted were false. But Mr. Trump told aides he didn't want Mr. Giuliani to receive "a dime" unless he succeeded. Some of Mr. Giuliani's expenses were eventually paid, but only after Mr. Trump personally approved the money.
Refusing to pay Giuliani has also only grown more dangerous for Trump personally, as it could drive his former attorney to flip. CNN explained:
But what has surprised those in Trump's inner circle is the former president's unwillingness to pay for Giuliani's bills, given Giuliani could find himself under intense pressure to cooperate with the federal and state prosecutors who have charged Trump … "It's not a smart idea" for Trump to refuse to pay Giuliani's legal fees, one person close to the situation told CNN, referencing how Trump's relationship with Michael Cohen famously deteriorated while he was investigated by special counsel Robert Mueller.
Cohen himself has offered some insight into Trump's possibly self-destructive refusal to help Giuliani financially. Last year, Trump's fixer turned foe told MSNBC that Giuliani has "a better chance of sling-shooting himself to the moon" than of extracting payment from Trump. "His feeling is it is an honor and a privilege to go to prison for him, to do his dirty work," Cohen explained.
This post has been updated.