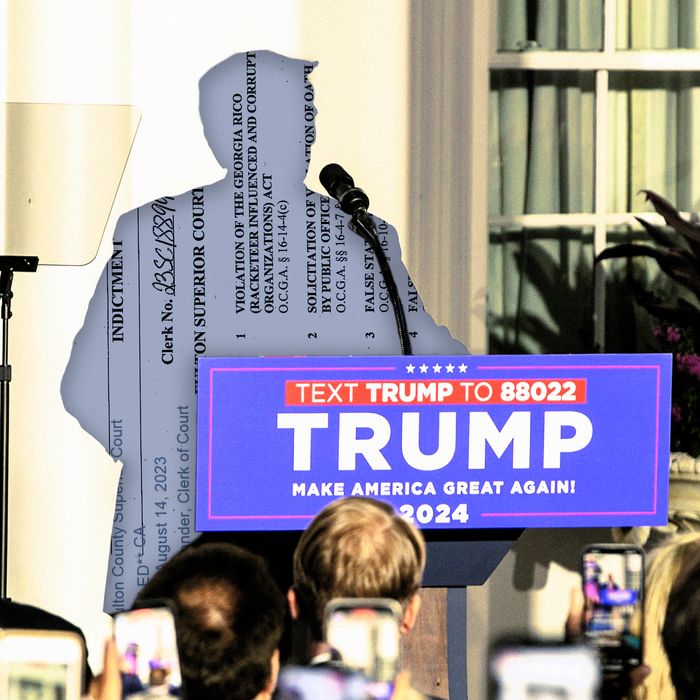 Photo-Illustration: Intelligencer; Photo AP
Two weeks ago, Donald Trump was indicted on four criminal charges by a federal grand jury in special counsel Jack Smith's investigation into his attempt to overturn the results of the 2020 election. Earlier this week, he was indicted again by a Georgia grand jury on 13 state charges related to the same alleged conspiracy to keep Joe Biden out of the White House.
But perhaps these federal and state grand juries (as well as numerous outside experts, current Republican officials, and former members of the Trump administration) spoke too soon. Hours after the Georgia indictment, Trump announced on Truth Social that he would be holding a press conference on Monday to unveil an "Irrefutable REPORT" about the 2020 presidential election fraud that took place in Georgia:
This raised a few questions. First, how had Trump obtained proof of election fraud that went unnoticed by the U.S. House's select committee on January 6, as well as by multiple state and federal investigators? Trump didn't say who's behind his report, but according to the New York Times, it's Liz Harrington, a Trump communications aide who completely buys his election-fraud claims:
The report in question, according to people familiar with the matter, is a document of more than 100 pages that was compiled at least in part by Liz Harrington, a Trump communications aide who is often described as among the true believers in his false claims that the 2020 election was stolen from him through widespread fraud.




The document focuses on what detractors of the election have insisted are widespread voting anomalies in Georgia during that campaign, the people said. It has been in the works for many weeks, according to one of the people familiar with the matter.
Second, why didn't Trump share this information before he was hit with state and federal indictments related to his election-fraud claims? He's yet to address this directly, but the answer was right there in unnecessary capital letters: It's "Large, Complex, and Detailed." At 100-plus pages, the Trump report would probably be significantly shorter than the 752-page House January 6 report and the combined page count of the two election-related indictments Trump is currently facing — though Trump's post made it sound like Harrington was still frantically adding pages.
Third, would this event really happen? As it turns out, no. Within hours of Trump's announcement, the Times noted that Bedminster was supposed to be closed on Monday:
It is also unclear whether Mr. Trump's promised news conference will go forward on Monday, when the club is expected to be closed and holding only private events.
Then on Thursday morning, ABC News reported that Trump's legal advisers were telling him that airing new election lies probably wouldn't help his defense:
Former President Donald Trump's promised press conference to refute the allegations in the indictment handed up by the Fulton County District Attorney's Office is now very much in doubt, multiple sources familiar with the matter tell ABC News.




Sources tell ABC News that Trump's legal advisers have told him that holding such a press conference with dubious claims of voter fraud will only complicate his legal problems and some of his attorneys have advised him to cancel it.
On Thursday night, Trump announced on Truth Social that his "lawyers would prefer" to put release his latest election lies in legal filings, thus "the News Conference is no longer necessary!"
Will any of Trump's lawyers actually risk disbarment by putting false rigged election claims in court documents? Guess we'll just have to wait and see.
This post has been updated.