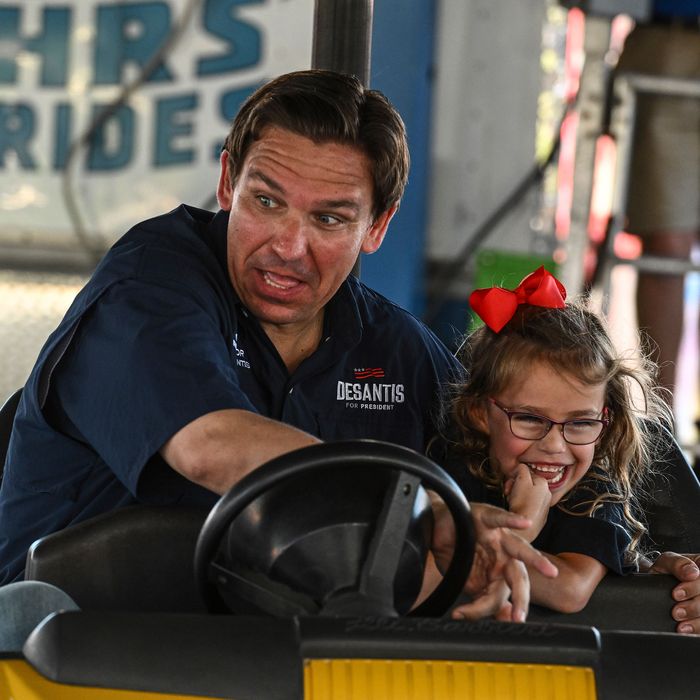 It's been a bumpy ride for Ron DeSantis as he chases Trump on the campaign trail.
Photo: Ricky Carioti/The Washington Post via Getty Images
Political people in Iowa love their rituals, and that's truer than ever among Iowa Republicans now that their party is the only major party holding first-in-the-nation caucuses. The high altar of Iowa political rituals is the State Fair, held in the August preceding a competitive presidential-nomination contest, and there are many obligatory moments for the presidential candidates, who are as thick on the ground as ants. One is the chore of grilling and then devouring pork chops on a stick at the Iowa Pork Producers tent. Another is admiring prize livestock in the Swine Barn, the Sheep Barn, the Cattle Barn, the Animal Learning Center, and the Avenue of Breeds. Still another is speechifying on a bale of hay as part of the Des Moines Register's "Political Soapbox" series. This year, Republicans are also obeying Governor Kim Reynolds's edict that they let her interview them for what she is calling "Fair-Side Chats."
Actually, all but one of them are going along with Reynolds's event and the other solemn set pieces. While his rivals are all running for president, Donald Trump is running as president, distancing himself from the mere senators, governors, and very wealthy former tech entrepreneurs in the field and attending the fair like a sovereign with a fixed, limited schedule. He was on the fairgrounds for just two hours on Saturday, August 12, and aside from skipping the Reynolds and Register command performances, he made just one set of mostly self-congratulatory remarks to a large group of supporters in an open-air bar.
To some extent, his elevated position is beyond his control: As a former president, he is under the protection and guidance of the Secret Service, which isn't going to give direct access to the famously germophobic Trump to every random child holding a corn dog in one hand and a cell-phone camera in the other. But the royal treatment also meshes nicely with the 2024 front-runner's self-presentation as a great white shark among minnows. As Elaine Godfrey of The Atlantic reported, Trump's appearance at the fair was sui generis:
People near me at the Iowa State Fair were frantic. "Do you see him yet?" they panted. "Do you think he'll come out into the crowd to talk?" When the presence of Secret Service officers made it clear that former President Donald Trump would appear at the Steer 'N Stein restaurant on the Grand Concourse, fairgoers formed a line whose end was out of sight.




Not all of them could squeeze into the restaurant, so they filled the street outside, one giant blob of eager, sweating Iowans. When the former president finally appeared, the scrum was so dense that they could barely make out his silhouette through the restaurant's open side. "You know, the other candidates came here, and they had like six people," Trump's giddy voice said through the speakers above us. The audience responded with hoots and cheers.
The other mere mortals running for president have had their moments: Vivek Ramaswamy managed to rap his way out of his "fair-side chat" with Reynolds to Eminem's "Lose Yourself":
The candidate with the most to win or lose at the fair — and in Iowa generally — however, had tougher sledding. It's increasingly clear that Florida governor Ron DeSantis's bid to defeat Trump is almost entirely coming down to Iowa, where DeSantis has invested huge amounts of money and secured some key endorsements and semi-endorsements (the latter, by most accounts, including not-so-secret admirer Reynolds and conservative evangelical majordomo Bob Vander Plaats). But while he attracted big crowds at the fair, all the attention wasn't positive, as Politico reported:
It's a rite of passage for presidential candidates at the fair to visit the pork tent to flip pork chops. But on Saturday, when Florida Gov. Ron DeSantis took his turn at the grill, he was met with loud chants of "We love Trump." At the same time, a banner flew above in the sky with the words "Be likable Ron!"




DeSantis ignored the Trump supporters at the pork tent. But they kept chanting. And when it wasn't Trump supporters trolling DeSantis, he was forced to contend with protesters on the left.




Earlier that day, as soon as DeSantis' "fair-side chat" with Reynolds began, protesters in the crowd began to blow whistles and ring cowbells to interrupt DeSantis' speech.
The day at the fair was just one of many tough days ahead in Iowa for DeSantis, who has pledged to visit all 99 counties (a ritual in itself known as "the full Grassley" for the Republican politicians who undertake it). He doesn't have much choice: Although he trails Trump in Iowa by 27 points, according to the current RealClearPolitics polling averages, it's probably his very best state. Indeed, as he battles to close the gap there, bad news keeps emanating from polling data elsewhere. Two new national polls of the GOP race came out the day after his fair appearance. One from Kaplan Strategies showed him slipping behind Ramaswamy into third place:
Another new poll, from TIPP, was less alarming but still showed Trump expanding his national lead over DeSantis from 39 points in July to 45 points in August. Without much question, Trump's third criminal indictment on August 1 has done nothing to slow his momentum.
For the time being, then, the 45th president can campaign as virtually a front-running incumbent, which most of his supporters, as a matter of fact, think he should be. One more example of his chutzpah on display at the Iowa State Fair were hats that some of his supporters wore with the text "President Donald J. Trump Back to Back Iowa Champ 2016 2020." Trump actually lost the Iowa caucuses to Ted Cruz in 2016. But he charged Cruz with rigging the outcome. In the minds of his MAGA fans, he really can't lose.