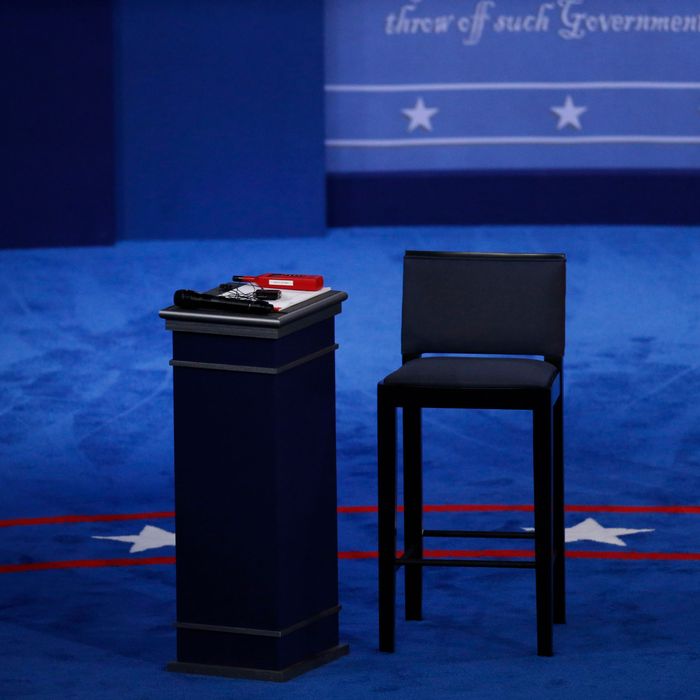 Photo: Andrew Harrer/Bloomberg via Getty Images
The speculation about whether Donald Trump will participate in the first Republican primary debate is finally over. Well, probably over. But our showman-in-chief has ensured that the chatter about his potential debate participation later in the 2024 cycle will continue.
Trump has been publicly teasing for months that he may be a no-show on Wednesday, August 23, at the Fiserv Forum in Milwaukee, Wisconsin. He seemed to confirm this on Sunday, declaring on Truth Social that he has a "legendary" polling lead, and, "I WILL THEREFORE NOT BE DOING THE DEBATES!"
While that would seem to settle the issue, Trump kept the guessing game going by writing "debates" plural. Was this a typo? An announcement that he isn't going to the second GOP debate on September 27 at the Ronald Reagan Presidential Foundation in Simi Valley, California? A notice to President Biden that he doesn't have to bother with 2024 debate prep at all?
A Trump source told NBC News that the "truth" was referring to Wednesday's debate and the second debate. But of course, that may change:
A source familiar with Trump's thinking said the decision applies to only the first two debates, which are affiliated with Fox News and Fox Business. The source declined to rule out the possibility that Trump may change his mind.
It's unclear when Trump made the call to skip the first debate. The New York Times reported that he was letting executives from Fox News, which is hosting the event, woo him as recently as this month:
Earlier this month, Mr. Trump hosted for dinner the Fox News president Jay Wallace and the network's chief executive, Suzanne Scott, who had gone to Bedminster hoping to persuade Mr. Trump to come to the debate. They left the dinner believing there was a decent chance he would show up, according to two people familiar with the dinner.
Now Trump is snubbing Fox with both his absence and his choice of counter-programming. Rather than scrapping with Ron DeSantis, Tim Scott, Mike Pence, and the rest of the GOP field, on Wednesday night Trump will release an online interview with Tucker Carlson, the recently fired primetime host who is still being paid by Fox. The Washington Post reported that the conversation has already been recorded, but details about when and where it will be posted have not been announced.
Trump only has until Monday evening to shift his plans again, as he must inform the Republican National Committee of his intentions 48 hours before the start of the debate and sign a loyalty pledge to support the eventual GOP presidential nominee. But Pence remains braced for even more drama.
"I served alongside the president for a long time. And one thing I realized about him, it's not over till it's over," the former vice-president said Sunday on ABC's This Week.