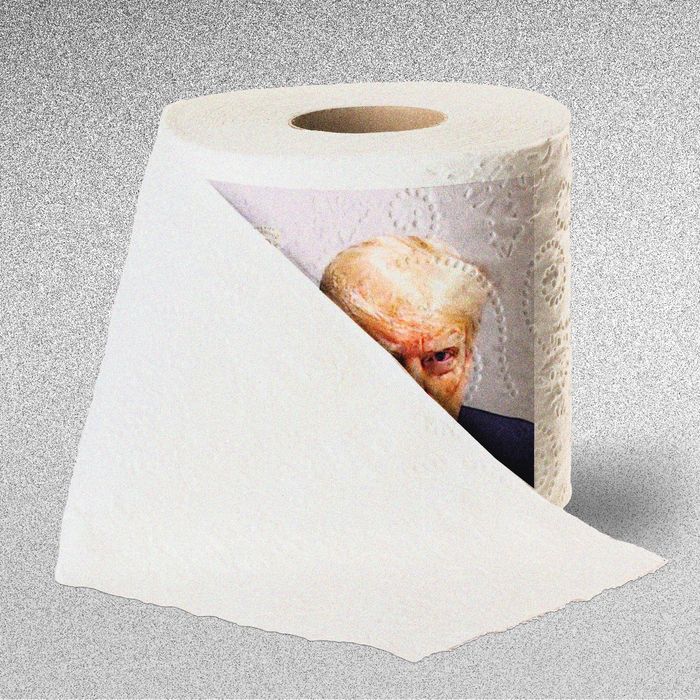 Photo-Illustration: Intelligencer; Photo: Getty Images/Fulton County Sheriff's Office
Donald Trump's presidency forced us to continually ponder questions that had never come up before in U.S. politics, from "Is flushing memos down the toilet a violation of the Presidential Records Act" to "Is the president going to go blind from staring straight into that eclipse?" And the quadruply indicted former president and 2024 GOP front-runner is still at it. The latest conundrum that the Founding Fathers failed to address: If the former president of the United States is indicted on criminal-conspiracy charges for trying to steal an election, can he sue other people for trying to profit off the ensuing mug shot?
Team Trump saw the mug shot's money-making potential immediately; though Trump was not photographed during his first three arrests, his campaign has been selling fake mug-shot merchandise for months. So when Trump finally got his money shot on Thursday, they sprang into action; the Trump joint-fundraising committee slapped the real image on a wide range of items, including a signed poster ($28), a beer cozy ($15), and bumper stickers ($12).
In keeping with Trump's defiant and nonsensical "NEVER SURRENDER" branding, his campaign was also quick to announce that the photo taken when he surrendered to law enforcement in Fulton County, Georgia, had only made him richer. Politico reported on Saturday:
The former president has raised $7.1 million since he was booked at an Atlanta jail Thursday evening, according to figures provided first to POLITICO by his campaign. On Friday alone, Trump raised $4.18 million, making it the single-highest 24-hour period of his campaign to date, according to a person familiar with the totals.
Many would be satisfied by that haul, especially because all Trump had to do to earn it was show up for his arraignment and do the "Kubrick stare." But Chris LaCivita, one of Trump's top advisers, wanted to make sure that no one else would profit from this money-making scheme. He issued this aggressive 11-siren-emoji warning on X, the site formerly known as Twitter:
The threat suggests that Trump owns the legal rights to his mug shot. But Betsy Rosenblatt, a professor at Case Western Reserve University's School of Law, told Spectrum News Cleveland that if anyone has the right to sue people peddling unauthorized mug-shot merch, it's probably not the Trump campaign:
Rosenblatt said in order to pursue a claim for copyright infringement, the owner of the copyright, who she said is likely the Fulton County Sheriff's Department, would have to be the one to sue. 




"Whether the Fulton County Sheriff's Department would decide to enforce its copyright is entirely up to them," Rosenblatt said. "But it's also reasonable to think that the Fulton County Sheriff's Office might think, you know, this is a public document, it belongs to the world in a way, [the] copyright belongs to us. But the news about it belongs to the world. And we're not going to undertake the expense and trouble of hiring copyright counsel and sending out takedowns and cease and desist and letters, or in lawsuits."
While presumably Trump did not get the Fulton County Sheriff's Department's permission to items featuring his mug shot, Reuters said it's possible he could find some state law that allows him to sue other vendors for using his likeness:
What legal rights, if any, Trump's campaign may have over the mug shot's reproduction are unclear, however. The photo was distributed by the Fulton County court to media outlets, including Reuters.




Mug shots taken by US federal courts are generally in the public domain, although Georgia's state policy may be different.




Many U.S. states have "right of publicity" laws that prevent the use of a person's image in commerce without their permission. Federal trademark law also bars false advertising and endorsements, and Trump would also likely be able to sue under other state laws.




But political parody goods may receive some protection from intellectual-property claims under the U.S. Constitution …
But it's likely we'll never get a clear answer on what laws may apply here. Team Trump loves threatening to sue people, but its follow-through rate is pretty low. Plus right now Trump has far bigger fish to fry than the person selling Trump-mug-shot toilet paper on Etsy.