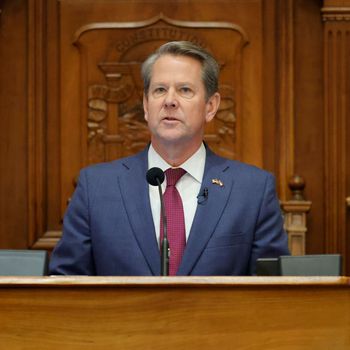 The maximum leader of the Georgia Republican Party is also a likely witness to Trump's criminal conduct in 2020.
Photo: Alex Slitz/AP
One of the many fascinating aspects of the new indictment of Donald Trump by a grand jury in Fulton County, Georgia, is that this criminal proceeding is occurring in arguably the most politically polarized state in America. Georgia was the closest state in the 2020 presidential election that Trump tried to overturn (a major reason he and his cronies spent so much time disputing this one state's results), and it could be the "tipping point" state in a 2024 presidential election. Georgia also gave Democrats control of the U.S. Senate in dual runoff elections in January 2021 and strengthened the Democratic Senate majority by rejecting Trump's friend Herschel Walker in 2022.
But as Trump's legal drama in Atlanta is reminding us, political polarization in Georgia isn't just a matter of conflict between the two parties; it has also divided the Republican Party that controls state government. This intraparty division is mostly about Trump himself, or at least his efforts to boss and bully the Republicans who supervised the 2020 elections in Georgia and adamantly refuse to accept that it was "rigged."
So while across the country most Republicans are lining up in solidarity with Trump and his contention that his legal problems are just another phase in his ongoing persecution by the Democrats who "stole" the presidency from him in 2020, the situation is very different in Georgia. Three of the top Republicans in state offices in 2020 — Governor Brian Kemp, Secretary of State (and chief election official) Brad Raffensperger, and then–Lieutenant Governor Geoff Duncan — have all testified before the Fulton County grand jury and will presumably be witnesses for the prosecution if and when this case finally goes to trial.
Raffensperger, of course, was at the center of Georgia's most notorious 2020 incident when Trump called him up and leaned on him to "find" enough votes to reverse his earlier certification of Biden's victory. But Kemp backed up Raffensperger's certification then and thereafter. And both these politicians trounced Trump-backed challengers in a 2022 primary clearly framed as act of revenge by the 45th president (Duncan, who refused Trump's demand to call a special legislative session to "decertify" the Biden electors, chose not to run for reelection; his successor, Burt Jones, the one successful statewide MAGA candidate in 2022, may yet face federal or state charges for his participation in Trump's fake-elector scheme in Georgia).
Kemp in particular has done a remarkable job of simply ignoring Trump since those 2022 primaries; he managed to lead a united GOP to victory (with the conspicuous exception of Herschel Walker) in the 2022 general election. But the Fulton County proceedings and his role in them have forced him to go after Trump once again, as he did on social media this week:
This is not going over very well among Trump loyalists in Georgia, who are bloodied but unbowed. The most famous Peach State MAGA zealot of them all, Congresswoman Marjorie Taylor Greene, lashed out at Kemp right away, as the Atlanta Journal-Constitution reported:
Greene, R-Rome, compared Kemp's rebuke of Trump to standing with Willis and co-signing her investigation.




"His message should have been against this, not arguing with President Trump about the election and making it about his own ego and pride over Georgia's election," Greene said. "That's a bad statement, and I was very upset over it."
Greene went on to muse aloud about potentially challenging the term-limited Kemp if he runs for the U.S. Senate in 2026 (which had to be music to the ears of Democratic senator Jon Ossoff) — if, that is, she hasn't first joined a Trump Cabinet or even served as his running mate (her ill-disguised chief ambition).
If Trump becomes, as appears very likely, the 2024 presidential nominee of his and Kemp's and Raffenberger's and Duncan's party, putting together an effective and enthusiastic campaign for the ticket in this crucial state isn't going to be very easy, particularly if Trump and state party leaders are still lobbing insults at each other over the events of 2020. Amazingly, this recently very red state and its 16 electoral votes could wind up being an ace in the hole for Joe Biden. Georgia Democrats have their own issues, but they aren't in the habit of calling their presidential nominee a lying thug who should probably be in the slammer.