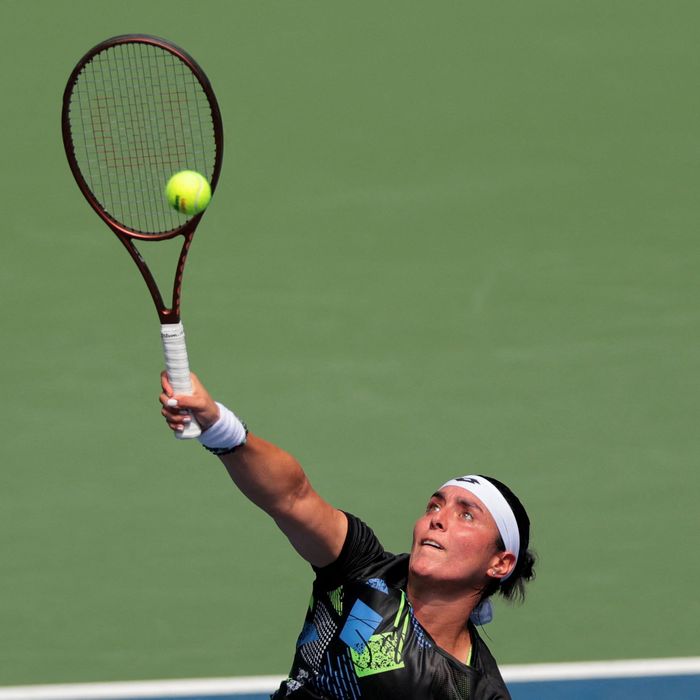 Photo: MIKE SEGAR/REUTERS
After eking out an ugly first-round victory over Camila Osorio on Tuesday at the U.S. Open, No. 5 seed Ons Jabeur apologized. She greeted her Colombian opponent in an extended embrace at the net, mouthing, "I'm sorry, I'm sorry," as the two exchanged reassurances. Mid-match, Jabeur, visibly unwell, had summoned a doctor to address her breathing issues; her signature zippy groundstrokes and mouthwatering drop shots were mostly missing in action. During the post-match interview, Jabeur explained that she felt bad for needing to resort to a medical timeout, knowing how distracting it can be, and spoke about how supportive Osorio had been through it all. The crowd then burst into song: It was Jabeur's 29th birthday.
Even if Jabeur were from somewhere else, she'd be a fan favorite because of her grin, her kindness, her taste in olive oil —  the list goes on. But she's Tunisian, and this has created a level of interest and expectation beyond casual fandom.
In 2011, just six months after a street vendor self-immolated in front of a local government building and ignited the Arab Spring, a 17-year-old Jabeur won the French Open girls' championship, becoming the first girl from northern Africa to do so.
When she took the court for the Wimbledon final in 2022, it was the first time an African woman, or an Arab woman, had competed in the final of any Grand Slam in the Open Era of the sport, and her appearance brought with it a global outpouring of joy and support. But Jabeur's thrill ride to the championship match ended in disappointment: Kazakhstan's Elena Rybakina, currently No. 4, ousted her in three sets. Undeterred, Jabeur streaked through last year's U.S. Open. She met Poland's wunderkind Iga Świątek in the final, losing in straight sets. At this year's Wimbledon in July, Jabeur reached the final yet again, but it was the Czech Republic's unheralded Markéta Vondroušová who held up the winner's trophy. The questions about when and if Jabeur would ever capture a major title grew a little louder.
In a conversation last week, I ask if the momentum of the past year, the weight of a nation's hopes on her shoulders, ever gets to her. It does.
"I feel like I cannot disappoint people that are watching me and supporting me. But I also know that I understood this assignment — somebody had to do it, and it was me. Getting here happened with all those years of playing well, in being the first woman to do a lot of things. I welcome it with a big heart. I'm learning to manage it now — I think I even got good at it at certain times. But sometimes I'm just a human being."
Most tennis fans enjoy this human being. In Tunisia, Jabeur is known as the "Minister of Happiness," and cheers of her on-court catchphrase "Yalla habibi" ("Yalla means 'come on' and habibi means 'my love,' or 'my dear,'" she tells me) follow her wherever she plays. Last year, the Italian sports-apparel brand Lotto even released a special-edition T-shirt with the slogan plastered on front.
Outside the game, her life has the trappings of a rom-com, albeit one with geopolitical overtones. I ask how she and her husband, the professional fencer Karim Karoun, originally met. "Do you want my version or his?" Jabeur asked. Apparently Kamoun had perked up and was listening to the retelling of how, as millions of protesters in North Africa flocked to social media in 2011 to mobilize an uprising, he slid into Jabeur's DMs.
They went to the same high school, Jabeur says, but he was older than her. She used to secretly watch him walk across campus to go to practice. "I had a crush on him. Apparently, he had a crush on me at one point, but I didn't know about it. So, during the revolution in Tunisia, he texted me on Facebook and was like, 'If you need anything …' I thought he was being so nice. And I was maybe a little bit attracted to him at the time. I'm not sure." Upon hearing this sentiment, Kamoun shouts something off-camera, which makes Jabeur laugh. The couple married in 2015, and eventually Karoum joined his wife on tour full time as her trainer.
In May 2022, Jabeur won her maiden WTA 1000 tournament, the Mutua Madrid Open, becoming the first player from the Middle East or North Africa to do so. Her win was included as a story line in season one of the Netflix docuseries Break Point. The footage of her triumph is powerful, but the episode's more poignant moments come off-court between Kamoun and Jabeur in hotel rooms, as they quietly discuss their longing to have a baby.
"I try to talk about what women on tour have to go through, because I think even women don't fully understand all the details of it," she says. She is referring to the sacrifices — financial, physical, emotional — from which even the players cashing the biggest checks are not immune. All tennis bodies suffer, but when Andy Murray came back from semi-retirement, questions surrounding his longevity usually focused on his metal hip, not the four children he has at home.
"It's a risk. You're flipping a coin — on one side it's, 'Okay, I'm good at tennis.' But after pregnancy, it's, 'Will I be as good as I was before?' Who knows? Me and Karim, we want to have kids. We've wanted it for a long time. But it's never the right time." For now, she's waiting and putting her efforts into reaching a different milestone.
In July, a few weeks after her Wimbledon loss, Jabeur withdrew from the Canadian Open. Internet reports that she had undergone knee surgery earlier in the spring were false, Jabeur says: "I didn't have surgery on my knee. I had a small surgery on something else. I never said what I had surgery on [when I had it], because I wanted to keep that for myself. At the time, my knee was bothering me, and I was taking care of it with injections. But it's holding on now. Every tennis player, we try to stay healthy as much as we can."
She certainly looked vulnerable on Tuesday, though whatever was ailing her was likely more ephemeral than a joint problem. Such is life on court. If she can recuperate, she could find herself deep in a grand slam next week and once again playing on the precipice of history.
Jabeur's balancing act — serving as a beacon for her country, region, religion; debating the question of when to start a family; confronting the desire to keep playing, keep winning, to one day be the best in the world, is heavily tipped on all sides. In the meantime, she gets a day off before the second round.