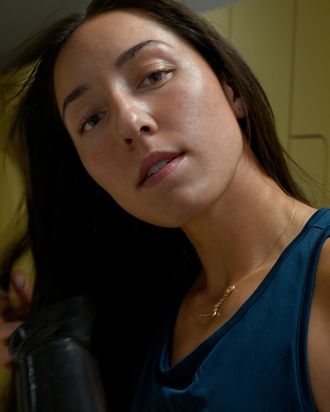 Photo: Radka Leitmeritz for Court Supremes
At last year's U.S. Open, a casual fan could be forgiven for thinking American tennis started and ended with Serena Williams, whose impending retirement was properly commemorated on what seemed like every LED screen or slab of polyethylene in Queens. They should have been familiar, too, with Coco Gauff, the teenage phenom out of South Florida. And by the end of the tournament, many had fallen for Frances Tiafoe, the affable and athletic Marylander who upset Rafael Nadal and reached the semifinals. But the highest ranked American — then and now; man or woman — was a less trumpeted talent: Jessica Pegula, who made her way to the quarterfinals in methodical fashion before falling, like most did at some point during the 2022 season, to eventual champion Iga Świątek.
Pegula enters the year's final Grand Slam, which begins on Monday, ranked No. 3 in the world and enjoying a career-best season. A model of consistency and steady improvement on the otherwise fickle women's tennis tour, she has reached the quarters of five of the last seven majors and been a permanent if somewhat overlooked fixture near the top of the rankings for well over a year. When Pegula is spotlighted by the national media, it's often in the same breath as her unusually gilded pedigree: She is the daughter of Kim and Terry Pegula; he is the petroleum magnate who in 2010 sold the natural gas and oil company he founded, East Resources, for an estimated $6.5 billion. He would eventually use those profits to purchase two major-league sports franchises, the Buffalo Bills and Buffalo Sabres, which makes his daughter, by most metrics, one of the several wealthiest athletes in the world.
Money can buy you elite instruction and state-of-the-art facilities and maybe even the eyeballs of top coaches and recruiters. But it will not buy you nerve and competitiveness, durability and precise timing, the properties of Pegula's game most responsible for her impressive mid-career march to the top rungs of women's tennis. Good health helps too: Injuries to her knee and hip kept Pegula off the tour for large chunks of time between 2014 and 2017, the year she finished the season ranked 627. She was in her early 20s, the stage of a tennis player's career when the pundit class, accustomed to child prodigies, tends to anoint its wunderkinds. Instead, Pegula toiled in relative anonymity, finally cracking the top 100 in 2019.
"I was not touted to be a superstar," she told me. "I wasn't a Madison Keys or Coco Gauff or Sloane Stephens. I didn't have that aura around me, and I'm glad I didn't, because I feel like that would've been really difficult."
The world No. 3, now at the manifestly advanced age of 29, had just won the biggest tournament of her career — the prestigious U.S. Open tune-up tournament in Montreal — and then flown to Cincinnati for the tune-up tournament there when we spoke earlier this month. "My credentials flew in this morning," she said, with her typical good nature, belying the day-to-day strain of the circuit. "I just got to the site approximately six minutes ago." Two days earlier, at the Masters event in Canada, she earned her second win this year over Świątek, the four-time Slam winner and world No. 1, before routing Liudmila Samsonova in the final.
"It's always great to win tournaments, and it helps you believe even further in those bigger moments when you're deep in a Slam," she said. "I'm hoping that's what last week did for me." The trophy presentation in Montreal, I joked, had taken place less than 24 hours before. "It's a crazy sport. You don't feel like you get to really celebrate," she said. "It's like, all right, you're already in the draw, the tournament's already started, so you've got to get to Cincinnati." There, Gauff — Pegula's friend and frequent doubles partner, with whom she reached the 2022 French Open final — won the title, positioning the pair among a handful of favorites to win the U.S. Open.
Pegula has at least four years on the other three front-runners — Świątek, Aryna Sabalenka, and Elena Rybakina — whose styles of play, she concedes, are more arresting than hers, with their big serves or punishing forehands. "I don't really have an outstanding shot," said Pegula, though her cool, neighborly temperament — she memorably enjoyed a Heineken in her post-match press conference after last year's U.S. Open loss — shouldn't be mistaken for self-effacement. "I'm not sliding in and out of corners like Iga. I don't have this massive serve where I'm hitting ten aces a match." Pegula hits hard and flat and seems to always make contact in the dead center of the racquet frame, calling to mind the pure ball-striking abilities of compatriots like Lindsay Davenport and Jennifer Capriati. The pace of her shots, she explained, doesn't always register on television. "It doesn't look like I'm doing much," she added. "I'll have other players come up to me and be like, 'Don't they realize that you hit harder than this person and that person?' So sometimes, there's this misconception that I'm a counterpuncher, which I wouldn't say I am."
Pegula, who wrote an open-hearted essay in The Players Tribune about the cardiac arrest her mother suffered last summer, is among the more candid and plainspoken athletes on the tour. When I asked about her 0–6 record in Major quarterfinals, she was unequivocal about the psychic toll of professional tennis: "You're rewarded this ranking and told you're supposed to do well at these tournaments," she said, "but it's not that easy. You're basically not allowed to have a bad day. And if you do, you'll probably lose. And then you feel kind of like you suck."
But you will not find Pegula thwacking her racquet or giving up on a match, and the zen she demonstrates both on and off the court has begun to pay dividends. "I'll definitely get really upset, but I feel like it always phases out after a day or two," she told me. "Usually I feel better when I start working on something. And I think it's easier if you love the game and have a passion for it too."
Pegula's love for tennis could hardly be called into question; she is not wanting for prize money, and few are the billionaire scions who would endure the kinds of physical and emotional setbacks she has over a decade on tour only to find themselves peaking as she approaches 30. Since being elected to the WTA Players Council in 2021, Pegula has also taken up the issue of pay parity. Though each of the four Grand Slam have awarded men and women equal prize money since 2007, massive discrepancies remain at the tour-level events. In Canada, for instance, where both men and women play best-of-three sets, Pegula earned $454,500 for winning the title, while Jannik Sinner, the men's champion, took home just over $1 million. If Pegula, for obvious reasons, seems an unlikely or at least ironic torchbearer for the cause, she's a cogent and credible envoy for the players ranked well below her, who struggle to live comfortably while shouldering the considerable financial burdens of life on the tour.
"For the most part, I think I have a lot of respect from my peers on tour, so I don't think any of them really see that as a problem," she said, referring to her own well-to-do upbringing. "We're always looking at how to increase prize money to lower-ranked players so it's not all distributed to the top players, who are already making plenty of money." But for players ranked outside the top 100, Pegula explained, "it's impossible."
"A lot of girls have a hard time trying to live on the tour, especially if they're supporting their families, let alone trying to pay for coaching and get better at the same time," she said. "It's a very, very stressful situation." The tenuous financial state of the WTA tour has made it even more so; China invested $500 million in women's tennis in 2019, but the tour suspended operations in the country for 16 months after Chinese player Peng Shuai accused the country's vice-premier of sexual assault and was later disappeared from public view, turning up only in state-sponsored media. Earlier this year, the WTA announced it would resume tournaments there this fall, but the tour has nevertheless been operating at a steep deficit, leading to murky flirtations with Saudi Arabian financing. The kingdom, of course, has recently flooded the international sports world with tremendous sums of money from its $700 billion sovereign wealth fund, financing the LIV, a professional golf league that successfully lured top players from the fledgling PGA. The two eventually merged last month. And last week, podcast host Craig Shapiro tweeted that the 2024 year-end WTA finals would be held in Riyadh. For some players, the potential inrush of Saudi Arabian financing has been deflating, considering the country's criminalization of homosexuality and generally odious human-rights record.
Pegula took a less idealistic stance. "We're going to have to weigh the pros and cons," she told me. "It's something that is the future. Regardless, it's going to happen one way or the other. And we've just got to see if it's really going to help our sport."
For the time being, though, the late-summer hard-court swing of the tour has brought Pegula home to more familiar soil, where she appears to be rounding into form, with a legitimate chance to win her first Slam. Between the events in Washington,D.C., and Montreal, she said, something felt off. The change of balls threw her; her string tension wasn't right. Then she won the tournament anyway. "Everything feels easier here, at least for me," Pegula said. "Maybe just because I'm American."