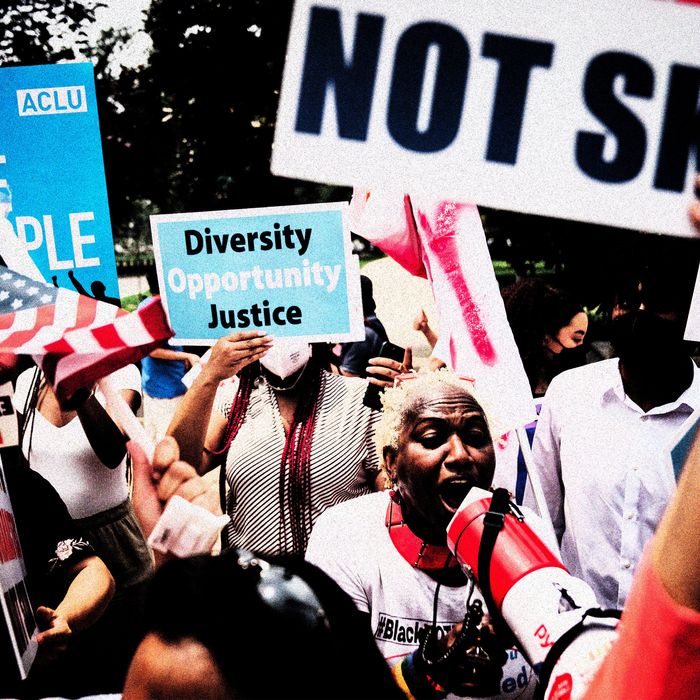 Photo: Kent Nishimura/Los Angeles Times via Getty Image
This week's 60th anniversary of the March on Washington will surely include reminiscences and replays of the stirring "I Have a Dream" oration with which Martin Luther King Jr. famously concluded the original 1963 demonstration. The Reverend Al Sharpton and the march's other organizers have framed this year's event with the slogan "It's Not a Commemoration, It's a Continuation! We March On!"
The march agenda should include a vow to challenge the Supreme Court's disastrous decision in Students for Fair Admissions v. Harvard, which has declared it unconstitutional for universities to consider race when making admissions decisions — even if the goal is to ameliorate past discrimination. It would be a scandal if the ruling ended our nation's 50-year experiment with affirmative action in higher education, of which I am a proud product.
"There was no reaction when they did this," Sharpton, one of the organizers of the upcoming march, said of the Supreme Court ruling. "There should have been outrage everywhere."
The muted response from civil-rights activists is partly due to a lack of clarity about how universities are supposed to comply with the court's new prohibition on taking an applicant's race into account. "Nothing in this opinion should be construed as prohibiting universities from considering an applicant's discussion of how race affected his or her life, be it through discrimination, inspiration, or otherwise," the decision says, while also cautioning that "universities may not simply establish through application essays or other means the regime we hold unlawful today. What cannot be done directly cannot be done indirectly."
It's not clear how admissions officers will comply with such confusing instructions, but the court was crystal clear about its outright hostility to Harvard's efforts to admit classes that ranged between 10 percent and 12 percent Black between 2009 and 2018.
That small slice of inclusion was intended to make up for more than three centuries, from the school's founding in 1636 all the way up to the 1970s, when Harvard College typically admitted 12 or fewer Black undergraduates each year, amounting to one percent or less of each class. Harvard Business School admitted a total of 42 Black students between its founding in 1915 and 1968, with many of those classes including no Black members at all.
This was not an accident. In the early 1950s, Harvard's dean of admissions, Wilbur Bender, wrote a blunt note to a university colleague describing the kind of "special boy" that an influential faction of the school's alumni wanted more of at the school: "The well-dressed, polite, Nordic blonde from a family with an income of $20,000 a year and up, living in a swanky suburb. These are the boys who make the fraternities … they go on into insurance or bond selling or advertising or what not and become the background of the Country Club set and have lots of divorces."
That all turned around when legal scholar Derek Bok became Harvard's president in 1971 and launched a campaign to open the university to more than just that well-born "special boy," in ways that came to be known as "the Harvard Model." The idea, Bok said, was to intentionally assemble more diverse classes — not as a matter of softhearted liberal ideology, but as a duty to build a broader, deeper pool of talent needed to lead an increasingly diverse society and run the global military, commercial, and political institutions at the heart of American power.
"Selecting a class has much broader purposes than simply rewarding students who are thought to have worked especially hard," Bok wrote in The Shape of the River, an in-depth examination of the use of race and university admissions he co-authored with William Bowen, a former president of Princeton. "The job of the admissions staff is not, in any case, to decide who has earned a 'right' to a place in the class, since we do not think that admission to a selective university is a right possessed by anyone."
Instead of viewing admissions as a form of private property to be hoarded by the country-club set, wrote Bok and Bowen, universities should serve the public by training and turning out larger, more diverse classes of leaders: "In our view, race is relevant in determining which candidates 'merit' admission because taking account of race helps institutions achieve three objectives central to their mission — identifying individuals of high potential, permitting students to benefit educationally from diversity on campus, and addressing long-term societal needs."
To get the diversity he sought, Bok hired and supported talent-spotting university administrators like David Evans and Walter Leonard, legendary admissions officers who scoured the nation's high schools and colleges in search of Black talent — and spent the '70s recruiting kids who went on to great fame and fortune. The alumni roster includes Kenneth ​​Chenault, CEO of American Express; scholar Cornel West; and Dr. Mary Bassett, who later served as health commissioner of New York City and the state. The Harvard Law class of 1978 alone included Ken Frazier, who became CEO of Merck, and legal scholars Chris Edley Jr. (who eventually became dean of the law school at U.C. Berkeley) and Charles Ogletree, whose law students included Barack and Michelle Obama. Another 1978 graduate, Stanley O'Neal — whose grandfather had been a slave — got his degree from Harvard Business School and began a climb that made him CEO of Merrill Lynch.
Here in New York, Harvard Law graduates from the Bok era include Hon. Laura Swain, currently chief judge of the Southern District; Hon. Rowan Wilson, chief judge of the state; and Ray McGuire, president of Lazard, the investment-banking powerhouse. All three were on campus during my undergraduate years and surely heard the same pronouncements given to my classmates: that the opening of the admissions door to Black students after 300 years was a rare and precious opportunity — and that we had a moral obligation to deliver a meaningful measure of public service in return.
Many of my Black college classmates — there were about 140 of us — took the charge seriously. Anthony Brown joined the Army after graduating and went on to serve as lieutenant governor of Maryland, which he currently represents in Congress. My roommate, Alan Jackson, has spent decades saving lives as a cardiologist serving low-income patients in his hometown of Chicago. Another buddy, the gifted poet and author Fred Moten, is a professor at NYU and recently won a MacArthur "genius" award. Robert Runcie, a nationally renowned educational leader, was the superintendent of Broward County Public Schools on the fateful day of the Parkland massacre. Dr. Jennifer Howard, a practicing OB/GYN, doubles as president of the League of Women Voters of New Jersey. Steve Hawkins got a law degree and went on to run the National Coalition to Abolish the Death Penalty and Amnesty International USA. Theresa Clarke became a managing director at Goldman Sachs before founding Africa.com and building out philanthropic efforts in South Africa.
I could brag all day about the extraordinary public service delivered by my classmates and other affirmative-action babies. The school's investment in us has paid handsome social benefits, just as Bok, Evans, and Leonard intended. It's a world away from the narrow approach taken by the majority in SFFA v. Harvard, where Chief Justice Roberts curtly and summarily dismissed a half-century of diversity and excellence — all those CEOS, attorneys, judges, and professors — by baldly stating that "college admissions are zero-sum. A benefit provided to some applicants but not to others necessarily advantages the former group at the expense of the latter. Harvard's admissions process rests on the pernicious stereotype that a Black student can usually bring something that a white person cannot offer."
The dissent by Justice Sonia Sotomayor, the Supreme Court's first Puerto Rican member, acidly condemned her colleagues' attack on diversity. "At bottom, the six unelected members of today's majority upend the status quo based on their policy preferences about what race in America should be like, but is not, and their preferences for a veneer of colorblindness in a society where race has always mattered and continues to matter in fact and in law," she wrote. "They make a clear value judgment today: Racial integration in higher education is not sufficiently important to them."
It should be a matter of embarrassment, if not outright shame, that half of all Black doctors and lawyers — as well as 40 percent of engineers and 80 percent of Black judges — graduate from historically Black colleges and universities (the stats were cited, approvingly, in Justice Clarence Thomas's concurrence). The Court's conservative majority never explain how thinning the already sparse number of Black students from attending elite colleges and universities will make the country freer, more fair, or better led. It seems that never mattered to them at all.