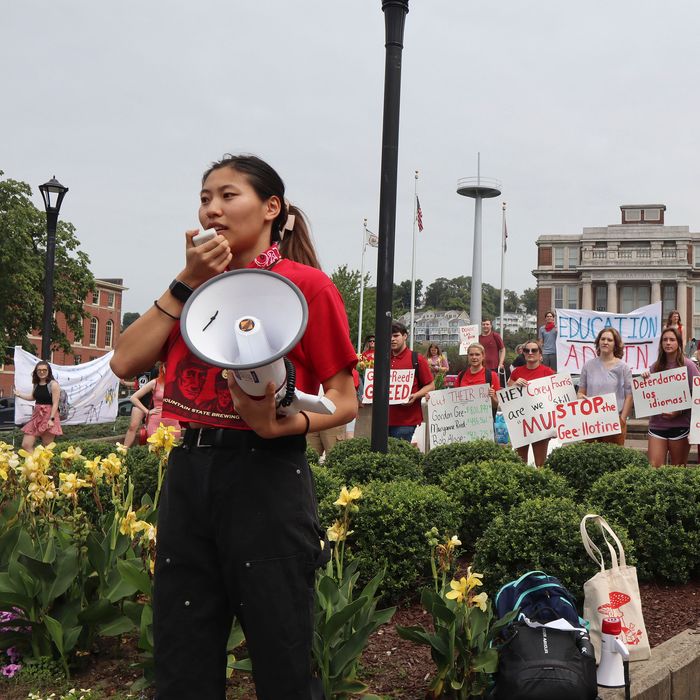 Photo: Leah Willingham/AP
West Virginia University's Jonah Katz is in his tenth year teaching linguistics, which he calls "an important bridge between traditional humanities fields and scientific methodology and ways of thinking" for students who might have otherwise remained siloed in the humanities or STEM. That work is vital to the intellectual life of any major university, but proposed cuts at WVU would eliminate 32 majors that form the core of a liberal-arts education, including Katz's entire department, putting him out of a job.
WVU faces a $45 million shortfall, and so far, the crisis has been borne almost entirely by faculty, staff, and students. The school has said it will cut a single administrative position as it prepares to lay off 169 faculty members. Faculty aren't the only people out of work, either: "To date, at least 130, mostly non-classified staff members at WVU have lost their positions as a result of the reductions," reported the Charleston Gazette-Mail. Students will lose much. In a press release, the university said it "is reviewing plans to eliminate the language requirement for all majors," and for students who are still interested in foreign language, it is "exploring alternative methods of delivery" like a partnership with an app. That's a radical step down for a major university like WVU. So how did WVU get here? "We are going through an existential crisis in higher education, and we happen to be on the point of the spear," its controversial president, E. Gordon Gee, told the Washington Post. "The people of the state are telling us what they want. And for once, we're listening to them."
Students and faculty tell me a different story, about class and power. In this telling, WVU has fallen prey both to state-specific misdeeds and to a national war on public education. Faculty both at WVU and elsewhere fear the cuts will be replicated at other public institutions. The university did not arrive at this juncture by chance, they say. Instead, WVU was pushed here by wealthy administrators who mismanaged the school while state legislators underfunded it for years. A decade ago, Gee had predicted enrollment would grow to 40,000 students by 2020, but enrollment is 26,000 today after "the annual flow of high school graduates" in West Virginia had stagnated and is projected to further decline, the Post reported.
"They just took on an extraordinary amount of debt for their physical expansion and their administrative expansion in preparation for that growth, but the growth never came," Katz said. In a familiar tale across the country, West Virginia lawmakers "kept funding flat or declining in real dollar terms," Katz said, though inflation practically turns that into a funding cut. Meanwhile, he said,  Gee and administrators "spent extraordinarily large amounts of money trying to expand the physical facilities and the administration of the university."
Now the fate of the university is uncertain, and that is a blow to West Virginia itself. The cuts "send the message that thinking outside of West Virginia doesn't matter, which is a failing," said one first-generation student and West Virginia native who asked to remain anonymous for fear of reprisal. A double major in Spanish and a STEM field, they described the department of world languages, literatures, and linguistics as a place where diverse students find homes on campus. Now the cuts say "that this university is not a welcoming place," they said.
Languages and linguistics won't be the only casualties of the cuts. "We really weren't expecting the graduate math programs to be recommended to be discontinued," said Matthew Kolb, a math major who planned to continue his graduate studies at WVU. "So when that happened, we were really surprised. And that kind of put my plans into limbo until I know that they are gone." WVU is home to the only mathematics Ph.D program in the state, so if the program disappears, Kolb will have to leave too. "This is going to cause more of a drain on the population for the state," he said.
The university portrays the proposed cuts as relatively small, saying they would affect 7 percent of faculty and 2 percent of the student body. That is misleading, say faculty. Layoffs will affect 16 percent of the faculty at the flagship, their analysis says, and the number of affected students will be high. "It's not wrong to be like, 'This is 100% of students,'" says one professor who asked for anonymity to speak freely. "But even more directly, if a freshman can't take their required courses because we no longer have graduate students to teach them, then that is a big problem. It delays their time to graduation. It affects other courses that have that as a prerequisite. But that's not part of that calculus at all."
Perhaps administrators think they can get away with it in this poor Appalachian state. They might, too. Katz is not optimistic. "I don't think anybody in our department believes that the appeals process will be credible or that the Board of Governors will do anything but rubber stamp what's put in front of them," he told me. That doesn't mean faculty and students will passively accept whatever happens next. West Virginia has a rich history of challenging power on its own terms, most recently with a wave of teachers' strikes in 2018. Students are demanding that the university undergo an independent audit. Kolb has co-founded the West Virginia United Student Union, a grassroots organization that is not affiliated with the university and whose membership has grown over opposition to the cuts. Hundreds of students also participated in a recent protest at the main campus as well as the school's Evansdale campus, Inside Higher Ed reported. "Many demonstrators wore red, and some donned red bandanas, a symbol of the 'redneck' strikers of the West Virginia Mine Wars of the 1910s and early 1920s," according to Inside Higher Ed.
When people in one of Jessica Wilkerson's classes said that it would be difficult to get undergrads involved in the fight, a student from West Virginia disagreed, saying, "We understand that we have to fight for our education."
"I think it was a really important moment," said Wilkerson, an associate professor of history. "Because I think sometimes what I hear in the media is like, 'Oh, those poor West Virginia kids, they've lost so much already. They need access to languages so they also can get good jobs. And so they can leave that place if they want to.'" Everyone deserves a robust liberal-arts education, she added. "But it can be a little condescending because, to me, the message that the students are sending, and that I feel as a faculty member here, is that they deserve a liberal-arts education because everybody deserves a liberal-arts education, and we should be defending public higher ed everywhere," she said. "And they understand the symbolism of West Virginia in that fight."
Lisa Corrigan of the University of Arkansas has argued in The Nation that the retention of rpk GROUP, a consulting firm, "also points to the larger issue that WVU is a harbinger of what awaits much of U.S. higher education."
"Policies that funnel public funds to private entities are intentionally designed to produce two tiers of education," Corrigan added, "one for the elite at small, private, endowed universities and one for state students who are poor, first-generation, disabled—or are interested in the liberal arts, fine arts, or programs that question the current political arrangement." That's class war in action.
The fight at WVU should resonate far beyond campus or even the state of West Virginia. At stake is the right to a liberal-arts education. Should schools like WVU bleed dry, the liberal arts will become even more of a luxury, available only to people of means. That might not bother the consultants or the administrators or the legislators. It should bother us.