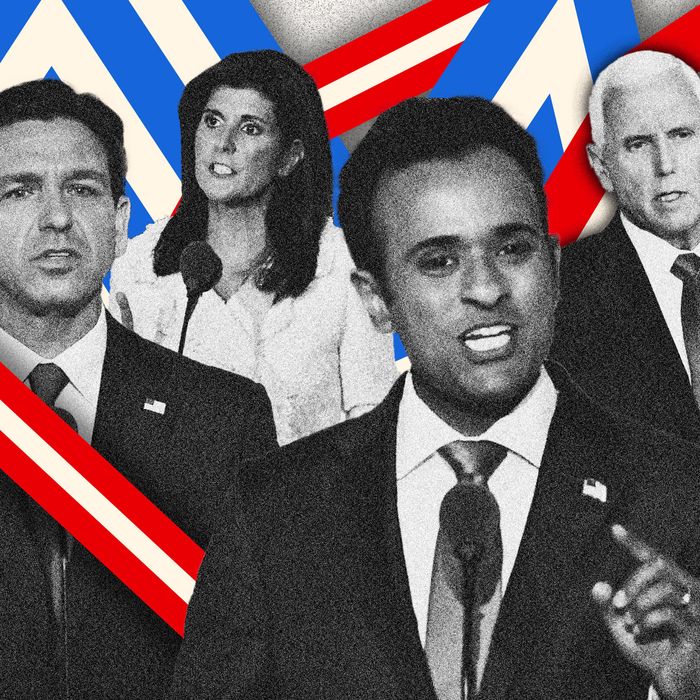 Trump's rivals had the stage to themselves, with mixed results.
Photo-Illustration: Intelligencer; Photos: Getty Images
Prior to the first Republican presidential debate on August 23, the punditocracy diverged significantly on whether skipping the event was a smart or dumb move by Donald Trump. Unsurprisingly, some Fox News personalities tended to think it was a bad idea for the former president to miss their network's big night, as Yahoo reported:
Former White House press secretary and now–Fox News host Kayleigh McEnany said Donald Trump is making a major strategic error by skipping the GOP primary debate this week.




"This is a huge political miscalculation," she said on Fox News' "Outnumbered" Monday. "You give others the opportunity to shine. You give others two hours to throw lobs at you. And I know former President Trump can dance across the debate stage, can defend himself. But you're not there to do it yourself, you're counting on maybe others to step in."
Politico's Jack Shafer made perhaps the most adamant case for Trump staying away:
A person shouldn't eat when he's not hungry, drink when he's not thirsty or debate when he's already won. So if Trump has already acquired the nomination and stowed it in a box in his Mar-a-Lago bathroom for reopening on the week of the Republican convention, there's no reason, outside entertaining his fans, for him to appear on the Milwaukee dais.
We now have five national public polls with post-debate findings by which to judge its effect on the GOP race, and they can be neatly divided into two groups.
Three of them showed no loss of support for Trump. Morning Consult's tracking poll had Trump at 58 percent before and after the debate. Reuters-Ipsos showed Trump actually gaining ground (from 47 percent to 52 percent) between early August and the day after the debate. And New York Post–Leger in its first poll of the race put Trump's post-debate support level at a sky-high 61 percent.
Two national surveys, however, showed Trump losing support, albeit from a high level. A mid-August Emerson poll gave Trump 56 percent; in its post-debate poll, the former president dropped to 50 percent. And Insider Advantage polls just prior to and just after the debate showed Trump's support dropping from 51 percent to 45 percent.
In the RealClearPolitics national polling averages, Trump slipped from 55.2 percent the day of the debate to 53 percent now.
The debate might have also helped or hurt Trump, of course, in its effect on the rest of the field. Most handicappers of the debate thought Ron DeSantis did relatively well, even if he mostly stuck to his usual talking points and wasn't at the center of the event's more dramatic moments (indeed, his creepy forced smile made a bigger impression than his words on many observers). Did the debate do anything to reverse the Florida governor's monthslong slide in support? Actually, his national polling average (per RCP) dropped from 14.2 percent the day of the debate to 13 percent now. But the same two pollsters that showed Trump losing ground after the debate gave Team DeSantis something to tout: Emerson gave him a two-point post-debate bump, and Insider Advantage showed him nearly doubling his support, from 10 percent to 18 percent. The best numbers for DeSantis came from a post-debate Iowa poll from Public Opinion Strategies (a firm known for some pro-DeSantis outlier state surveys earlier this year), showing him leaping from 14 percent just prior to debate to 21 percent afterwards, cutting Trump's advantage in Iowa from 28 percent to 20 percent.
Two candidates trailing Trump and DeSantis throughout 2023 were thought to have had breakout performances in Milwaukee, but it's not clear either is gaining enough ground to be considered a significant challenger. Vivek Ramaswamy held onto but didn't improve his third-place standing in the national polls (his RCP average was 7.4 percent before the debate, 7.5 percent nationally) or in any particular poll. Nikki Haley enjoyed major bumps in the same two polls that found a lot of movement among the top-two candidates: Emerson showed her improving from 2 percent to 7 percent; Insider Advantage had her zooming up into an unprecedented third-place double-digit showing at 11 percent. The POS Iowa poll that gave such good news to DeSantis also showed Haley moving into third place there at 11 percent.
All in all, unless you buy the "DeSantis is surging in Iowa" narrative POS alone is showing, the debate didn't significantly change the GOP race. Perhaps DeSantis's free fall is ebbing; perhaps not. Ramaswamy's MAGA star turn in Milwaukee makes him a more valuable wingman for Trump, but not a serious candidate for the nomination. Nikki Haley is still miles from viability and will have to deal with heightened debate expectations going forward. The candidate many observers thought might be poised for a DeSantis-deflating breakout, Tim Scott, was all but invisible in Milwaukee. And for all the drama candidates like Chris Christie, Mike Pence, and Asa Hutchinson were able to generate in isolated moments of the debate, they're all too deeply unpopular among Republican primary voters to be taken seriously.
The bottom line is that Trump skipped the debate and maintained a 40-point lead in the national GOP race. None of his rivals gained enough ground to matter, even as the clock continues to tick down toward the early 2024 contests that could quickly clinch the nomination for the overwhelming front-runner. Right now, the shadow of the jailhouse door — and the effect his legal saga is having on general election voters — remains the most important obstacle to the 45th president's third straight GOP nomination.