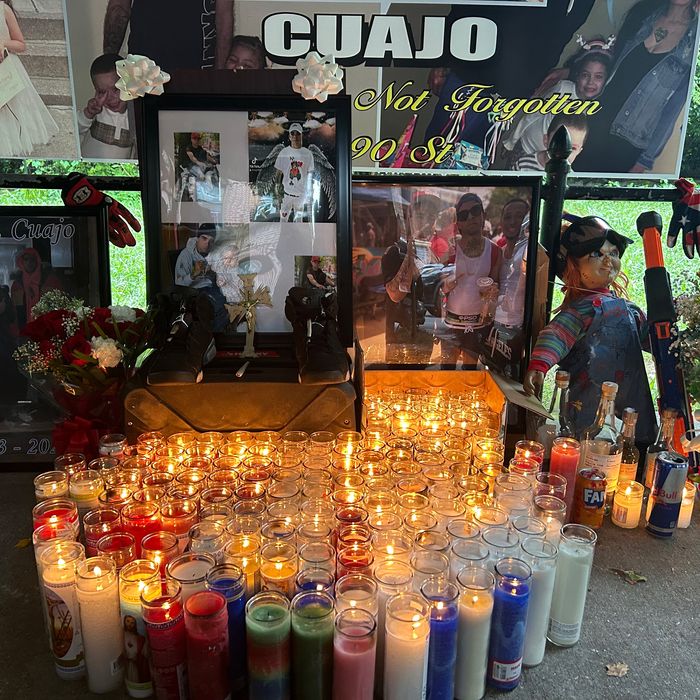 Photo: Stephanie Keith/The New York Times
On Wednesday, August 23, 30-year-old Eric Duprey died after a police sergeant struck him with a cooler, causing him to fall off his motorbike. Erik Duran, the 35-year-old sergeant, was suspended without pay following the incident, and the state attorney general's office is leading an investigation into what transpired.
Here's what we know so far.
The incident
On Wednesday evening at 192nd and Aqueduct Streets in the Bronx, undercover narcotics officers were conducting a sting to catch potential drug dealers. The New York Times reports that Duprey was observed selling drugs to one of the disguised cops, prompting the officers to attempt an arrest. Police told the Times that an unidentified man moved the motorbike over to Duprey, who then hopped on and sped away from the officers.
A witness, who wished to remain anonymous, told the New York Daily News that Duprey was moving north on the bike with the police in pursuit.
"Then he took a U-turn and was riding on the sidewalk. … The cop then took my cooler, which was filled with soda cans, water bottles, and hit him," the witness said.
Surveillance video shows Duprey being struck at close range by a man in plainclothes, causing him to hit a tree and then a Jeep Cherokee before hitting the ground. The man in the video was later identified as Duran.
Emergency services were called to the scene, but Duprey was later pronounced dead. On Friday, August 25, the city's medical examiner determined Duprey died as a result of blunt force trauma and declared his death a homicide, Spectrum News.
Who was Eric Duprey?
Duprey was a father of three children, aged 9, 5, 3, according to the Associated Press, sharing the two youngest with his wife Orlyanis Velez.
Velez told Gothamist that she has yet to tell her kids about their father's death.
"I'm just thinking right now how I'm going to tell my kids that their father's not here no more," she said. "When they ask me, 'Why?' Because an officer, police, killed my husband. Nobody knows the way that this feels."
Erika Duprey Soto, Eric's sister, told the Daily News that her brother would sometimes work as a delivery driver for DoorDash and Uber Eats.
"He used the same scooter for deliveries that he was riding yesterday when he was attacked," she said.
She continued, "I still can't understand what happened. He's gone. I loved my brother to death."
Gretchen Soto, Duprey's mother, disputed the police's narrative that her son was buying drugs as "lies," telling the AP in Spanish that she was on a video call with Duprey at the time.
"He wasn't fleeing. He wasn't fleeing. He was just on the motorcycle talking to me on the video chat. And he passed by that place when all of a sudden the call cut out," she said.
Whether Duprey had a previous criminal record is unclear.
A growing memorial of candles and photos has formed at the site of Duprey's death as friends, family, and neighbors mourn his loss.
Who is Erik Duran?
Duran, a 13-year veteran of the force, has been suspended for 30 days, per the Times. He had been assigned to the Bronx's narcotics division last September.
According to police records, Duran has received 17 misconduct complaints over the length of his career, but only one was substantiated. He was disciplined in July after he "wrongfully stopped an individual known to the department."
Andrew Quinn, a lawyer representing Duran, told the New York Post that there's more to the incident than the brief surveillance video clips show.
"Once a full and complete investigation is conducted, we are fully confident that Sgt. Duran will be exonerated of any misconduct or wrongdoing," he said.
What now?
In the statement, the police said that state Attorney General Letitia James' office is currently leading the investigation with the department's assistance.
"The NYPD is committed to ensuring that there will be a full, thorough, and transparent investigation of this incident to determine the facts and to take the appropriate steps forward," the statement read.
Calls for Duran to face charges have begun to grow. The Daily News reports that members of a local chapter of Black Lives Matter rallied on Saturday and urged James to act.
"What we're dealing with right now is a murder," said Hawk Newsome, the co-founder of the group. "We will protest until Letitia James, our attorney general, indicts this cop for murder. Not manslaughter. Not criminally negligent homicide. But murder."