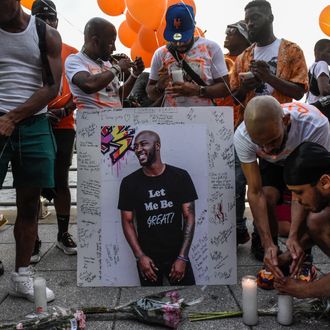 Photo: Stephanie Keith/Getty Images
O'Shae Sibley, a 28-year-old dancer, was stabbed to death at a Brooklyn gas station on Saturday, July 29, after an altercation between his friends and a group of men who objected to the way Sibley was dancing. A 17-year-old suspect has been arrested and charged with committing a hate crime. Here's what we know so far.
What happened
The New York Daily News reports that Sibley, who was gay, stopped at a Mobil gas station in Midwood on Saturday evening around 11 p.m. along with some friends. While someone in the group filled up the car, Sibley reportedly played Beyoncé's latest album, Renaissance, and danced to the music. Multiple reports say Sibley was voguing, a style of dance popularized by the LGBTQ+ ballroom scene.
A group of men at the station then reportedly confronted Sibley and his friends, telling them to stop dancing and allegedly hurling homophobic slurs at them.
Initial reports suggested that the suspect was Muslim and committed the crime because the dancing was offensive to his faith. But those reports have since been proven to be false; the suspect is, in fact, a Christian.
Surveillance video shows the two groups in a heated argument. According to witnesses, one person intervened and attempted to break up the altercation. Sibley was seen face-to-face with one of the individuals in the group, after which they began scuffling. The suspect then stabbed Sibley in the chest, per ABC 7. The suspect fled the scene and is still on the loose. Sibley was taken to Maimonides Medical Center but was pronounced dead. The NYPD is officially investigating the stabbing as a hate crime.
Who was O'Shae Sibley?
Sibley was a Philadelphia native who moved to New York City in 2019 to pursue a career in dance. In between auditions, he worked odd jobs as a waiter or doing deliveries, according to the New York Times, and intended to audition for The Lion King this year. Prior to his move, he was a member of the Philadelphia Dance Company also known as Philadanco, a renowned modern-dance company in the city.
Joan Myers Brown, the founder of Philadanco, told the Philadelphia Inquirer that she first met Sibley when he was 14 and that he was teased in his neighborhood for his interest in dance. Though Sibley left the company for New York in his early 20s, he kept in contact with Brown. "He called me every week to say, 'Hey JB, or Hey, Aunt Joan, and he would tell me about his auditions," she said.
The New York Post reports that he took part in the Alvin Ailey American Dance Theater's extension program and a 2022 visual project commissioned by Lincoln Center titled "An Eclectic Dance to the Music of Time." Choreographer Kemar Jewel remembered Sibley on Facebook, describing him as "one of the closest things to family that I ever had." Jewel first met Sibley when he was 16 years old, and Sibley went on to star in six of Jewel's music videos. "He was a bright eyed and goofy young man who had talent beyond anything I'd seen before. He could sing, he could do hip hop, jazz, ballet, tap, anddddddd he was an incredible voguer! That's how we became close," he wrote.
In an interview with Gothamist, O'Shae's aunt Tondra Sibley called his murder "senseless" and said her nephew had been planning a trip with his father this week to Florida. "He was a gentle spirit," she said. "Everyone that knew him knew that he was always smiling … he loved people, he loved dancing, he loved teaching dance."
Beckenbaur Hamilton, Sibley's neighbor, told the Times that he personally was attacked in his younger years because he was gay. Due to his own experiences, he said he warned Sibley about being so open about his sexuality in public. "O'Shae wasn't afraid of being who he was," Hamilton said. "He would defend his friends." He continued, "But I'd see how people looked at them. There was a worry in the back of my mind."
The suspect
Assistant Chief Joe Kenny announced that the suspect was taken into custody nearly one week after Sibley's murder, with the NYPD arranging his surrender through his attorney. Though Kenny did not reveal the name of the suspect during the event, he was later identified as 17-year-old Dmitriy Popov. The suspect was seen on surveillance video fighting with Sibley. Popov is said to have ties to the area where the crime occurred, residing in Brooklyn and attending a high school nearby. No one else is expected to be charged.
The Daily News reported that Popov was officially indicted on a charge of second-degree murder as a hate crime as well as additional counts on August 10. He faces a minimum of 20 years in prison.
During his earlier press conference, Kenny said the hate-crime charge was being sought due to some of the words used during the altercation between the two groups of men.
"Just based on the statements of the group in general. We have a lot of anti-gay statements and a lot of derogatory statements being made, anti-Black, from the group and from the defendant himself," Kenny said.
There had been reports that Popov identified himself as Muslim and said Sibley's style of dancing offended his religious sensibilities, but Mayor Eric Adams said that this was "not true." The suspect's grandmother told the Daily News that her grandson is actually a Christian and claimed that he was merely trying to protect himself.
"There were four of them … strong, big men and intoxicated," she said. "If he did not do it, the guys would have killed him."
The vigils
Sibley was remembered by friends, family and members of the city's LGBTQ and ballroom communities over the weekend following his death. A memorial was held outside the Stonewall Inn on Thursday.
Another vigil took place on Friday at the Mobil station where he was killed. Hundreds filled the parking lot of the station and nearby streets with many vogueing in Sibley's honor. The mourners marched and danced through Midwood as they remembered their fallen friend.
Otis Pena, a friend of Sibley's who was present on the night of his murder, was one of the attendees. "Pioneers and icons of ballroom have come out to pay their respects to O'Shae tonight, and that's beautiful," Pena said, according to the Times. "Vogueing is the dance of our people. It's a dance of rebellion created by us and for us."
Another memorial was held on Saturday at the LGBT Community Center in Manhattan. Members of Sibley's family, including his father and sisters, were at the event, according to PIX11. "Everybody's coming out and showing love,. It's a beautiful thing. It's just beautiful," Mike Kelly, Sibley's father, told the network. The memorial ended with a march to Pier 46, where the crowd released orange balloons into the air, which represented Sibley's favorite color.
A celebration of Sibley's life will take place in his hometown at The Met Philadelphia on Tuesday, August 8, per 6ABC.
Reaction
Sibley's death was condemned by many in the New York political world.
In a tweet, Mayor Adams said Sibley's life and "beautiful spirit" were cut short by homophobia. "We'll bring justice for O'Shae's family and loved ones. His dancing joy will live on," he said.
State Senator Brad Hoylman-Sigal tweeted that he was "heartbroken and enraged" to learn about Sibley's murder. "Despite homophobes' best efforts, gay joy is not crime. Hate-fueled attacks are," he said.
The story has spread beyond New York. Beyoncé paid tribute to the fallen dancer by displaying the message "Rest In Power O'Shae Sibley" on her website.