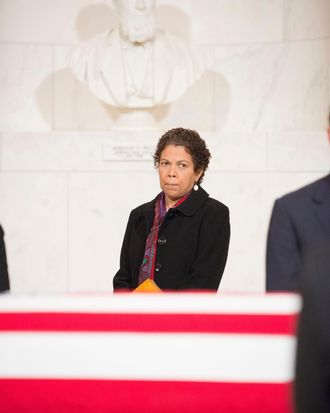 Photo: Jay Mallin/ZUMA Wire/Alamy Live News
Donald Trump is going to court again, this time in Washington, D.C., where he will face four federal counts for his push to overturn the 2020 election results. The case's venue presents a contrast with the other current federal proceeding against him over his alleged mishandling of classified documents. In that case, Trump may draw a relatively favorable Florida jury, with a judge he appointed presiding over the trial. But in heavily blue Washington, he's likely to face a jury of Democratic-leaning voters. And Tanya Chutkan, the judge who has been randomly selected to preside over the January 6 case, appears to be the worst-case scenario for the former president.
In previous cases involving Capitol rioters, Chutkan has made it overwhelmingly clear that she considered the event to be a "very real danger" to American democracy — and she has handed out sentences accordingly. As Trump's legal team prepares for yet another defense, here are the most important things to know about the judge.
What is Judge Chutkan's background?
Born in Jamaica, Chutkan attended the University of Pennsylvania Law School before serving in the public defender's office for the District of Columbia in 2000. After joining the powerhouse firm Boies Schiller Flexner in 2007, she was appointed by Barack Obama to the U.S. District Court for the District of Columbia in 2013.
What has Judge Chutkan said about the Capitol riot?
In the January 6 cases before her, Chutkan has not wavered in her condemnation of the defendants' actions. After one of her colleagues, a Trump appointee, compared the Capitol riot to the George Floyd protests the summer before, Chutkan refuted his statement. "People gathered all over the country last year to protest the violent murder by the police of an unarmed man," she said in October 2021. "Some of those protesters became violent. But to compare the actions of people protesting, mostly peacefully, for civil rights, to those of a violent mob seeking to overthrow the lawfully elected government is a false equivalency and ignores a very real danger that the January 6 riot posed to the foundation of our democracy."
At a sentencing that month of a Trump supporter who pleaded guilty to illegally demonstrating in the Capitol building, Chutkan told the defendant that he didn't march to the Capitol "out of any love for our country," but for "one man."
How has she handled prior Capitol riot cases?
An analysis last year by the Associated Press found that, of the 200-plus defendants sentenced for crimes at the Capitol riot, those who have gone before Judge Chutkan have received severe sentences.
Chutkan has handed out tougher sentences than the department was seeking in seven cases, matched its requests in four others and sent all 11 riot defendants who have come before her behind bars. In the four cases in which prosecutors did not seek jail time, Chutkan gave terms ranging from 14 days to 45 days.
As of June 2022, no judge except Chutkan has exceeded prosecutors' recommended terms.
How has she ruled in past proceedings involving Trump?
In November 2021, Chutkan denied Trump's attempt to stop his White House records from being accessed by the House committee investigating his push to overturn the election. Chutkan ruled that congressional oversight took precedence over Trump's residual executive privilege as a former president.
Chutkan wrote that Trump was under the impression that he believes that his "executive power exists in perpetuity … but presidents are not kings, and the plaintiff is not president."
What she has said about the latest Trump indictment
In an unrelated court appearance on the day of Trump's indictment in the January 6 case, Chutkan acknowledged the perils of overseeing a historic case against the former president. When a public defender asked her if she slept well, Chutkan laughed and said "no," according to Politico.
Later in the hearing, Chutkan spoke with attorneys to set a date for a follow-up hearing. When they suggested a late-August meeting, Chutkan noted that she might be out of town. "Which increasingly seems like a good idea," she added with a smile.
More on the Trump January 6 indictment
See All