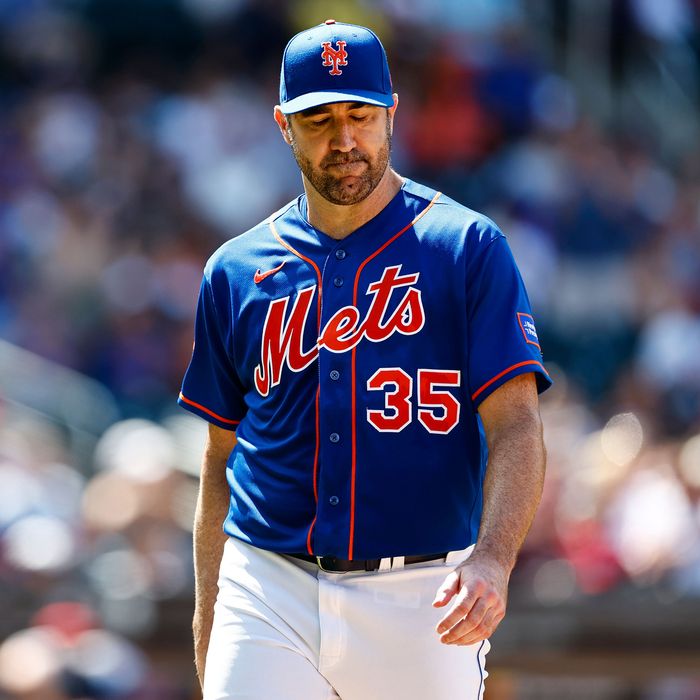 Photo: Rich Schultz/Getty Images
The 2022 Mets were a rollicking team that surprised the baseball world by winning 101 games before flaming out in the playoffs. To get them over the hump this year, their billionaire spendthrift owner, Steve Cohen, opened his pocketbook and splurged on free-agent acquisitions, most notably for aging aces Max Scherzer and Justin Verlander, to the tune of $450 million. The 2023 Mets are the most expensive roster in baseball history, and with stars like Pete Alonso and Francisco Lindor in their prime and all the new talent, the often bumbling franchise was suddenly a World Series favorite going into the season.
But nope, it was the same old Mets all along.
On Tuesday, in an acknowledgment that this season is all but a lost cause, the Mets agreed to send Verlander to the Houston Astros, his old team, in exchange for two prospects. That swap, made hours before the league's trading deadline, came days after the team dealt Scherzer to the surging Texas Rangers, also for a prospect. (They also sent outfielder Tommy Pham to the Diamondbacks.) With about two-thirds of the season in the books, the Mets are a decidedly mediocre 50-56, 18.5 games out of first place in their division with a 9.1 percent chance of making the playoffs as a wild card, according to FanGraphs.
It was a bad sign when star closer Edwin Díaz suffered a season-ending injury while celebrating a victory in the World Baseball Classic. And then the season started. Nothing really gelled for this team from the beginning: Scherzer and Verlander showed flashes of their usual brilliance, but neither was consistently great and certainly wasn't worth the huge contract. Almost everyone else on the team has also underperformed, from Lindor, who's having one of the worst years of his career, and from 2022 batting champion Jeff McNeil to Starling Marte and reliever Adam Ottavino. The team also lost a series of close games in excruciating fashion.
The Mets' future actually looks pretty good. Cohen's wild spending spree aside, he seems committed to developing their farm system, which is stocked with promising young players — including the three acquired in the Verlander and Scherzer deals, all of whom have major potential. And Cohen seems, at least in public, to be a long-term thinker, not someone who will give up after a short and frustrating turn. Still, this season was supposed to end with a deep playoff run, not disappointment. It's a feeling Mets fans are all too familiar with.