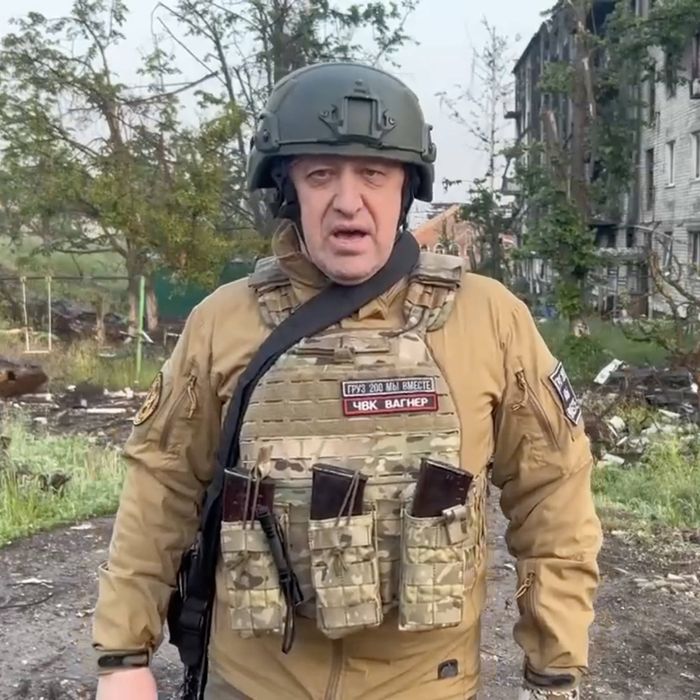 Photo: Prigozhin Press Service/SIPA/Shutterstock
Multiple Russian news outlets report that Yevgeny Prigozhin, the brutal Russian paramilitary leader who led a failed mutiny against Vladimir Putin in June, was on a private plane that crashed near Moscow on Wednesday.
Prigozhin, the public face of the Wagner Group, was reportedly aboard the jet flying from Moscow to St. Petersburg along with six other passengers and three crew. Witnesses described hearing two explosions, and several videos show the plane plummeting to earth in the Tver region, which is north of Moscow. Videos of bodies in the wreckage have emerged, but none are identifiable as Prigozhin. Wagner-related social-media accounts allege that Russia shot down the plane, and flight data indicates that the plane had not previously been descending when it disappeared from radar. A western intelligence official confirmed with the New York Times that the Wagner leader was on the downed plane.
Intelligence officials have competing information on what happened to the plane. According to U.S. officials who spoke to Reuters, surface-to-air missiles that were launched inside Russia most likely took the plane down. But the Wall Street Journal reports that incomplete U.S. assessments suggest a bomb or another form of sabotage on the plane brought it down.
Given Putin's well-known propensity for revenge, it would hardly be surprising if he had sought vengeance on Prigozhin after the aborted uprising, which marked the most serious challenge ever to the Russian president's hold on power. to his revolt, Prighozin was granted highly unusual leeway to criticize the Russian military throughout the Ukraine war, in which the Wagner Group had taken an increasingly assertive role. But over the last two months, his status has been unclear. This week, a video emerged of Prigozhin in Africa, touting the work of his mercenary forces there. It's unclear what he was doing in Russia at the time of his purported death.
In response to the apparent death of Putin's adversary, Ukrainian president Volodymyr Zelensky said that his nation had "no relationship with this situation." At the BRICS summit in South Africa, Russian foreign minister Sergey Lavror did not comment on the matter. President Joe Biden,
on vacation in Lake Tahoe, said that he was "not surprised," though he said he "did not know enough" to confirm Prigozhin's death. On Thursday, Putin offered "condolences to the families of the perished" and stated that "Prigozhin was a complicated but talented person."