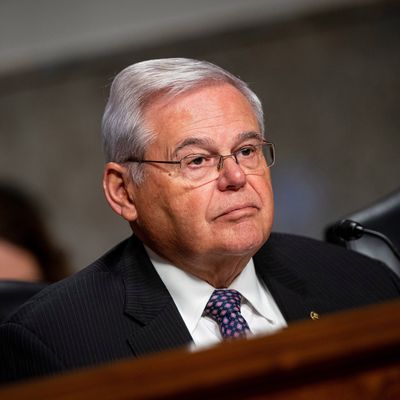 Photo: Al Drago/Bloomberg via Getty Images
Four days after federal prosecutors accused Senator Robert Menendez of accepting close to $500,000 in bribes, his allies in the Capitol and at home in New Jersey are few and far between. On Tuesday, his closest working partner in the Senate, Cory Booker, issued a statement encouraging Menendez to resign. "I believe stepping down is best for those Senator Menendez has spent his life serving," he said. The following day, Dick Durbin and Patty Murray, who are second and third in the Senate leadership, echoed Booker's call and urged Menendez to step down.
Thirty Democrat senators have so far urged the allegedly corrupt Menendez to step down, beginning with John Fetterman who was his lone colleague to do so until the dam began to break in the following days.
On Monday, Senator Menendez gave his first public comments after being indicted on federal corruption charges, telling reporters he wouldn't step down and would eventually be exonerated. The New Jersey Democrat sounded defiant Monday as he spoke in Union City, saying "the allegations leveled against me are just that: allegations."
"I recognize this will be the biggest fight yet, but as I have stated throughout this whole process, I firmly believe that when all the facts are presented, not only will I be exonerated, but I still will be the New Jersey's senior senator," he continued.
On Wednesday, Menendez surrendered to authorities and appeared in Manhattan federal court. He entered a not guilty plea, was released on a $100,000 bond and ordered to surrender his personal passport, per the New York Daily News.
In the indictment, prosecutors allege that Menendez used his prominent position to provide favors for three local businessmen — Wael Hana, Jose Uribe, and Fred Daibes — who were friends with him and his wife, Nadine. The favors reportedly ranged from Menendez interfering in an insurance-fraud case against an associate of Uribe and in a federal criminal prosecution against Daibes; using his role as chairman of the Senate Foreign Relations Committee to provide sensitive governmental information to the men; and advocating for positions more favorable to the Egyptian government. In exchange, Menendez and his wife received envelopes of cash, several gold bars, and payments toward a Mercedes-Benz convertible for their actions. Hana, who is Egyptian American, is alleged to have used his halal company to facilitate payments to the couple. Menendez is also accused of using his role to help Hana secure a monopoly on the certification of U.S. exports of halal meats to Egypt. Menendez's wife and the three businessmen were also indicted.
Menendez said the $480,000 in cash found by federal investigators in his home, which was stashed in jackets monogrammed with his name among other locations, was rightfully his — withdrawn from his own personal savings account and kept around the house "for emergencies." The senator, however, did not address the gold bars discovered in his house that were linked back to the businessmen who are his co-defendants.
During his comments, Menendez notably did not mention seeking reelection even as he resisted calls to resign. Many of his Democratic colleagues are calling on him to leave office immediately in light of the charges against him. New Jersey governor Phil Murphy, who would appoint any potential replacement, called the facts of the case "deeply disturbing" and called for Menendez's "immediate resignation" in a statement.
Congresswoman Alexandria Ocasio-Cortez of New York and Congresswomen Madeleine Dean and Summer Lee of neighboring Pennsylvania all have said Menendez should step down. And New Jersey Democrat congressman Andy Kim went one step further, announcing his intention to challenge Menendez for his seat next year. Menendez does have the backing of one New Jersey congressman: his son Rob, who said he has "unwavering confidence" in his father.
Senate Majority Leader Chuck Schumer confirmed that Menendez will be stepping down as chairman of the Senate Foreign Relations Committee while the case is ongoing, but personally stopped short of asking for his resignation, saying that the senator has a "right to due process and a fair trial." On Monday, White House spokesperson Karine Jean-Pierre said the administration sees the case against Menendez as a "serious matter," but did not relay a call from President Joe Biden asking him to resign.
As Menendez plans to fight the charges, Senator Tom Cotton said that he "has a right to test the government's evidence in court, just like any other citizen."
And one congressman with his own history of legal troubles believes the senator shouldn't resign. "I think due process is important and I think he has a right to defend himself. He's innocent until proven guilty," said George Santos when asked by a U.S. Capitol reporter.