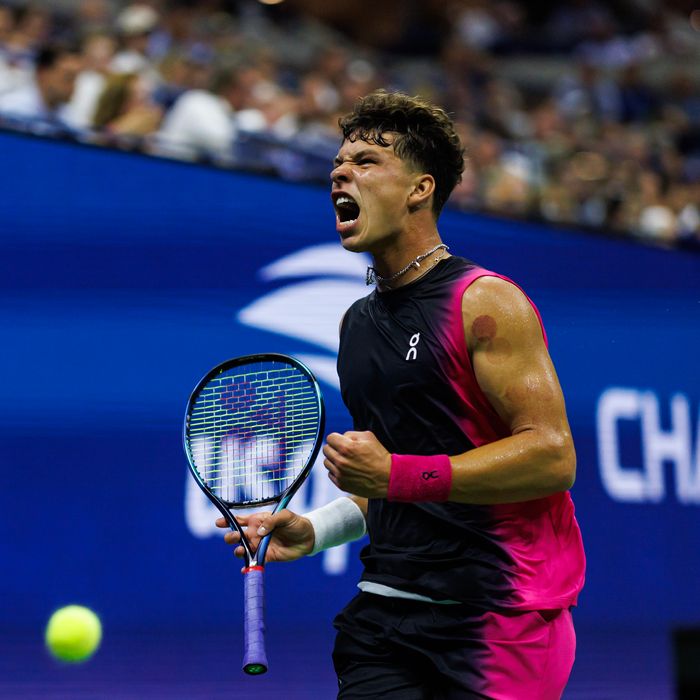 Photo: Frey/TPN/Getty Images
On Tuesday night, down set point in the third set tiebreak of his U.S. Open quarterfinal match against Frances Tiafoe, Ben Shelton was in trouble. The 20-year-old, six-foot-four American, making only his fifth Grand Slam main draw appearance, had just squandered two set points of his own with consecutive double faults. In tense, swampy conditions, his black tank top so waterlogged it looked obsidian, Shelton's patience was wearing thin, and with it his tolerance for the sort of long, coiled rallies the more experienced Tiafoe sought to draw him into. So when he got a good look at Tiafoe's second serve, he reared back and stovepiped a return winner up the line, an audacious shot he celebrated by flexing his ample left bicep. Set point saved.
Less than an hour later, after closing out the match with yet another bazooka of a forehand, he pantomimed answering and then hanging up a phone call with conviction. He was "dialed in," he later explained, never mind the fact that he's a few years too young to have ever used a landline.
"Sometimes you just have to shut off the brain, close your eyes, and just swing," Shelton said, having become the youngest American to reach the U.S. Open semifinals in over 30 years. "I kind of needed a release, and it ended up working out for me."
That return reminded me of one of the gutsiest shots in recent tennis history, when Novak Djokovic, down two match points to Roger Federer in the semifinals of this same tournament in 2011, blasted a forehand return winner crosscourt, the tennis equivalent of a half-court shot at the buzzer or a Hail Mary as time expires. So disturbed was the usually gracious Federer by the temerity of his younger rival's prayer shot that he chalked it up to sheer luck in his post-match presser. "I mean, please," he snarled. "How can you play a shot like that on match point?"
The answer is a ferociously live arm and a certain kind of chutzpah. And Shelton, who bears the toothy grin of a frat boy at his first tailgate, has both. Just over a year ago, he was playing college tennis at the University of Florida, where he was coached by his father, Bryan, a former touring pro himself, and won the NCAA Division I singles championship. In his second tournament as a professional, at last summer's Masters event in Cincinnati, he took out three-time Major finalist Casper Ruud. And at the Australian Open earlier this year, before which he'd never used his passport or left the United States, Shelton made a surprise run to the quarterfinals. His success, at first, seemed a bit premature, perhaps a result of his competitors being largely unfamiliar with his turbine game — between February and the start of the Open last week, Shelton went 8-19 on tour, failing to string together consecutive victories as he adjusted to life in the big leagues.
But something's clicked in New York, where Shelton has earned the nickname "Box Office Ben" for his unflinching play and showman's disposition. It starts with his serve, which he's learned to diversify with not just punishing force but kick, lefty spin, and precision placement, making it one of the most formidable weapons in men's tennis.
In a single service game in his third-round match against Tommy Paul, Shelton clocked two of them at 149 miles per hour, the fastest of the tournament. On Tuesday night against Tiafoe, he didn't hit one quite that fast. But I happened to be seated behind Garrett Wilson, star wide receiver for the New York Jets, who on more than one occasion directed his teammate Michael Carter's attention to the radar gun after one of Shelton's bombs, bewildered. They might have noticed something familiar about Shelton's full-body torque; the Gainesville, Florida, native played quarterback before he quit football and redoubled his commitment to tennis in seventh grade.
In the semifinals, Shelton will play Djokovic, who was businesslike in his quarterfinal dismantling of the top-ranked American Taylor Fritz on Tuesday afternoon. Fritz was 0-7 against the Serbian heading into that match, a statistic that seemed to weigh heavy on his mind. As Djokovic ran him ragged, absorbing his pace with ease, never once did it look like Fritz believed he could win. Shelton probably won't win either, but I don't doubt that he thinks he can. And inevitably, when his faith gets rattled, he'll close his eyes and swing.