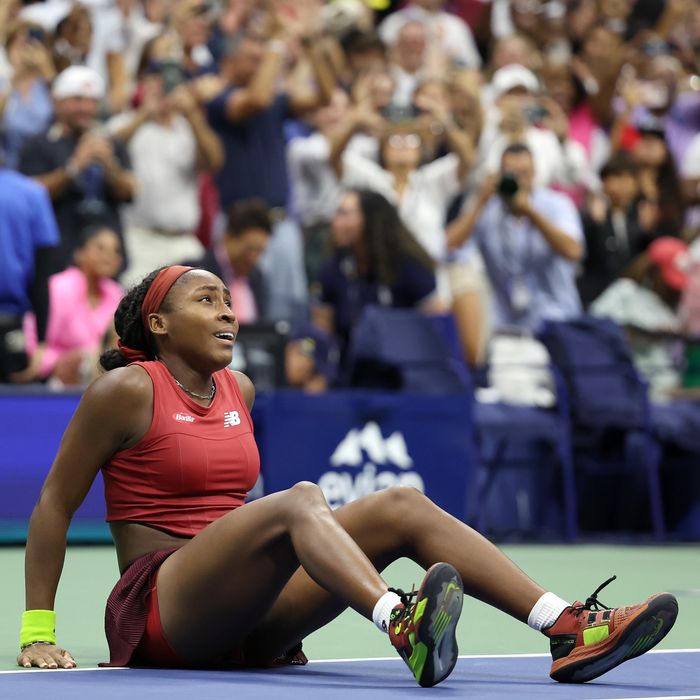 Just after the big moment.
Photo: Al Bello/Getty Images
Coco Gauff won the U.S. Open on Saturday, capturing her first Grand Slam title, but probably not her last. She's the first American woman to win the Open since Sloane Stephens in 2017.
The sixth-seeded Gauff, who was the underdog coming in, looked overmatched during the first set against power-hitting second seed Belarusian Aryna Sabalenka. Then she found her groove. Gauff used Sabalenka's pace against her, chasing back just about every ball, whipping clean groundstrokes that transformed points she looked out of into offensive opportunities, and keeping her cool in the high-pressure crucible of Arthur Ashe Stadium. It didn't hurt that Sabalenka hit an astounding 46 unforced errors, many of them on her potent forehand. Gauff's confidence visibly grew as the match proceeded, and her opponent never quite found her form.
When Gauff won, she broke down in tears — as did a devastated Sabalenka during her post-match interview.
Gauff burst onto the stage as a 15-year-old prodigy in 2019, beating Venus Williams at Wimbledon. As the initial hype around her faded somewhat, she established herself as a grinder who would put in the work to improve after tough losses (including in the 2022 French Open finals). That work paid off on Sunday. In her post-match interview, Gauff had a message for the people — it's unclear which people — who thought there was a limit to how good she could get:
Hey, whatever keeps her motivated for the next title.