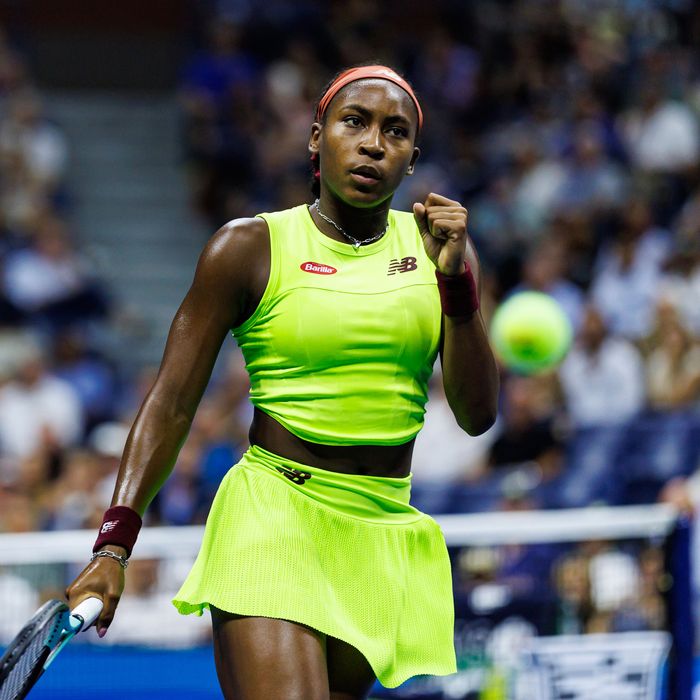 Photo: Frey/TPN/Getty Images
In the waning hours of Thursday night, Coco Gauff became the first American teenager to make the U.S. Open finals in more than two decades — a feat last accomplished by Serena Williams in 1999. And she did it the Coco Gauff way: with steel, solidity, and a touch of nerves to remind everyone that she's still only 19 years old.
In the end, Gauff triumphed in straight sets over the formidable Czech Karolína Muchová. But for nearly 50 minutes, her semifinal match risked becoming another kind of story altogether, after three anti-fossil-fuel protesters disrupted play, with one of them gluing his bare feet to the cement floor of Arthur Ashe Stadium. The crowd became restive as the minutes ticked by, but Gauff seemed unruffled. Before she left the court to wait out the break in play, she jogged in place, retrieved her fruit salad, and listened to coach Brad Gilbert telling her to go more aggressive on her serve. (She doesn't always relish his advice.) When she and Muchová finally resumed, Gauff played like her win was already assured — as though the interruption was nothing more than a mundane rain delay. It was a fitting path to victory, in a way. Gauff's arrival on the tennis scene was explosive, but her ascent through the rankings has been steady, slow, and focused.
Gauff's breakthrough came in 2019 at Wimbledon when she was just 15, only a year after she turned pro. (The day before she flew to London, she'd been studying for a test.) Ranked 313th in the world, she beat three opponents over three consecutive days in the qualifiers, then defeated five-time Wimbledon champion Venus Williams in the first round on Centre Court in straight sets. Her Slam debut fairy tale lasted until the fourth round, when she ran into then-world No. 7 Simona Halep.
The next stretch of her career followed more traditional contours. At the 2019 U.S. Open, she lost in the third round to Naomi Osaka — an attendee at the Muchová match, freshly returned from maternity leave. She and Osaka met again in the third round of the 2020 Australian Open, and this time Gauff emerged victorious. The remnants of the 2020 pandemic season, which picked up that August, were mostly disappointments: early exits at the Slams (the fanless U.S. Open and rescheduled French) and unremarkable showings. The initial hype around Gauff dissipated a little, but she was still plugging away, now slightly under the radar.
When the world reopened in 2021, Gauff was ranked in the top 50. She toiled through more early-round defeats, including at the Australian Open. But by the time she arrived at the French Open, she was seeded for the first time in a Grand Slam tournament, at 24th.
In June 2022, nearly three years after her buzzy splash, Gauff reached the French Open final as the youngest Grand Slam finalist of any tournament in two decades, and the youngest American to do it since Williams. But Gauff lost to Iga Świątek, and then, on the Wimbledon grass a few weeks later, was ousted in the third round by a young compatriot, Amanda Anisimova. By that point, however, there was a recognition of her steadfastness — a recognition that while so many can't-miss future stars fall prey to injury, fizzle, or burnout, here was a player in it for the long haul.
An abrupt first-round loss to Sofia Kenin at this year's Wimbledon incited a series of changes. Gauff set about making them in the deliberate way you might embark on a home renovation. Her father stepped back, and Gilbert and former Spanish tennis star Pere Riba stepped in. Gilbert began having her stand further behind the baseline on return of serve. Riba pushed for a bigger first serve and to end points early. The result was streamlined aggression, a better offense, the prudent, adult version of a child prodigy.
"I'm going to focus on my side of the court," said Gauff just before the Muchová match. She did. She caught an early break in the first set and chipped away toward a linear victory until Muchová's nerves wore off and her own flurry of forehand errors kicked in. Apart from the intrusion of the protesters, the match unfolded largely absent thrills or theatrics until the very end, when Muchova mounted a spirited effort to wrest the second set away from Gauff and the two began trading heavyweight blows. (The penultimate point before Gauff's sixth match point was 40 shots long.) Gauff's strokes were sound and weighty when she needed them to be, while Muchová's game was mostly wobbly and riddled with unforced errors on the backhand side.
At one point, Chris Evert, commentating, remarked on Gauff: "She's playing within herself." She was. In the end, the match registered as a kind of trek over uneven terrain — cautious, occasionally stumbling, yet in clear pursuit of the finish line. It wasn't her best match. But she found a way to win, as the truism goes.
On Saturday, she'll meet Grand Slam champion and soon-to-be world No.1 Aryna Sabalenka in the final. Gauff isn't favored to capture her first major. But if she doesn't, there's little doubt that she'll be back in the deep rounds of one again sometime soon. She has the work ethic, and at 19, she has plenty of time.