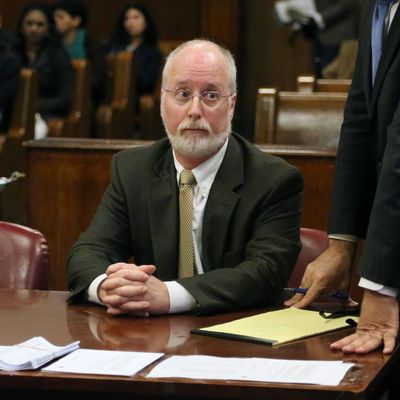 Photo: Jefferson Siegel/New York Daily News via Getty Images
After spending years protecting him, Columbia University has apologized to the numerous victims of Robert Hadden, a former obstetrician who has been accused of sexual abuse by at least 245 former patients.
In the statement released Tuesday, Minouche Shafik, the university president, and Katrina Armstrong, the CEO of Columbia University Irving Medical Center, said the institution "continues to grapple with the magnitude of harm done" by Hadden and applauded the "courageous women" who helped bring him to justice. "We commend them for coming forward. We offer our deepest apologies to all his victims and their loved ones," they said. (Shafik and Armstrong joined Columbia after Hadden was fired.)
The apology comes a week after a joint investigation by New York Magazine and ProPublica showed how the university covered up for Hadden after multiple female patients accused him of abuse. Columbia allowed Hadden to continue to practice for five weeks after a woman in 2012 reported to police that he sexually assaulted her during an exam, resulting in his arrest. At least eight other women that Hadden saw during those five weeks alleged that he assaulted them.
Columbia also stonewalled authorities, refusing to cooperate with an investigation by the Manhattan district attorney's office. The university "failed to hand over evidence in its possession despite subpoenas that compelled it to do so," according to authors Bianca Fortis and Laura Beil, and didn't inform the district attorney's office when more patients came forward with additional accusations. In 2016, Hadden accepted a plea deal from the DA office that allowed him to avoid prison time while giving up his medical license. Manhattan federal prosecutors though charged Hadden in 2020, leading to his conviction this past July. He was sentenced to 20 years in prison.
Meanwhile, the university has settled several lawsuits with victims of Hadden, including a $165 million agreement from last year with 147 of his former patients, but never officially admitted fault. The university is also alleged to have dragged its feet in notifying Hadden's former patients that he left the institution and the letters that eventually went out in the mail did not say why Hadden was no longer practicing. Shafik and Armstrong said the university has continued to work to improve its practices after what happened.
"Since Hadden last saw patients more than a decade ago, Columbia has worked to enhance the policies and processes in place to afford our patients a safe environment of care, and we remain committed to strengthening the safeguards that are essential for earning patient trust," they wrote.
Columbia's apology was strongly condemned by survivors Marissa Hoechstetter and Evelyn Yang. In a statement co-written with their attorney, they called the university's words "self-serving propaganda."
"The statement from Columbia University's new president, picks up exactly where the last one left off. There is no ownership of the university's past—and ongoing— failures. Instead, it comes from a place of self-preservation, a continuation of Columbia's 35-year refusal to acknowledge that they enabled and protected Hadden's abuse," they wrote. "Columbia failed to protect patients and get rid of this known sexual predator."