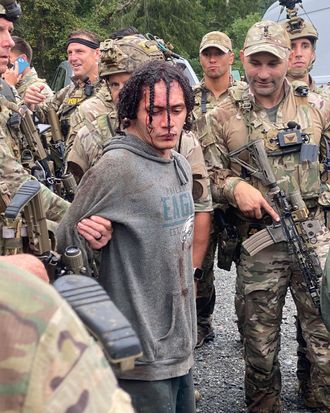 Photo: Pennsylvania State Police
Danelo Cavalcante, a convicted murderer facing life behind bars, escaped from the Chester County Prison in Pocopson Township, Pennsylvania on Thursday, August 31, after scaling a wall and pushing through razor wire. He spent two weeks on the run before finally being captured on the morning of September 13.
Hundreds of state and federal officers, on foot and horseback, combed through a heavily wooded area just outside the prison, then expanded their search as Cavalcante showed up 20 miles north of the prison. Though he was sighted multiple times before being apprehended, Cavalcante stayed one step ahead of hundreds of police officers and federal agents, even stealing a rifle along the way. In the end, he was taken alive. Here's what we know.
New charges on top of a life sentence
Danelo Cavalcante is now being held at SCI Phoenix in Montgomery County, which is a maximum-security prison. The New York Post reports that Cavalcante has been hit with new charges for his escape, and is likely to face additional counts of burglary and theft — all on top of the life sentence he was already serving. During his time on the run, Cavalcante stole a van he later abandoned, various items of clothing including the hooded Philadelphia Eagles sweatshirt he was wearing upon capture, and a .22 rifle.
Cavalcante is captured
On Wednesday morning, authorities announced that Cavalcante had been caught around 8 am. In a press conference, Pennsylvania State Police Lt. Col. George Bivens stated that police were alerted to a burglar alarm on Tuesday night near Bucktown, 34 miles north of the prison from which Cavalcante had escaped. Police launched a drone with heat-sensing capabilities around 1am, which helped locate Cavalcante hiding out in a wooded area west of the PA-100 highway. A storm forced the drone to land, though law enforcement officials stayed in place until morning. The drone was launched again and the tactical team moved in. "Cavalcante did not realize he was surrounded until that occurred," Bivens stated.
When Cavalcante saw law enforcement coming toward him, he grabbed his rifle, which he had stolen on Monday, and tried to crawl through thick underbrush to escape. A dog assisting a Border Patrol tactical unit then chased down Cavalcante, allowing law enforcement officials to detain him. Bivens said that the fugitive suffered a "minor bite wound" and that no shots were fired in the final effort to capture him. He was given a foil blanket and was transported to the Avondale State Police barracks. "I can assure you he will not escape while he is in our custody," Bivens said.
Photographs show that Cavalcante was wearing a stolen Philadelphia Eagles sweatshirt when he was caught:
A helicopter captured members of law enforcement taking a group photo with Cavalcante to commemorate the capture — perhaps a curious choice considering how long he had outmaneuvered them.
The photo also drew criticism for dehumanizing Cavalcante. Bivens pronounced himself unbothered by it.
In a statement, Pennsylvania Attorney General Michelle Henry said that Cavalcante will be arraigned on a felony escape charge. He has already been sentenced to life in prison without the possibility of parole for the 2021 murder of his girlfriend Deborah Brandao.
Cavalcante was later escorted from state police barracks back to prison:
Inside the manhunt to find Cavalcante
Police said that on Monday night, Cavalcante broke into an unidentified person's garage in East Nantmeal Township, Pennsylvania, and stole a Ruger .22 rifle with a scope and mounted flashlight. The homeowner spotted Cavalcante, drew a gun, and fired shots at the fugitive as he was fleeing, but nobody was reported injured. Authorities found a sweatshirt and T-shirt belonging to Cavalcante outside the house. Earlier on Monday, Cavalcante was sighted by the side of a road elsewhere in East Nantmeal Township. Nearby, police recovered the shoes he had been wearing since his prison break.
Per a statement from the Chester County district attorney, hundreds of officials from various agencies are searching for Cavalcante, including the U.S. Marshals, Border Patrol, the ATF, the FBI, and the Pennsylvania State Police. They are being assisted by "aviation assets, canine units, mounted patrols, and numerous other assets." Residents have been told to stay aware, and one area school district closed for the day.
During a press conference on Monday afternoon, officials announced that the reward for any information regarding Cavalcante's location has been increased to $25,000.
Police officials also addressed the recent detention of Cavalcante's sister by Immigration and Customs Enforcement, stating that her case was an "overstay" and that she did not aid in the effort to find her brother.
Where Cavalcante had been seen
Cavalcante has been spotted multiple times since his escape, initially in locations near the prison, until overnight Saturday, when he was seen more than 20 miles from the search area near where he had previously been spotted. That means he somehow escaped the search grid established by authorities, even with nearly 400 law enforcement officers involved in the manhunt. The most recent confirmed sighting came on Monday night when Cavalcante was seen in South Coventry Township, roughly 20 miles north of the prison. A resident called 911 at 10:10 p.m., stating that a short Hispanic man without a shirt had "entered his garage," where he stole a .22 caliber rifle.
Pennsylvania State Police said Sunday morning that Cavalcante was seen late Saturday night in "the northern Chester County area near Phoenixville," and that he had "changed his appearance" and was driving a stolen vehicle. Police said that the convicted murderer appeared "clean-shaven" and "wearing a yellow or green hooded sweatshirt, black baseball cap, green prison pants, and white shoes" — and that he was driving a white 2020 Ford Transit delivery van that had been reported stolen near Baily's Dairy in West Chester earlier Saturday night. He was also seen on a doorbell camera in nearby East Pikeland Township after a former co-worker reported that he showed up at their home on Saturday night:
Prior to Saturday, authorities believed that Cavalcante had been using heavily wooded areas to evade capture. He was seen on surveillance cameras on September 2 carrying a backpack a mile and a half away from the prison. Two days later, on Monday evening, Cavalcante was seen on a trail camera near Longwood Gardens, a botanical garden in Kennett Square, Pennsylvania, which is further south. The popular attraction closed on Wednesday as a result. There was then another confirmed sighting of Cavalcante on Tuesday evening in a creek bed by someone in Pennsbury Township, prompting authorities to shift the search radius east.
On Thursday, authorities said Cavalcante was twice spotted near the botanical garden during the day and evening. The sightings forced a temporary lockdown and an eventual evacuation of the people who remained at Longwood Gardens, which closed to the public "until further notice."
Pocopson Township resident Ryan Drummond, who lives a mile and a half from the prison, told reporters he is "100 percent" certain that Cavalcante entered his family's home the night after he escaped. The New York Times described Drummond's chilling encounter:
The French doors were cracked open to the night outside, and someone was down in the kitchen. Ryan Drummond, standing noiselessly at the top of the stairs, was sure he knew who it was. Grasping a frame with a picture of his wife and children — the only possible weapon at hand — Mr. Drummond, 42, ran through his options. He decided: best to let the intruder understand that he knows he's in the house. He flicked the lights on and off. A terrifying moment passed. Then the lights flicked back in response.
Drummond said he saw a man carrying a bag leave his house and later discovered fruit he just purchased missing. When police arrived, there was no one to be found.
During a September 4 press conference, Lieutenant Colonel George Bivens of the Pennsylvania State Police advised those living within the search area to "avoid the wooded area or anything outside of the immediate area around their homes."
"We're certainly not trying to lock anyone down, but we want to keep residents as safe as possible while we thoroughly search that area," Bivens said.
Chester County district attorney Deborah Ryan advised residents to be vigilant as long as Cavalcante remains on the run. "Lock your doors. Lock your cars. He is still considered an extremely dangerous individual," she said during a September 2 press conference. The Unionville-Chadds Ford School District and the Kennett Consolidated School District both closed on Wednesday because of the search.
The New York Times reports that law enforcement have also played a recording in their initial search area from Cavalcante's mother in Portuguese, pleading with her son to turn himself in.
Who is Danelo Cavalcante?
The 34-year-old Brazilian national was convicted of first-degree murder in the April 2021 killing of his former girlfriend, 33-year-old Deborah Brandao. He was sentenced to life in prison.
The Philadelphia Inquirer reports that Cavalcante had a history of domestic violence against Brandao before he threw her to the ground and stabbed her more than 30 times in front of her two children. He initially fled the scene, aided by two friends, but was later arrested in Virginia.
The Associated Press reports that Cavalcante is currently wanted in connection to a 2017 murder in Brazil and that authorities believe he came to the United States illegally after first fleeing to Puerto Rico to escape that charge. According to the Chester County district attorney's office, authorities believe Brandao discovered that there was an open warrant against Cavalcante in Brazil and threatened to turn him in to law enforcement.
He is described as five feet tall, weighing 120 pounds, and fluent in both Portuguese and Spanish. The U.S. Marshals Service as well as local police are offering a joint $20,000 reward for any information that results in his capture.
Sarah Brandao, Deborah's sister, told CNN that Cavalcante was kind to Deborah at first during their year-and-a-half-long relationship but that his behavior eventually changed for the worse.
"She kept saying that he was extremely jealous — that when he drank, he became a different person; that he kept going through her cell phone," she told the outlet in Portuguese.
Since his escape, Brandao said that she's been in fear that Cavalcante might come after her and her family. She has also been caring for Deborah's two children since her murder.
"I haven't slept for many days. Since (his escape) I have been waking up with fright at night. I nap and wake up with fright," she said.
How did he escape?
On Wednesday, authorities laid out a timeline for Cavalcante's escape and revealed footage from the day in question. Cavalcante's cell block entered the prison yard at 8:33 a.m. on the morning of the 31st. A few minutes later, he made his move.
"At 8:51 a.m., Cavalcante escapes from the prison having crab-walked up a wall, pushed his way through the razor wire, run across the roof, scaled another fence, and pushed his way through more razor wire," said Howard Holland, the acting warden of the prison.
Cavalcante was discovered missing after his block returned inside and he was nowhere to be found after additional counts were done.
NBC10, a local affiliate, reported that another prisoner, Igor Bolte, escaped the same prison in May but was caught minutes later. Bolte is believed to have used a similar method in his own escape, climbing up to a roof while on-duty police were distracted by an argument as inmates played basketball. Bolte also fled the jail a previous time back in 2019.
On Wednesday, authorities confirmed that Cavalcante used the same route as Bolte despite the addition of razor wire following Bolte's escape in order to prevent future attempts.
In Bolte's May escape, he was spotted by a watchtower guard who alerted prison employees. However, according to the New York Times, the guard on duty in the tower when Cavalcante broke out didn't notice the inmate fleeing. That guard, a 20-year veteran of the prison, was placed on administrative leave, but a source tells the Inquirer that he has since been fired.