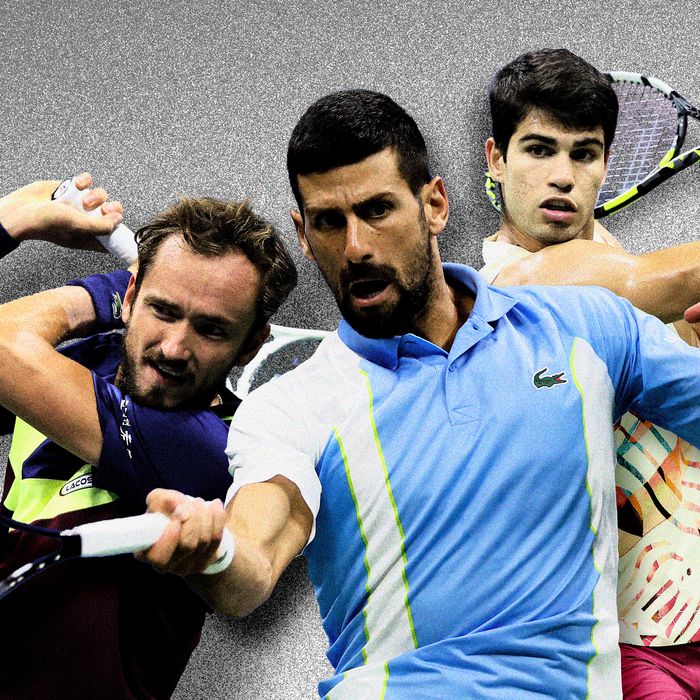 Photo-Illustration: Intelligencer; Photos: Getty
Going into Sunday's U.S. Open final between Daniil Medvedev and Novak Djokovic, it seemed conceivable — unlikely, but conceivable — that Medvedev actually had a chance to win. After all, the 27-year-old Russian had destroyed Djokovic on the same stage in 2021 (albeit with much more on the line for his opponent), had given the GOAT trouble in many of their 13 other previous matches, and played out of his mind against Carlos Alcaraz in the semifinals.
How foolish to have even considered such a possibility. Medvedev did play transcendent tennis — but only for about half the match. And even that sustained stretch of brilliance wasn't quite enough to seriously challenge Mr. Inevitable, who wowed and willed his way to a straight-sets victory as he so often does. After Medvedev lost an operatic, 104-minute second set, it was possibly to simultaneously revel in Djokovic's genius — as the crowd at Arthur Ashe Stadium certainly did — and feel a touch of wistfulness about the final that wasn't.
That would be Alcaraz-Djokovic, a.k.a. the only men's matchup anyone really cares about right now. The two have played three times this year, and all three were exhilarating: the French Open semifinal (though Alcaraz's nerve-induced cramps ruined the party midway through); the Wimbledon final (Alcaraz triumphed in a classic five-setter, truly establishing himself as a worthy rival to Djokovic); and then the finals of the Cincinnati Masters 1000 (a tune-up for the U.S.Open, in which Djokovic ground out a come-from-behind victory in the extreme that showed he could still win a war of mettle against a dazzling young whippersnapper). After that classic, it seemed almost a given that the two would meet for another titanic dogfight on the second Sunday in Flushing. Instead, Medvedev blew Alcaraz off the court on Friday.
Beyond the near-term buzzkill, time is running out before the 36-year-old Djokovic cedes the superstar lane to Alcaraz, and possibly to Alcaraz alone. Though one could reasonably believe that Djokovic is superhuman, he did briefly remind us that he is made of flesh and bone yesterday. During that magnificent second set, he looked downright weary at a major for the first time in about 15 years. (Hard to believe, but he used to have problems with endurance.) He breathed heavily, stretched between points, double-faulted a few times on tired-looking serves, and even collapsed to the ground after a particularly hard-fought rally. "I don't recall being so exhausted after rallies, really, as I have been in the second set," he said after the match. Being Djokovic, he brazened through his discomfort and dispatched Medvedev anyway. But how long can he keep up that routine? The oldest men's major winner remains Ken Rosewall at 37, and though we've come a long way since 1972 and Djokovic is still at the peak of his powers, time remains undefeated.
New York tennis fans in particular have a right to grumble about Alcaraz's absence; for whatever reason, the U.S. Open seems to specialize in this kind of near-miss letdown. Roger Federer and Rafael Nadal played 40 matches during their career, yet somehow not a single time in New York; one or the other kept losing just before they were set to meet. It would be a real shame if Djokovic and Alcaraz followed a similar pattern in the limited remaining years they'll both be playing this tournament. Would it be too much to ask for everyone else to withdraw ahead of time in 2024?