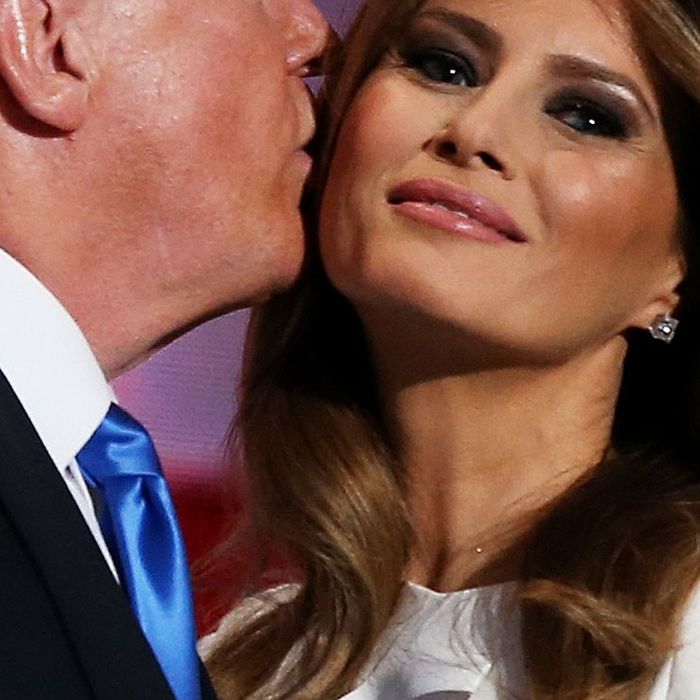 Photo: John Moore/Getty Images
Since Donald Trump announced he would run for the presidency in 2024, his wife, Melania, has skipped almost all of his political events. Presumably, this fact has no impact on voters' candidate preferences, but as most of Trump's GOP rivals have decided they're not going to criticize him for his MAGA policies or for getting indicted four times, it's basically all they've got. Thus someone tried to embarrass Trump at an Iowa football game earlier this month by flying a "Where's Melania?" banner over the stadium and distributing "Missing" posters featuring the former First Lady. (Trump suggested on Truth Social that he blames Ron DeSantis, but it's unclear who's responsible.)
Trump ignored these pranks at the time, but he couldn't avoid questions about his wife's whereabouts for long. In two interviews released on Thursday, Trump insisted he actually digs Melania's general "I really don't care, do u?" vibe, even though it leaves people with the impression that she doesn't like him all that much.
In an interview for the Megyn Kelly Show podcast, the former Fox News host asked Trump how Melania is doing since we "haven't seen a lot" of her lately. "She's doing very well. She's very strong. Very even-keeled," Trump replied. "And she's a very good woman, as you know."
He went on to brag that his wife was "a very popular First Lady" (among his supporters) and that she was on the cover of Vogue before she met him (which is false — she appeared on the cover in 2005 wearing her wedding dress). He lamented that Melania took a lot of flak for her questionable Christmas décor and couldn't book Vogue covers after he entered politics. "It's so sad, but she doesn't care," he commented.
Then, without further prompting from Kelly, Trump offered this detailed, heartwarming anecdote about how his wife of 18 years actually doesn't hate him:
She's a very calm person. It's very interesting. And I think that's what people like about her. Our dinners are nice. Dinners are like other people's dinners. We get along. We actually get along very well.
So what is it that "people misunderstand about her," Kelly wondered. Following a long tangent about Barbara Walters's desire to interview Greta Garbo, Trump said it's that Melania doesn't crave positive media attention.
"She's introspective," Trump said. "She doesn't need to be interviewed by you to get ripped apart for no reason. She doesn't need to be out there. She's got confidence. She's got a lot of self-confidence."
It's pretty clear at this point that Melania doesn't give a damn about media narratives. But will Trump supporters ever see their favorite First Lady on the campaign trail again? Kelly didn't get a clear answer out of the former president, but new Meet the Press moderator Kristen Welker fared a little better: In their interview, Trump shed some light on Melania's whereabouts ("She's right now with Barron at school") and promised "she'll be with us" on the trail.
When might this be happening? Welker asked.
"Emm, soon? Yeah, pretty soon," Trump replied warily. "When it's appropriate. But pretty soon. She's a private person. A great person. Very confident person. And she loves our country very much. At the appropriate time, she'll be out there."
Trump then seemed to realize that "soon" is too specific an answer when it comes to Melania. "Honestly, I like to keep her away from it," he added. "It's so nasty and so mean."
So it turns out Melania isn't in hiding because she hates her husband but because she hates us. If we wanted to see more of her, we should've been a little nicer about her frightening holiday décor.