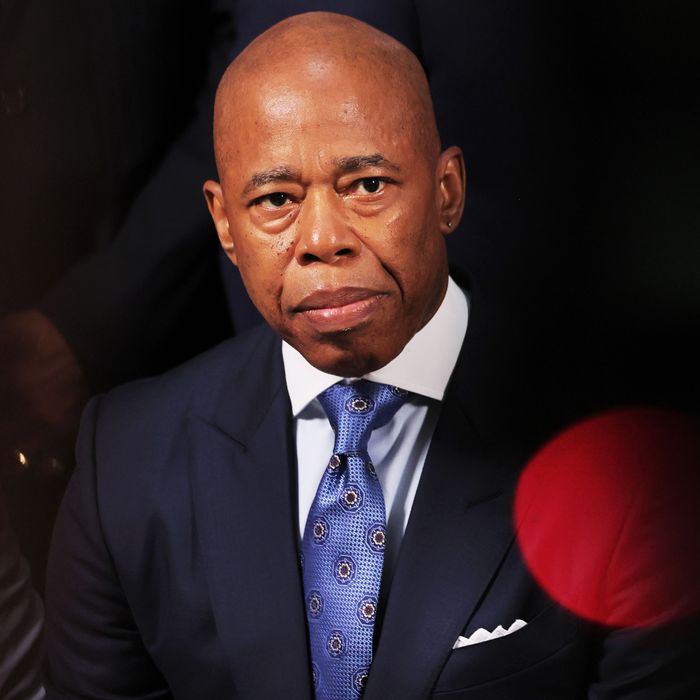 Photo: Michael M. Santiago/Getty Images
Mayor Eric Adams has long maintained that New York City is struggling to contend with the ongoing asylum-seeker crisis that has brought more than 100,000 new people to the city since last year. But during a town hall meeting on the Upper West Side Wednesday evening, he made his most extreme comments yet on the situation, telling the crowd, "The city we knew, we're about to lose."
"Let me tell you something, New Yorkers. Never in my life have I had a problem that I did not see an ending to. I don't see an ending to this. This issue will destroy New York City," Adams said. He warned that "we have a $12 billion deficit that we're going to have to cut. Every service in this city is going to be impacted."
Such strangely dark and ominous language isn't out of character for the mayor. Last year, Adams said that he had "never witnessed crime at this level" despite having worked as a police officer during the 1990s when the city sometimes saw thousands of homicides per year.
In his remarks, Adams said the city is receiving 10,000 migrants a day from all over the world, including Russians "coming up from Mexico." And he reiterated that the city has received "no support" as it has dealt with the crisis. In recent weeks, he has pushed for additional assistance from both the state and federal government, calling on President Joe Biden to expedite work authorizations for migrants to alleviate pressure on the city shelter system. Back in April, Adams notably said during a press conference, "The president and the White House have failed this city."
Governor Kathy Hochul has echoed some of those calls, urging the president to contribute more financial aid to the state as it juggles new expenses relating to housing and caring for new arrivals. Though Hochul and Adams initially tried to put up a united front, the two leaders have had public differences on the issue, most recently on the governor's stance against forcing suburban counties to house migrants.
Unsurprisingly, some Republicans are sympathetic to Adams's sky-is-falling views. City Council Minority Leader Joe Borelli shared a video of Adams's remarks from the town hall on Twitter (now rebranded X), adding, "NYC is doomed. The migrant crisis is sinking us." In a statement on Tuesday, House Speaker Kevin McCarthy seemed to relish the tension between Adams and the White House, saying, "It has gotten so bad, even the leaders of Democrat strongholds like New York City and Massachusetts are throwing in the towel."
He continued, "Mayor Adams is right: New York City deserves better."
In a joint statement, the Legal Aid Society and the Coalition for the Homeless condemned Adams' comments, calling his words, "reckless and unproductive fear-mongering."
"His dystopian comments dehumanize and villainize people who fled unimaginable situations in their home countries merely for an opportunity to provide for their families and secure a better life," they wrote.