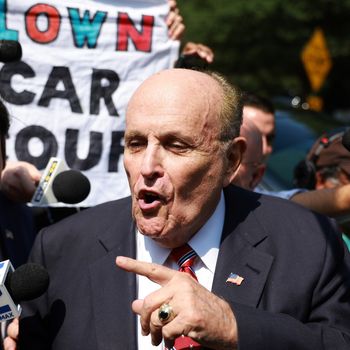 Photo: Joe Raedle/Getty Images
Rudy Giuliani's legal and financial troubles continue to pile up.
On Monday, Giuliani was sued by Robert Costello, his former lawyer, who alleges that the former New York City mayor owes him and his law firm, Davidoff, Hutcher & Citron LLP, nearly $1.4 million for legal services.
A court filing claims that Giuliani retained the firm to represent him from November 2019 to around July 2023. Giuliani, who was former president Donald Trump's lawyer, has been under plenty of legal fire during that time: He's at or near the center of the special counsel Jack Smith's investigation into January 6, the Fulton County district attorney's probe into 2020 election interference in Georgia, and more than a dozen civil lawsuits. Costello says he also represented Giuliani in proceedings involving the revocation of Giuliani's law licenses in Washington, D.C., and New York over false election claims. In July, a disciplinary panel for the D.C. Bar Association recommended Giuliani be disbarred, but a final decision is still pending. His New York law license was suspended in 2021.
Per the firm, the cost of those services came to an amount just shy of $1.6 million. The company claims that Giuliani has paid it only $214,000, most recently sending a $10,000 payment on September 14. The firm is seeking what it says is close to $1.4 million that it is still owed.
In a statement provided by a spokesman, Giuliani suggested that Costello and his firm were seeking an extravagant amount of money. "I can't express how personally hurt I am by what Bob Costello has done. It's a real shame when lawyers do things like this, and all I will say is that their bill is way in excess to anything approaching legitimate fees," he said, per CNN.
Giuliani and Costello's personal relationship goes beyond that of a lawyer and a client. The New York Times reports that the two have known each other for 50 years with Costello working under Giuliani while he was U.S. Attorney in Manhattan.
The new lawsuit is far from the only financial problem Giuliani is contending with. The former mayor is believed to be facing hundreds of thousands of dollars in legal bills from the cases against him. A judge also recently ordered him to pay up in a defamation case filed by a Georgia election worker. In August, Giuliani placed his longtime $6.5 million Manhattan apartment up for sale. Earlier this month, former president Trump hosted a fundraiser to help his former counsel and fellow Georgia co-defendant with his legal fees.